Welcome to Week 34! This post includes:   •End of the Year Information  •Incredible Insects   •Character Education   •Running Club Achievements  •Marble Jar Reward  •Yearbook Purchases   •Stars of the Week    •Future Dates   •The Week Ahead
End of the Year Information
As the end of the year is approaching quickly, you'll see there are a multitude of events, activities, etc. that will all be taking place in these last 16 days! Please make sure you are reading the blog, notes home, AFP notes, etc. You won't want to miss any of the fun that we are about to embark on! I'm going to list some of the important things to note. Please let me know if you have any questions and remind other 206 families to read the content so they don't miss out either!
Not returning? – If you are not planning to return to EBS next year, please let myself and the office know right away.
Spirit Week – More details will come as this week approaches, but typically, the last full week of school will have a different spirit theme in which you can dress up and participate! This week is loved by all the kids!
Yearbooks – Purchase your child's yearbook now! These are great mementos, but the students LOVE their yearbooks and will be given time to sign each other's books in the last week. ($25 balfour.com)
School work – you will receive a compilation of your child's work that has been collected throughout the year. I will keep some samples to pass on to next year's teacher. This will be sent home along with any other materials that also belong with your child (crayons, pencil, pointer, etc). All of these will likely go home in a Trader Joe's Paper bag for your child to carry out.
Report Cards – These are typically sent home the last day of school in an envelope in your child's folder.
Art Portfolio – Each year your child's Fine Art Portfolio has all the pieces your child has created this year (including the piece from the Spring Art Show). Your child will also be bringing these home soon.
Donuts with Daddies – Similarly to our Muffins with Mom we will be hosting a Donuts with Daddies day on Thursday, June 16, 2016 first thing in the morning so our daddies can all hopefully stay for a bit and go into work just after.
End of Year TK/K Party – Each year the TK and K classes unite to have a final bash to finish off the year. We have JW Tumbles come out to host a field/water event. More information will be coming out regarding costs, food sign-ups, attire, etc. Mark your calendars as this event will happen on Monday, June 20th and may require our day to extend by 30 minutes (for a 1:00pm release).
Incredible Insects
This week the students were able to participate in the San Diego Natural History Museum on-site field trip. We met in the say room with 5 docents from the museum. These kind faces spoke to us generally about insects and then the students split into 5 groups. Each group focused on different aspects of insects or different insect types. The students met in groups for 8-10 minutes and then rotated to the next group until they went through every group. There was a group on Bees & Ants (Social insects), Spiders (with a live tarantula), Butterflies, Bugs and Beetles, and Metamorphosis. Check out the pictures below to check out our day.

Character Education –
This week Laarnie Chou came in to teach the students about COOPERATION. She read them a book about cooperation and then let them participate in an activity that practiced cooperation. Each child was able to make their quilt piece. Then all the students brought their quilt pieces together to create a class quilt! This was a great reinforcement in understanding and practicing the concept of working together!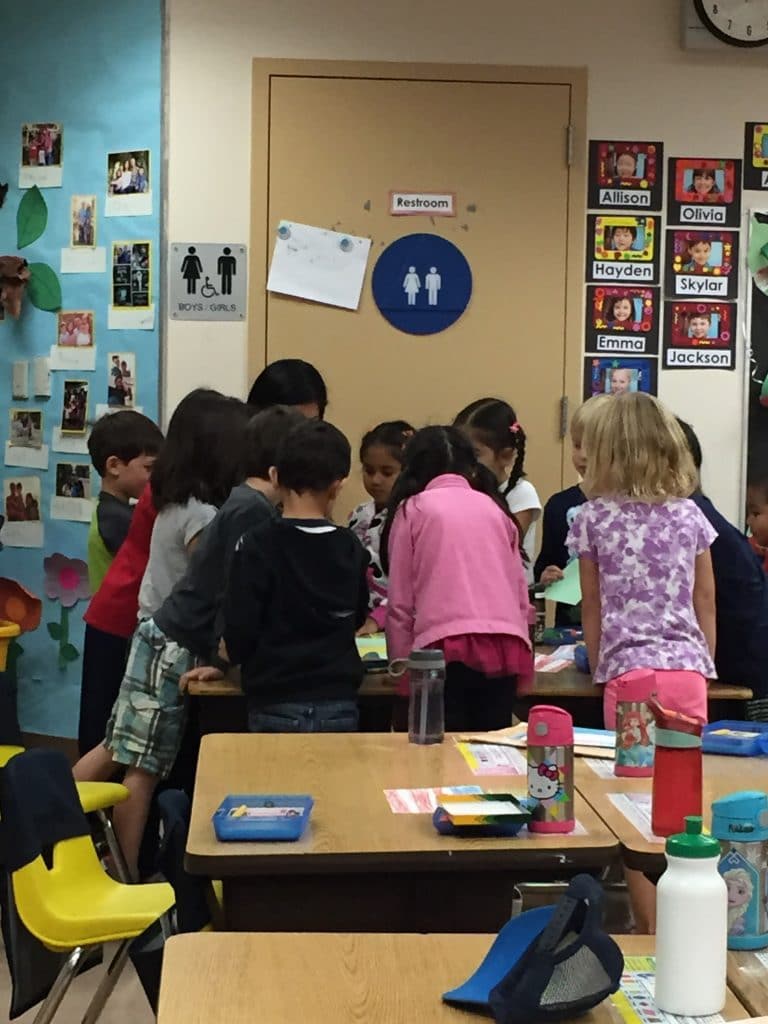 Running Club Achievements
This young man met a big goal of his this week! He received the ribbon that shows he completed his 100 laps! Congratulations on the dedication and perseverance!
PS…At the end of the year, the Run Club coordinator will have a special awards presentation (before school) in the MPR to give out awards for all those who participated in Run Club this year! Be on the look out for information regarding this special event!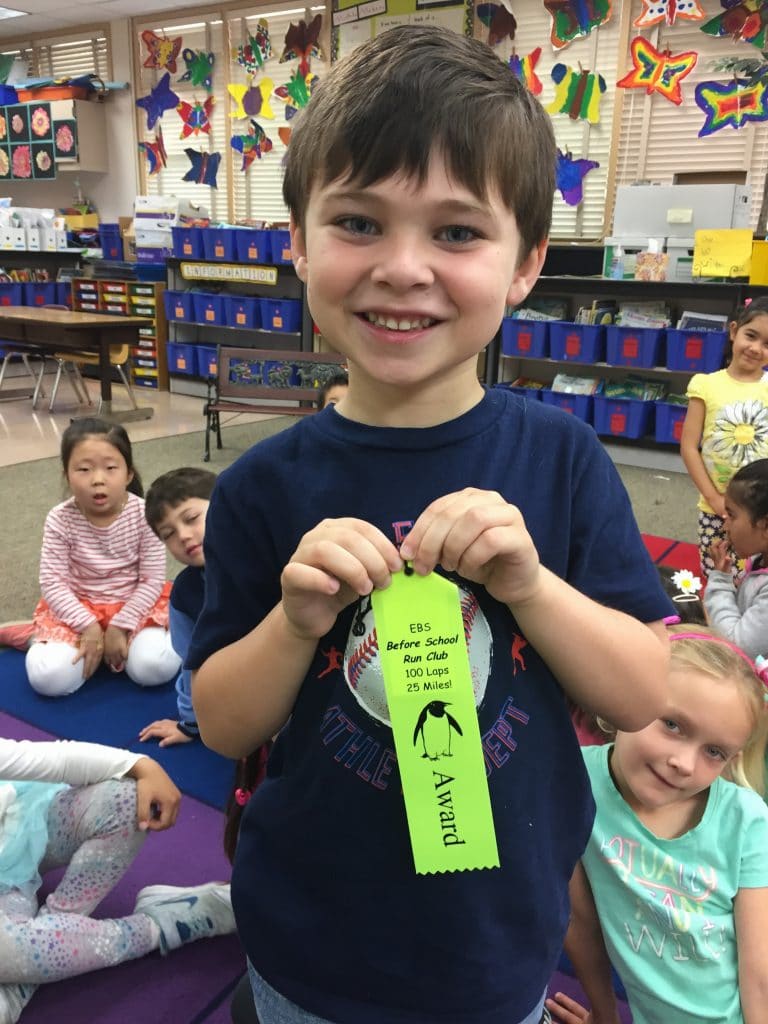 Marble Jar Reward
The student's filled up their marble jar last week so this week the student's received their teamwork reward of playing with the parachute! They loved this!
Yearbook Purchases
Don't forget to get your Yearbook before they run out or the last day to buy arrives! I've already purchased mine (super easy online purchase), don't be caught without yours!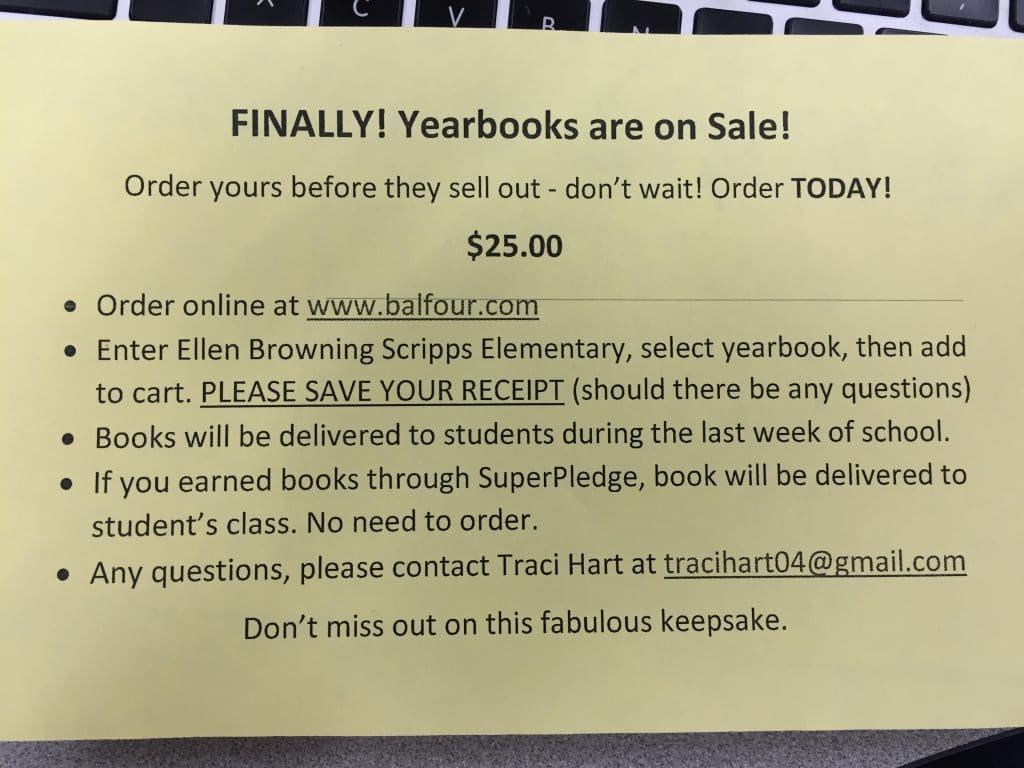 This Week's Stars!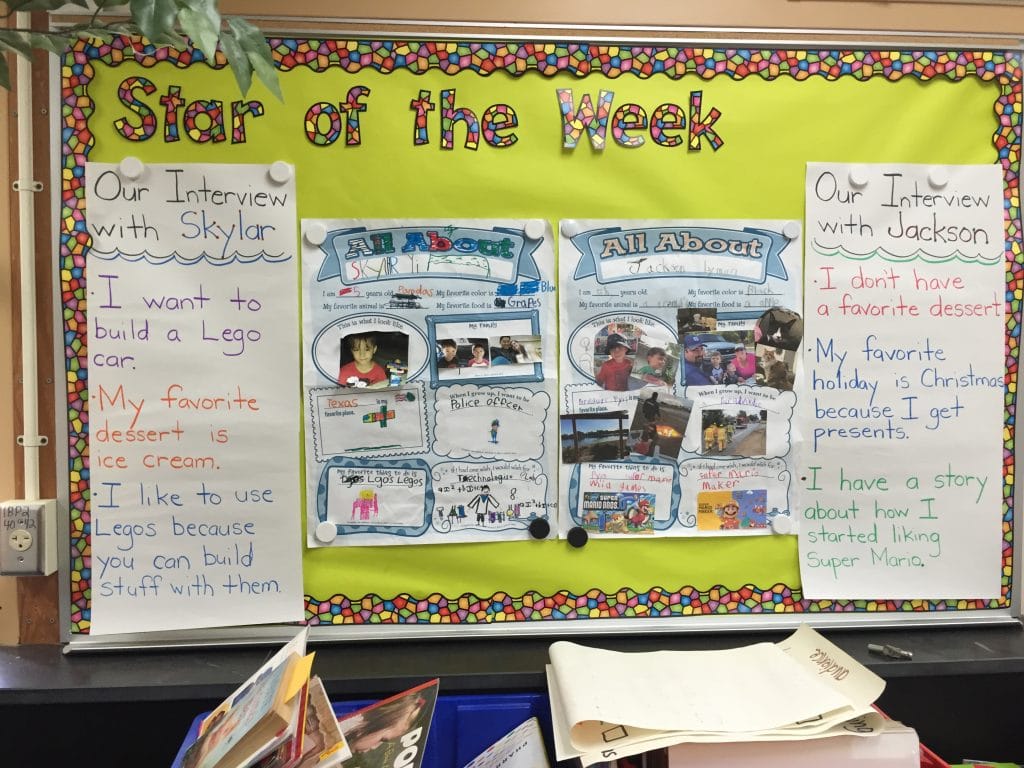 Upcoming Events
Memorial Day Weekend – No School Friday 5/27 – Monday 5/30
June 1st – Field Trip to Escondido Children's Discovery Museum
Spirit Week – June 13th – 17th
End of Year Party with all TK/K classes – Monday, June 20th, 2016
Last Day of School – June 21st
See Calendar Dates Page on our website to see important dates for this year!  https://www.linneamiller.com/calendar-dates/
A Look at our Week Ahead
Monday – 5/30
Tuesday – 5/31
Volunteers: Stacy McMullan
Mrs. Hickson will be here this day!
Wednesday – 6/1
Volunteers: Jeannie Smith, Megan McGarry-Black
Field Trip – Children's Discovery Museum in Escondido
Thursday – 6/2
Volunteers: Kelly Murphy
Technology Academy with Mrs. Martin
Lunch Only day at 11:35 pm (eat a BIG breakfast)
Minimum Day, whole school dismisses at 12:30pm (dismissal in 206)
Character Education – Ann Tran-Lien
Friday – 6/3
Volunteers: Karrie Yi
Music with Mr. Waczek – 8:50 am