Welcome to Week 27! This post includes:   Fine Artists  •Jog-A-Thon Envelopes   •New Field Trip Requirements   •Scripps Ranch Newsletter   •Spring Pictures   •Buddy Pictures  •Gift Card Order   •Volunteer Tea   • Open House   •Star of the Week    •This Week's Curriculum   •Future Dates   •The Week Ahead
Fine Artists
This week the students learned and practiced surreal painting that modeled after the work of a Spanish artist named Joan Miro from the 1800's. The students had a great time working with chalk to sketch, then paint to color in shapes of the art and finally black paint to outline their shapes and leave negative space around the work.
Jog-A-Thon Envelopes
Jog-A-Thon envelopes were returned this week so that you could see the amount for the total laps run and return to the AFP. The total laps for each student were posted the week after Jog-A-Thon. Our students did great and our whole class did more than 7 laps each! That's awesome! What a great day and memory we have to hold on to!
New Field Trip Requirements (for May!)
New field trip requirements are being implemented at EBS for security and safety reasons. Beginning May 1st, parents who plan to drive students on field trips must get a Category C clearance. To do this you must:
Already be a cleared EBS Volunteer
Get a Category C form from Mrs. Krissy (fill it out and return it)
This form will be submitted to the school police for a DMV check
NOTE: Each application takes about 2 weeks to process. Contact Krissy Duke for further questions kduke1@sandi.net
We do plan to take one more field trip this year if we can get enough drivers. Our field trip will likely be the last week in May or the early part of June. If you would like to drive, please get your Category C paperwork returned to Miss Krissy. Spread the word to 206 families who may not read the weekly blog.
Scripps Ranch Newsletter
We made the Scripps Ranch Newsletter! Room 206 was highlighted in the last Monthly newsletter for our Generosity Bag collection. Check out the blurb! So exciting!
Spring Pictures
This coming week, we have spring pictures. These will take place the same day as our field trip! We fortunately get to take our pictures first on this day! Our students will go directly to the cafeteria for pictures. Feel free to bring your Jog-A-Thon shirt to change into after spring pictures!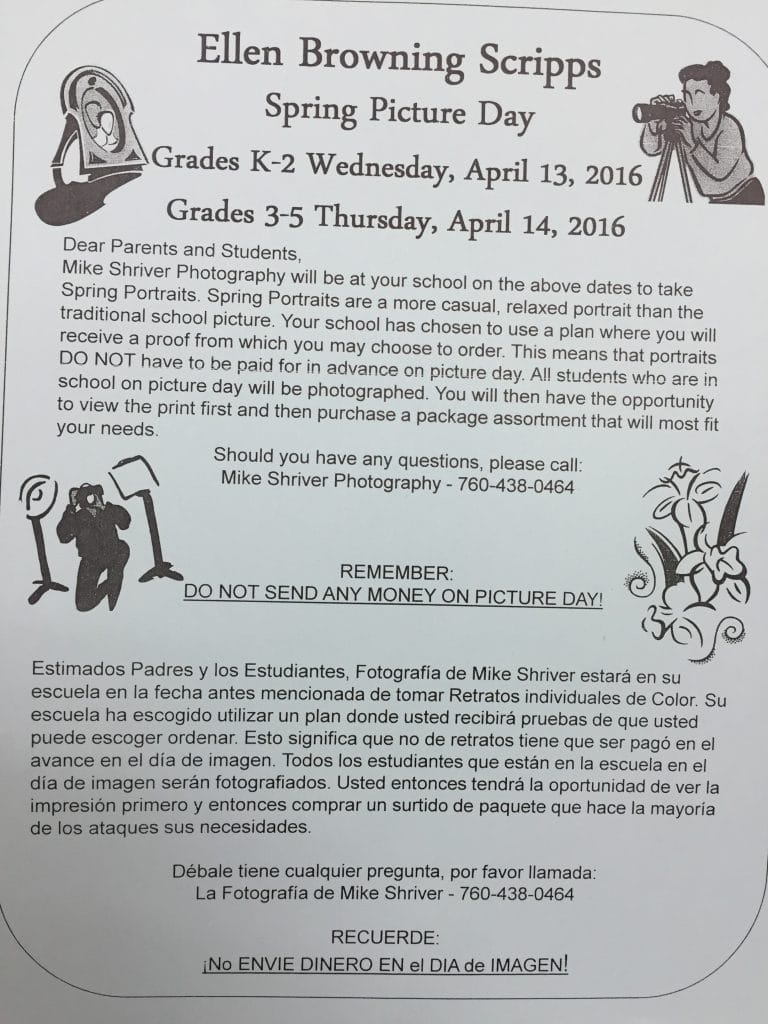 Buddy Pictures
This is an opportunity coming up on April 13th and 14th. Students are able to take pictures with a buddy for the yearbook. The cost is usually $1.00 per pictures. These are taken after school on the big playground on both these days. Check in with the office for more info!
EBS Gift Card Order
Like in December a gift card order will go home on April 14th. This is a chance order any gift cards for your personal use or gifts for birthdays and events. It also gives proceeds to EBS for gifts you would have already purchased on your own. Gift card orders will be process and sent home to you on April 26th.
Volunteer Tea
The annual EBS volunteer tea is to appreciate all you hard working volunteers that come in each month to help! This event takes place April 21st. Please RSVP by this week if you plan to attend.
EBS Open House
This event takes place on Thursday, May 12th! We hope you and your whole family can come by to take pride in your child's effort and hard work this year. The classrooms will be open to display student work and the EBS art show (1 piece from every student) will be displayed in the MPR. We hope to see you all there!
This Week's Star!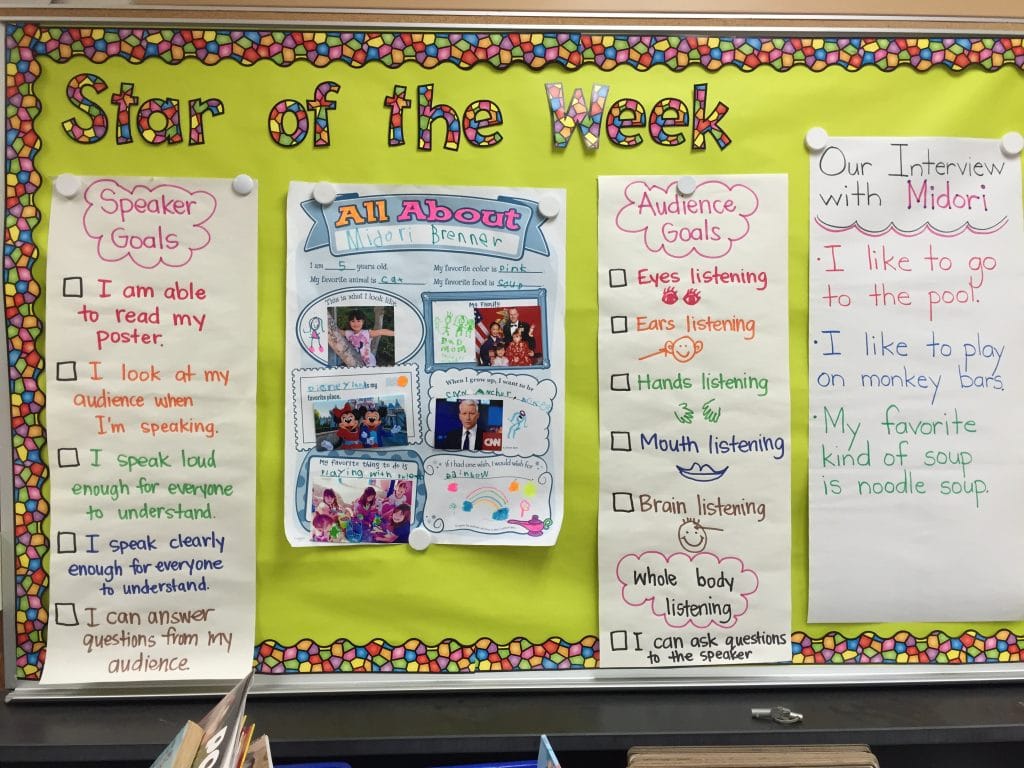 This past week in…
Math – Started a new concept of geometry in math. We began to look at the shapes in math. We will continue to practice the concept of putting together and taking apart as we practice learning about shapes.
Writing – In writing this week we spoke about important parts about Opinion writing. We discussed using our writing to convince people. With this we started by reviewing we using an "I think" statement to share our opinion. Then we give multiple reasons why this is important. We will continue to discuss the ways in which we convince people using writing this next week! I'm so proud of these little writers and all they've learned!
Letter Kk! This week we went on a Kk hunt by looking for things that start with a /k/ sound. We also made a list of items that begin with the /k/ sound and practiced writing the letter Kk as well.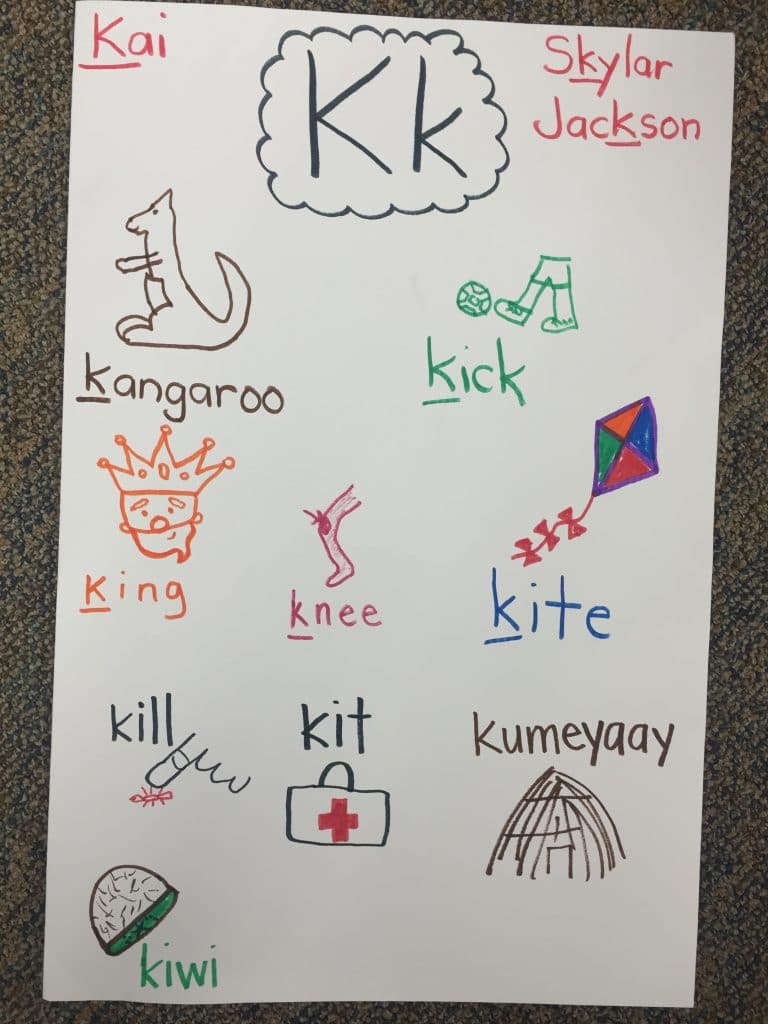 Upcoming Events
Field Trip – Wednesday, April 13th
Spring Pictures – Wednesday, April 13th @ 8:45 (bring your Jog-A-Thon shirt to change into)
Buddy Pictures – April 13th and 14th
Volunteer Tea – April 21st
EBS Idol – Friday, April 29th
Open House/Art Show – Thursday, May 12th
See Calendar Dates Page on our website to see important dates for this year!  https://www.linneamiller.com/calendar-dates/
A Look at our Week Ahead
Monday – 4/11
Tuesday – 4/12
Volunteers: Stacy McMullan, Deb Marich
Character Education – Deb Marich
Wednesday – 4/13
Volunteers: Jeanne Smith, Megan McGarry, Ann Tran-Lien
Field trip to Belmont Village (leave around 9:45)
Spring Pictures at 8:45 am
Thursday – 4/14
Technology Academy with Mrs. Martin
Lunch Only day at 11:35 pm (eat a BIG breakfast)
Minimum Day, whole school dismisses at 12:30pm (dismissal in 206)
Volunteers: Kelly Murphy
Friday – 4/15
Music with Mr. Waczek – 8:50 am
Volunteers: Karrie Yi