Welcome to Week 26! This post includes:  •No Homework for Spring Break    •Help for the Homeless   •Welcoming Spring   • TK/K Science Night   •Field Trip   •Star of the Week    •This Week's Curriculum   •Future Dates   •The Week Ahead
No Homework for Spring Break
Happy Spring Break! I hope you are all having a wonderful Spring Break. This time is to rest, refresh and replenish yourselves and your students, therefore there won't be any homework/reading log. Feel free to read to your child an discuss the books and their understanding.
Take this time to ask some of the questions below on picture books with more complex ideas.
What do you think?
What makes you think that?
What is the character feeling?
We have been practicing this in class and discussing different feelings/concepts in our books. Here's an example of a book we read and some concepts (concepts in black).
Help for the Homeless
WOW! What an exciting time this has been! We finished collecting Generosity Bags on Friday! We had other classes/teachers bringing them in up to Friday afternoon! Our goal was to collect a minimum of 20 bags as this was the first time I have done this. What an underestimation this was! We ended up collecting 68 generosity bags! So exciting! Thank you all for helping so many people who go without the comfort of a home.
Welcoming Spring
Friday we welcomed spring by making a ladybug art project, and decorating little planter pots (that students took home) along with eating some pizza and snacks! What a fun day it was!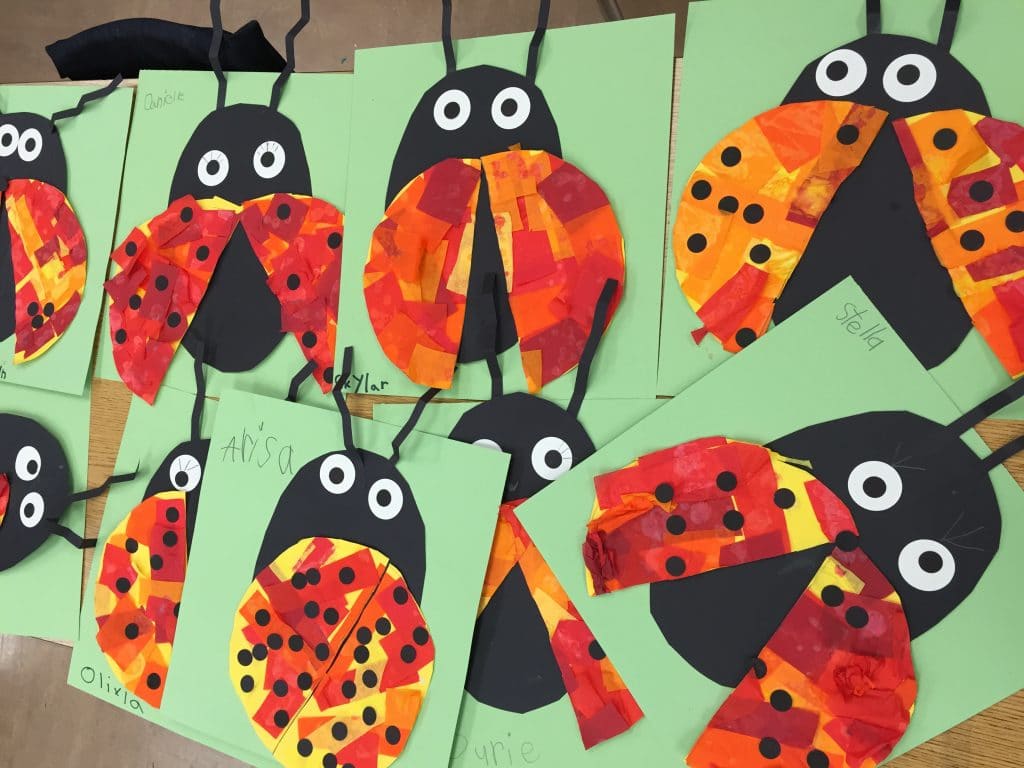 TK/K Science Night
I wasn't able to attend due to my little one, but some 206 families were able to make it and had a great time at the TK/K Science Night! Students rotated through different science experiment set ups. What a great night!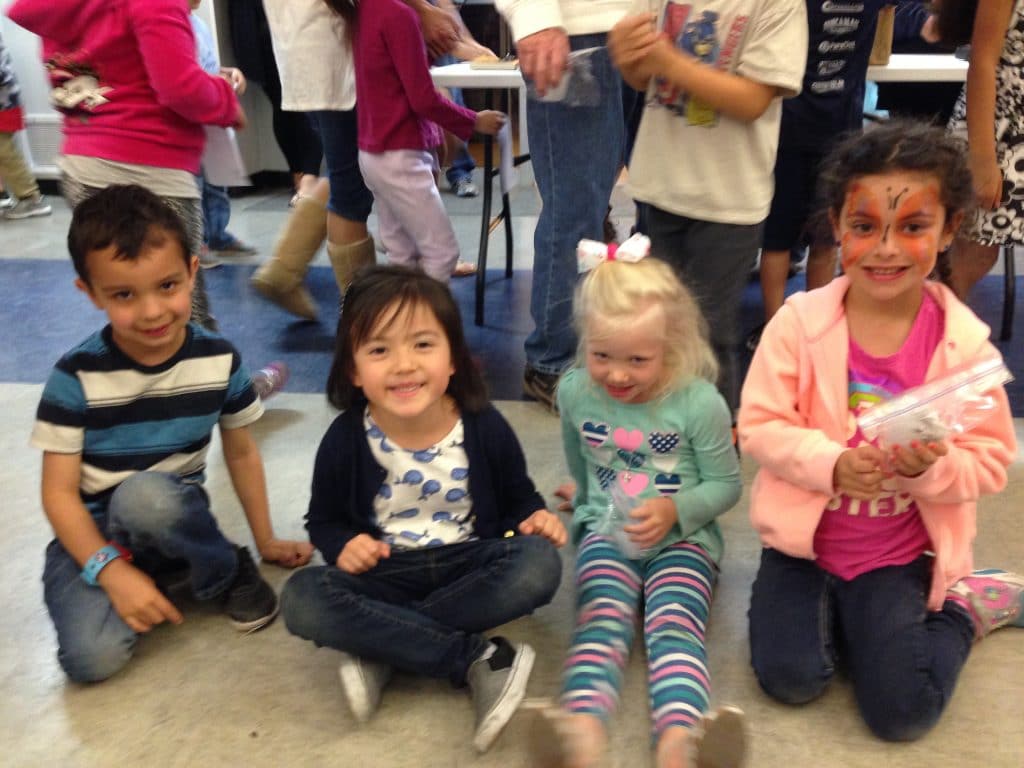 Field Trip
Our field trip is on Wednesday, April 12th and will be here before you know it! If you haven't returned your forms, please return them ASAP so we know how many parents plan on going and who the drivers are. If we have extra parent driver/chaperones, they may ride along with students as a passenger.
We are still working to sing Rockin' Robin and most of the kids know it by now. The other song we will be learning and singing is The Beatles – Here Comes the Sun. The kids heard it before we left on vacation. Lyrics will be going home the day we return with our reading logs for the week. (we are singing the Glee version of Here Comes the Sun on Amazon Prime if you want to practice singing early).
This Week's Star!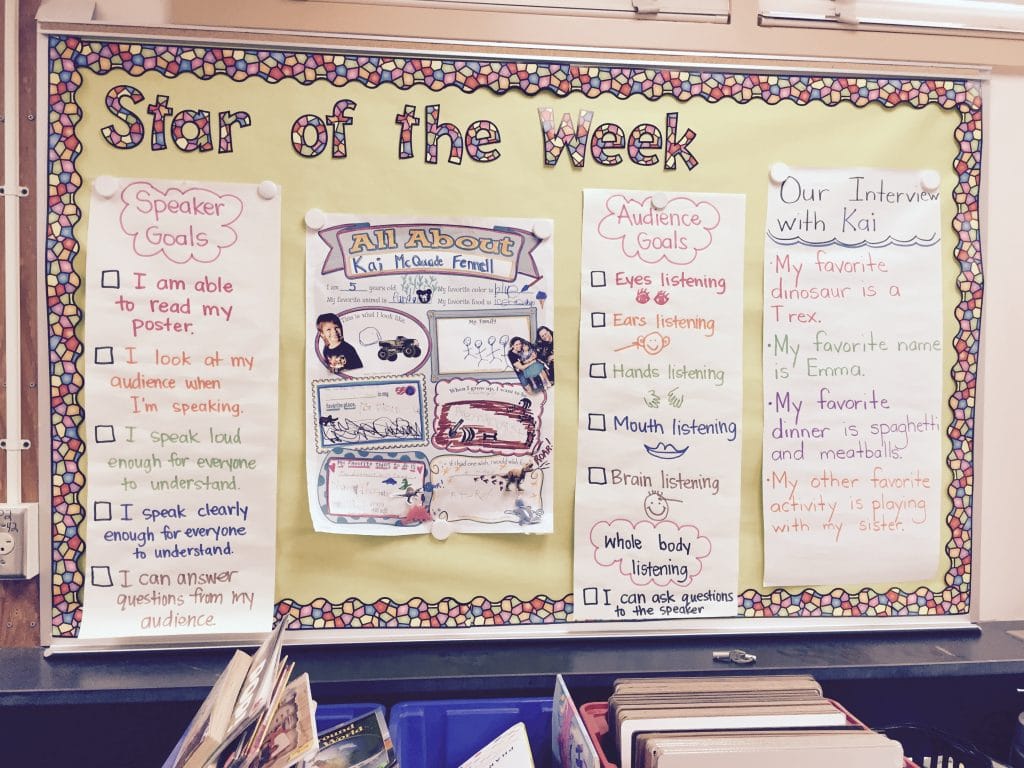 This past week in…
Math – We spent this past week reviewing "putting together" and "taking away" along with showing pictures to show our understanding.
Writing – 1. See a problem  2. Think   3. Write
Letter Vv! – see our Vv chart below. We practiced writing the letter Vv and reviewing the sound.

Read Aloud Concepts 

– We've been discussing the concepts that are in the books we read aloud. We talk about the characters feelings and then discuss how the book talks about that particular concept. See the book and chart above in the "No Homework" section.
Upcoming Events
Spring Break – Monday, March 28th – Friday,  April 1st
Book Order Due – Tuesday, April 5th
Field Trip – Wednesday, April 13th
EBS Idol – Friday, April 29th
Open House/Art Show – Thursday, May 12th
See Calendar Dates Page on our website to see important dates for this year!  https://www.linneamiller.com/calendar-dates/
A Look at our Week Ahead
Monday – 4/4
Volunteers: Shiho Brenner, Phyllis Chan
Tuesday – 4/5
Volunteers: Stacy McMullan, Debra Marich
TK/K PLC collaboration day – Mrs. Leatherwood will be present that morning.
Wednesday – 4/6
Volunteers: Jeanne Smith, Megan McGarry
Fine Artists
Thursday – 4/7
Technology Academy with Mrs. Martin
Lunch Only day at 11:35 pm (eat a BIG breakfast)
Minimum Day, whole school dismisses at 12:30pm (dismissal in 206)
Volunteers: Laarnie Chou, Monica Rashidian
Friday – 4/8
Music with Mr. Waczek – 8:50 am
Volunteers: Karrie Yi, Leng Tang-Ritchie