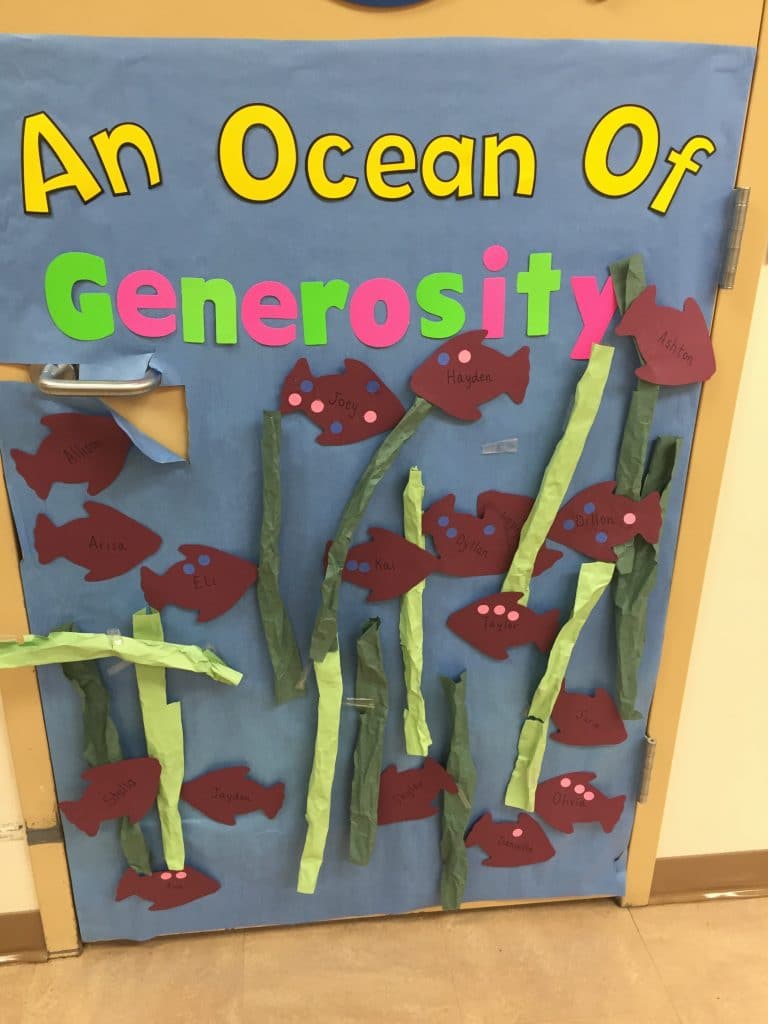 Welcome to Week 10! This post includes:   • Veteran's Day    •Ocean of Generosity   •Read to Self  •Parent Conference Reminder  •Grandparents Day • This Past Week's Color White   •This Week's Curriculum   •Future Dates   •The Week Ahead
Our weekly blog post is to inform you, update you and share the school world of your Transitional Kindergartner! Feel free to give feedback or ask questions.
Veteran's Day
I hope you all had a wonderful holiday on Wednesday. Thank you to all who served or are serving for our country! Here's a picture that I took after school one day while a student and I were waiting right outside our school! Our beautiful flag….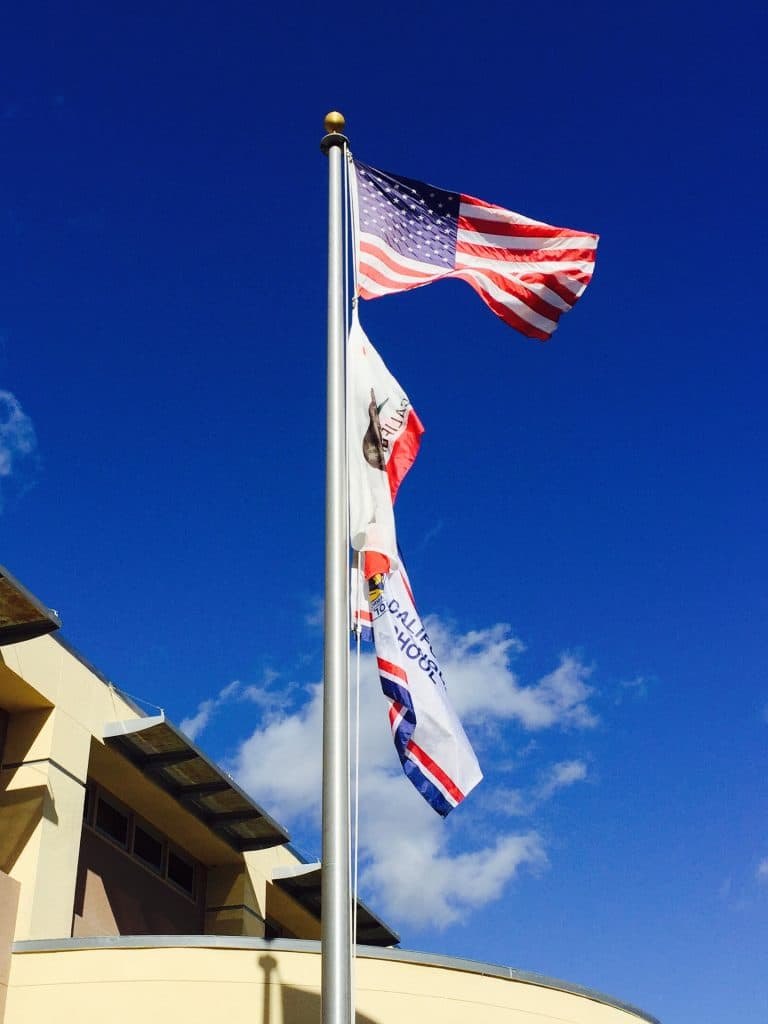 Ocean of Generosity
Wow! These kids are so generous! This week the students have been adding scales to their fish to remind of all those in need! The food drive ended this week, but we are still able to contribute to All for Books! Thanks for all the donations to help those in need!
If you haven't donated to the cause yet, (there is also a classroom contest) feel free to send in the $1, lose change, or any other amount to give books to those who go without.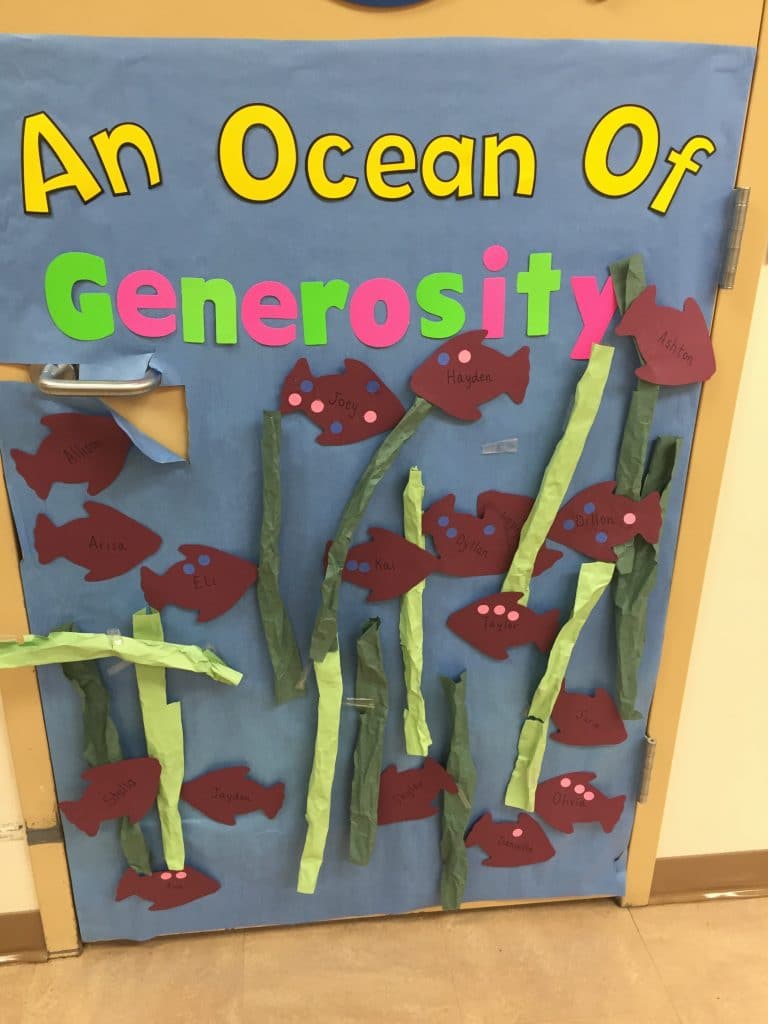 Read to Self
We are working to build our stamina in reading. We are up to 5 minutes of uninterrupted reading. We've created a chart on our goals (and hand motions) as we read:
Eyes on the book (Looking down at hands pretending to be a book)
Read the WHOLE time (Stretch hands apart from each other)
Stay in 1 spot (index fingers crossed)
Build your stamina (hands climbing pretend steps/stairs)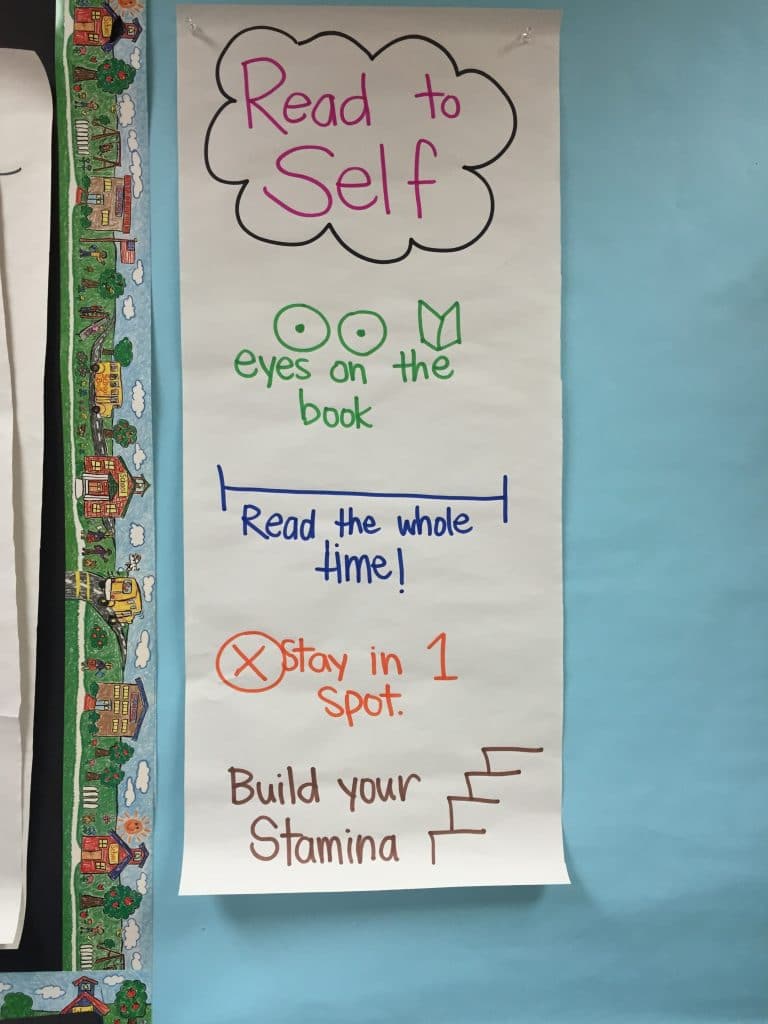 Parent Conference Reminder
Just a reminder that parent conferences are this week. When you arrive for your scheduled conference time, please pop your head in to let us know you have arrived. Thank you in advance for making the time to meet and discuss your child's efforts, progress and achievements!
The entire school is on Minimum Day schedule all week long. This means we will dismiss from the 206 classroom each day.
Grandparent's Day at EBS
This Friday, EBS has its annual Grandparents Day! All Grandparents (along with any other child lovies are welcome to join in. The first grade students have a special presentation in the auditorium at 9 am.
Our own class will begin a grandparent celebration at 11:15 in Room 206. We'd love for any and all to come! A special thanks to our Room Parents for organizing the event!
This Past Week's Color – White
We had another fun week of color (or the absence there of …for this week)! The student's dressed in White on Thursday and had a yummy white snack (marshmallows) with Mrs. Hickson! Check out our color picture! Next week will be PINK!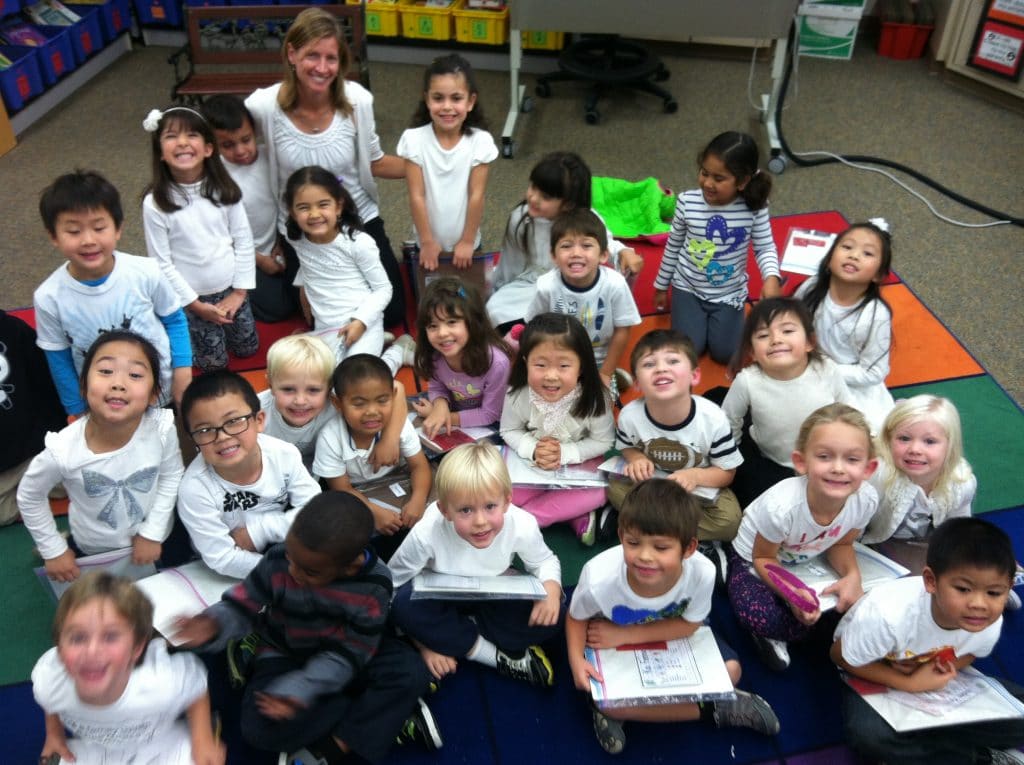 PINK Note: If your child does not own any pink, please attempt to borrow a shirt from a sister/neighbor or friend to put over their clothes for Pink day! We purposely plan Pink Week during the same week of the 3-Day Breast Cancer Walk. We have current and past staff members that partake in the walk every year or every other year. The EBS staff often wears Pink as well on Thursday to support the cause and awareness!
This past week in…
Math – This week we worked on seeing, using and building number concept with 6 and 7.
Writing – This week we cleaned out our writing folders and chose 1 piece to publish and make better. We will share these pieces with the class this week.
Sight Word Practice: I, at, the, is, to, it, go, me
Letter Ll – We curled our tongues to make the /L/ sound. When writing this letter, we start up tall and stroke straight down for the lower case "l." For the capital L, we similarly stroke straight down and once at the bottom line to the right. We encourage the students to write and use the lower case "l" most often unless writing a name or the beginning of a sentence.
Art – This week the class made scarecrows after reading the book Scaredy Crow
(Picture to follow)
Upcoming Events
Muffins with Mom in the Book Fair before school from 8:00 – 8:40.
EBS Scholastic Book Fair!!! (in addition Night Event correction…Wednesday 11/18)
Grandparents Day – 11/20/15 at EBS
See Calendar Dates Page on our website to see important dates for this year!
A Look at our Week Ahead
Monday – DATE
Start of PINK week!
Character Education Lesson with Deb Marich
Muffins with Mom (at the library) for the Book Fair from 8:00 – 8:40
Parent Conference Week – All School dismisses at 12:30 (dismiss in 206)
Volunteers: Shiho Brenner, Phyllis Chan, Saori Massey
Tuesday – DATE
Parent Conference Week – All School dismisses at 12:30
Volunteers: Stacy McMullan
Wednesday – DATE
Volunteers: Jeannie Smith, Megan Black, and Meeyoung Lim
Parent Conference Week – All School dismisses at 12:30 (dismiss in 206)
Evening Book Fair event at EBS….don't forget to wear your PJ's!
Thursday – DATE
Wear PINK and have an PINK Snack!
No computer lab this week due to Interim Assessments
Lunch Only day at 11:35 pm (eat a BIG breakfast)
Minimum Day, whole school dismisses at 12:30pm (dismissal in 206)
Volunteers: Kelly Murphy
Friday – DATE
Music with Mr. Waczek – from 11:00 – 11:30 (changed for minimum day schedule)
Last day of the book fair!
Volunteers: Karrie Yi, Monica Rashidian