Welcome to Week 9! This post includes:  •EBS Book Fair   •Parent Teacher Conferences   •Food Drive  •Volunteer Pictures   •Run Club Milestones    •This Past Week's Color Purple   •This Week's Curriculum   •Future Dates   •The Week Ahead  •
Our weekly blog post is to inform you, update you and share the school world of your Transitional Kindergartner! Feel free to give feedback or ask questions.
EBS Book Fair
This upcoming week our Annual EBS Book Fair will begin! You don't want to miss this! Our library is currently being transformed and set-up to bring in books of all sorts, sizes, and genres. Our class will get a preview time this week where we can go as a class to view and write down wish lists of books. We'd love any cleared volunteers that wish to join us as we attend on Friday, November 13, 2015 at 9:55 – 10:40 am.
Information went home Friday to share all information for this event. There will be:
Classroom visitation (listed above)
Fun Night event with prizes (November 19…see flyer for details)
Donate change/$1 to give books to others …"All For Books"  (see flyer and pic…and add more scales to our generosity fish!)
Donuts for Dad and muffins for Moms (see flyers)
The Book Fair will be open every day before and after school if you want to come at another day and time with your child.
•The Book Fair runs from Friday, November 13th – Friday, November 20th.
Parent Teacher Conferences
Thank you all for signing up for the upcoming Parent Teacher Conferences. The conference meetings will last approximately 25 minutes. We will go over your child's academic progress in reading, math, and writing, citizenship along with comments and questions. Thank you in advance for your time!
Food Drive
Our EBS Food Drive has brought about some great conversations with our class. We have discussed the world around us that goes without… so many daily needs. We spoke about the opportunity we have to practice generosity with other people in need.
As students bring food in (see the flyer) please have your child bring their food into the classroom rather than to the tables at the front of the school. Each child will be putting a scale on their personal generosity fish to remind us of the opportunity that we each have to help others around us.
We hope to continue adding scales in other ways this year!
Just a reminder that the Food Drive ends this Thursday, November 12th.
Volunteer Pictures
Don't forget to stop by the school on Tuesday morning, 11/10/15 to get your picture taken for a personalized EBS Volunteer badges.
Run Club Milestones!
One of our very own was flashing her new 100 lap ribbon for participating regularly in the before school Run Club! Give her a cheer! The EBS Run Club is every morning from 8:15 – 8:30 am. Students get to be social, while exercising and work towards prizes and milestone markers!
*If anyone else has received a 100 lap ribbon, please stop by to show me and snap a picture!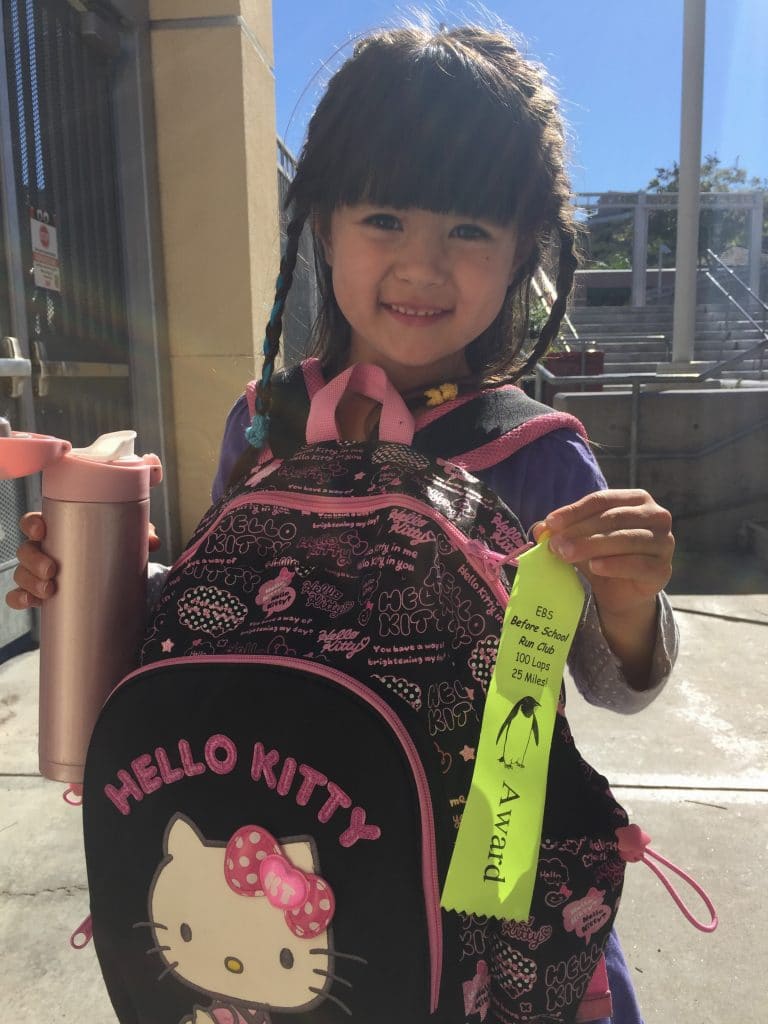 This Past Week's Color – 
Purple
We had another fun color week! The student's dressed in PURPLE on Thursday and had a liquid snack (Gatorade)! Check out our color picture! Next week will be WHITE!
This past week in…
Math – This week we started our new math concept of number 6 – 10. Continue to practice drawing and counting parts to 5 (2 and 3, 4 and 1, 5 and 0, 3 and 2….etc).
Sight Word Practice: I, at, the, is, to, it, go     Continue to build your sight word base to support your child's reading.
Letter Dd – We practiced the /d/ sound and thought of words that make the /d/ sound. When practicing this sound, be careful not to make the /duh/ sound which includes "d" and "u" together.
Upcoming Events
Picture Make-Up Day (for Volunteers Badges too) on 11/10/15
EBS Scholastic Book Fair!!! (in addition Night Event on 11/19)
Grandparents Day – 11/20/15
See Calendar Dates Page on our website to see important dates for this year!
A Look at our Week Ahead
Monday – 11/9
Start of COLOR week!
Volunteers: Shiho Brenner, Phyllis Chan
Tuesday – 11/10
Volunteers: Stacy McMullan
Wednesday – 11/11
NO SCHOOL: Veteran's Day! (Thank you to those who serve or have served)
Thursday – 11/12
Wear COLOR and have an COLOR Snack!
Book Fair Begins at EBS
Computer Lab with Mrs. Martin
Lunch Only day at 11:35 pm (eat a BIG breakfast)
Minimum Day, whole school dismisses at 12:30pm (dismissal in 206)
Volunteers: Laarnie Chou, Melissa Adomeit
Friday – 11/13
Music with Mr. Waczek – 8:50 am
206 Book Fair Visit (feel free to join us at 9:50 am)
Volunteers: Karrie Yi, Sharon Elbaz