Welcome to Week 6! This post includes:  •Character Education   •Super Pledge Update  •206 Book Borrow  •Pictures for Family Tree  •Federal Survey Cards  •Box Tops Envelopes  •Volunteers  •Homework  •Computer Lab  • Color Week YELLOW   •This Week's Curriculum   •Future Dates   •The Week Ahead  •
Our weekly blog post is to inform you, update you and share the school world of your Transitional Kindergartner! Feel free to give feedback or ask questions.
Character Education – Generosity
This week, Deb Marich and Ann Tran-Lien came in to teach our lesson on GENEROSITY! This is such a great lesson for our students to learn about, understand and practice (they even dressed in yellow!). These two Character Education Moms came in and talked about Generosity. Then they interactively read the students the book Stone Soup, while students got to contribute pretend food items into the class Stone Soup. After making our pretend Stone Soup and hearing the story, students got their own Stone Soup Pot and a sheet of stickers. Students were able to share ALL of their stickers on other pots to practice their generosity. This was  a great intro and practice to kick off this trait. For some students, it took a little while to give away all their stickers to other pots as the concerns for their own pots. But they realized as they filled up other pots, their own pot at their desk was being filled up at the same time! Such a great lesson! Continue to practice using and encouraging your child to practice generosity with a sibling, neighbor, cousin or during a play date with a friend. Praise their efforts to give to others!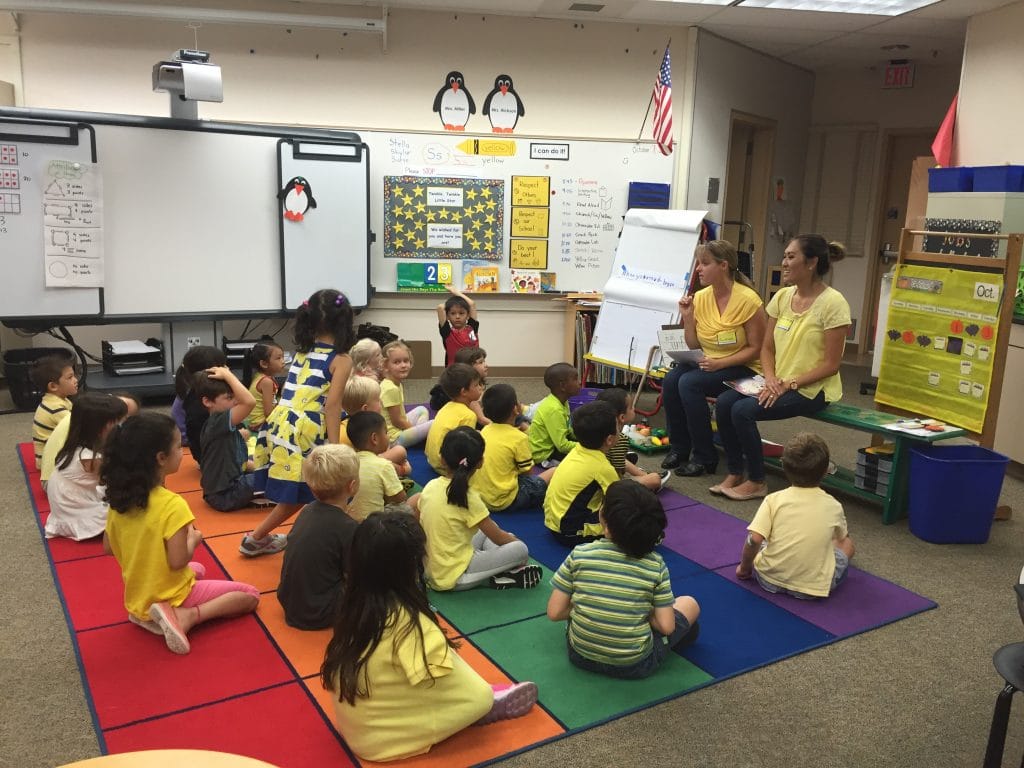 Super Pledge Update!
Our class is one of the many classes that have at least 80% of our envelopes in! If you haven't already done so, please return your envelope so your child can get their bracelet and we can get all of our class pledge envelopes in! We have a handful left we need to turn in!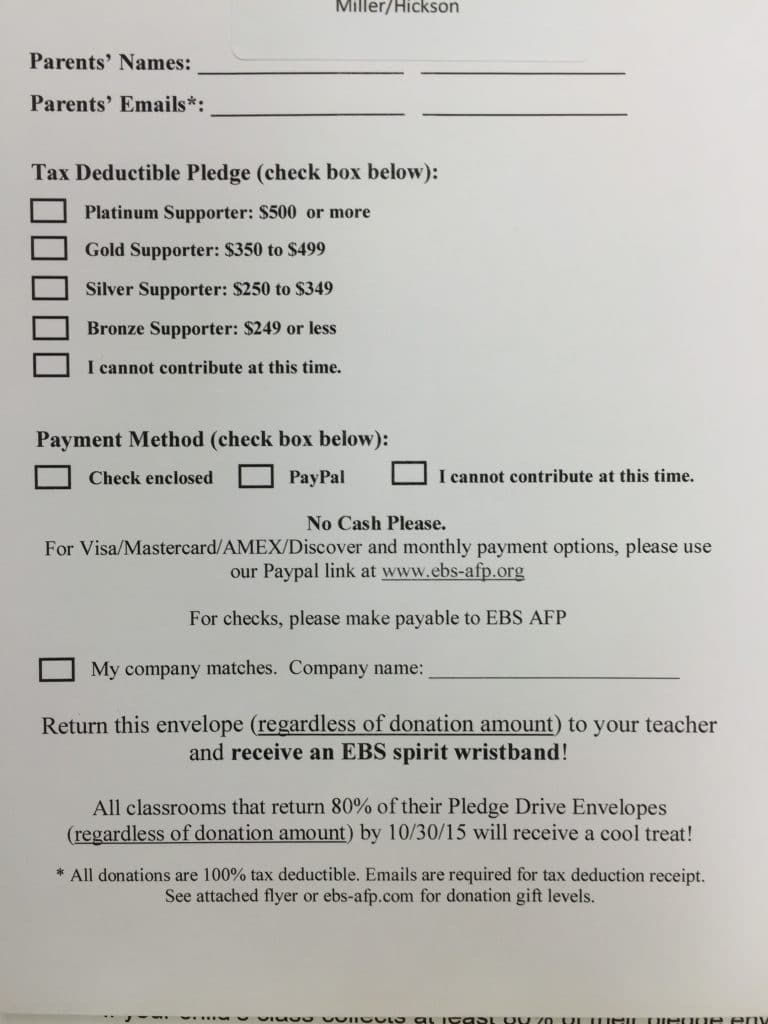 206 Book Borrow
Book Borrow Envelopes will go home again on Monday. Remember to be reading these books repeatedly each night. For the early reading levels A-E, its extremely helpful to reread these texts multiple times. You'll find that your child will likely memorize the book. This is common and typical for early reading and is a developmental stage of reading. Remind them to point to each word in these levels as well.
Remember to…
Talk about the meaning of the book after the first read through
Have your child point to each word as they read (typically in levels A-E)
Reread these books 1-3 times each night
Practice and build sight words (especially common ones you see in the book)
Log the reads into your Homework log

each

night
If the books are way too difficult or too easy, return the envelope and we can trade them out. This may happen the first time or two as we find the right levels. The books may be a little difficult the first night as you support more that first night. By the last night your student should be able to read them independently. Celebrate the success at the end of the week!
Pictures for Family Tree
Don't forget to send your family photo for the Family Tree Wall. Visitors and especially your children love to see the family photos on the wall!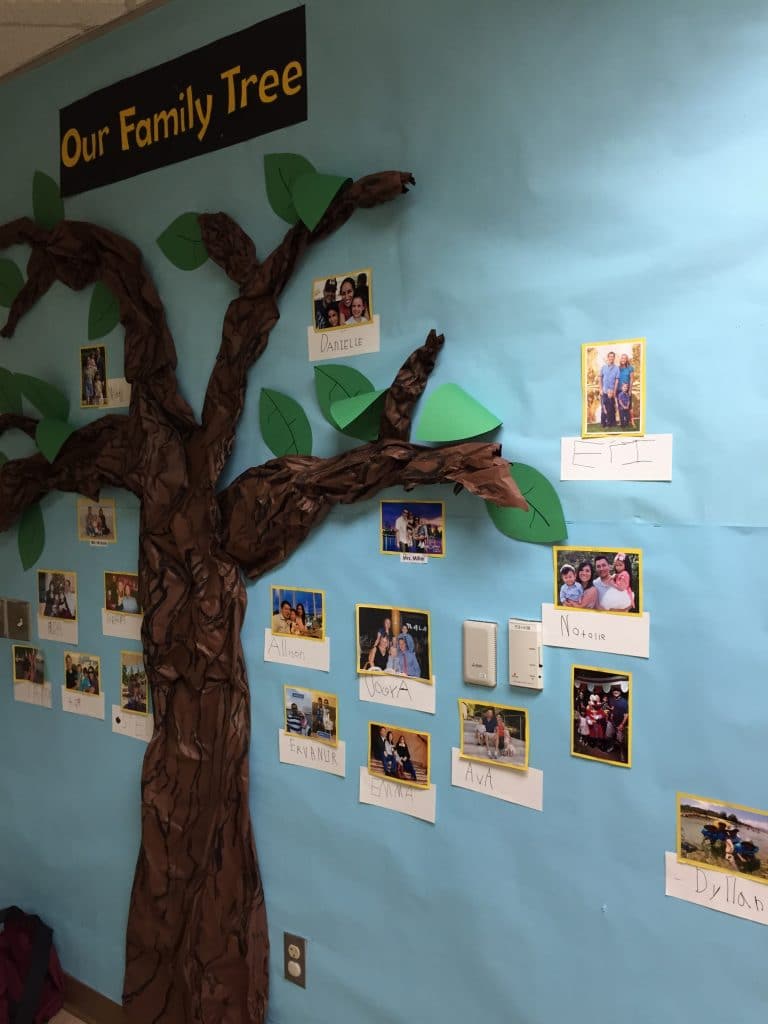 Federal Survey Cards
Please return these Monday if you haven't returned yours already. Here's a picture below of what the card looks like. We are checking off returned cards daily and turning them into the office as soon as we get them. Thank you for your help!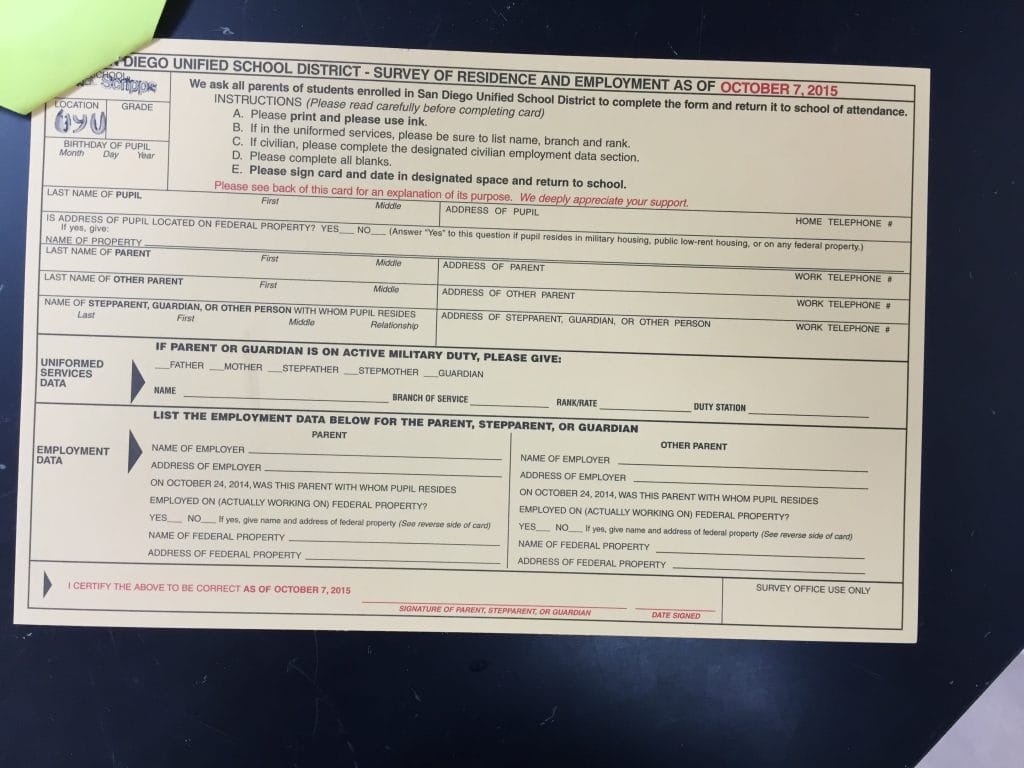 Box Top Envelopes
Thank you Brenner for collecting our Box Tops to help our school! She put out an email to all parents and is picking up turned in Box Tops in the classroom. She also sent home an envelope in each child's folder to make it easier. Feel free to use the envelope or any other baggie with your child's name and Room 206 on it.
The top 3 classes win prizes! Let's see how many we can collect for this round!
Volunteers – What a Village!
Thank you volunteers for helping our village! I can't even explain how grateful Mrs. Hickson and I are for all your help and offered time! You all together make this class so wonderful! From Character Education to Fine Artists, Box Tops, AFP Liaison and helping in the class! We are so very fortunate to have you all in our 206 Family!
If you are volunteering for the first time, I've updated the volunteer page to give some information to FAQ. Take a look and let me know if their are any additional questions. Thank you again for making our class and school so amazing!
Here's some awesome penguins (made by our fabulous TK's) that our volunteers hung this week!
Homework
As a reminder, read your Book Borrow Books each night 1-3 times each. Log these into the your Homework log. If you are reading the Book Borrow Books, you can log in the "Number of Times Read" instead of logging in the minutes for those books. If you are Reading To your child any books of interest you can log in the number of minutes read. If you do both, you can log in 2 separate reading sessions for that day (1. Student reading  to Parent, 2. Parent reading to student). Thank you for your promptness in turning in logs and for all the parent comments each week!
Thanks to our classroom volunteers this week, your child will be receiving a packet of math practice sheets to go home. These are OPTIONAL to complete and DO NOT need to be returned. There will be a information sheet stapled to the top, but I wanted to give you a heads up. The packet will be EXTRA practice for the math concept we are doing in class. Since these just got prepared, the initial packet is from the unit that we just completed.
Here are some examples of TK Friends that are marking down the number of times read and rereading the Book Borrows each night. The log at the top also shows double reading sessions on the same day (one to your child and the other, the child to you).
Computer Lab – ABCya.com
This week we were able to go to the Computer Lab multiple times as a special practice week! Our awesome Ms. Martin thought the extra practice would allow the students to become familiar with all the procedures of the Computer Lab and the computers including "mouse" practice. It's almost comical, how in this day in age, due to all the table and phone devices it is mostly common to see young children so unfamiliar with using a mouse. Technology is constantly updating and changing. For the purposes of our computer lab, the students use mice to navigate the computers. They are doing great and catching on. This week, we were able to get onto ABCya.com
The students love ABCya and all the options that are available. This can also be used as an incentive to putting in reading time, if you student could use some motivation to do their homework reading. Here's the directions on how to log onto ABCya. If you get your child to the EBS website, they will likely be able to get their on their own with a little help.
Go to – EBS Website
Click on – Students
Click on – Computer Lab
Click on – Ms. Martin's Favorites (on the left)
Click on – ABCya.com
Click on – Pre-K or K
Then choose from math, reading, etc.
We will learn another website in the next week or two that your students will be able to do their leveled reading and add to their Homework log. In addition you can always visit our Links page (under Resources Tab) to see info on all the EBS links.
Here's a picture of our kids viewing ABCya.com before they went out to try it on their own computer.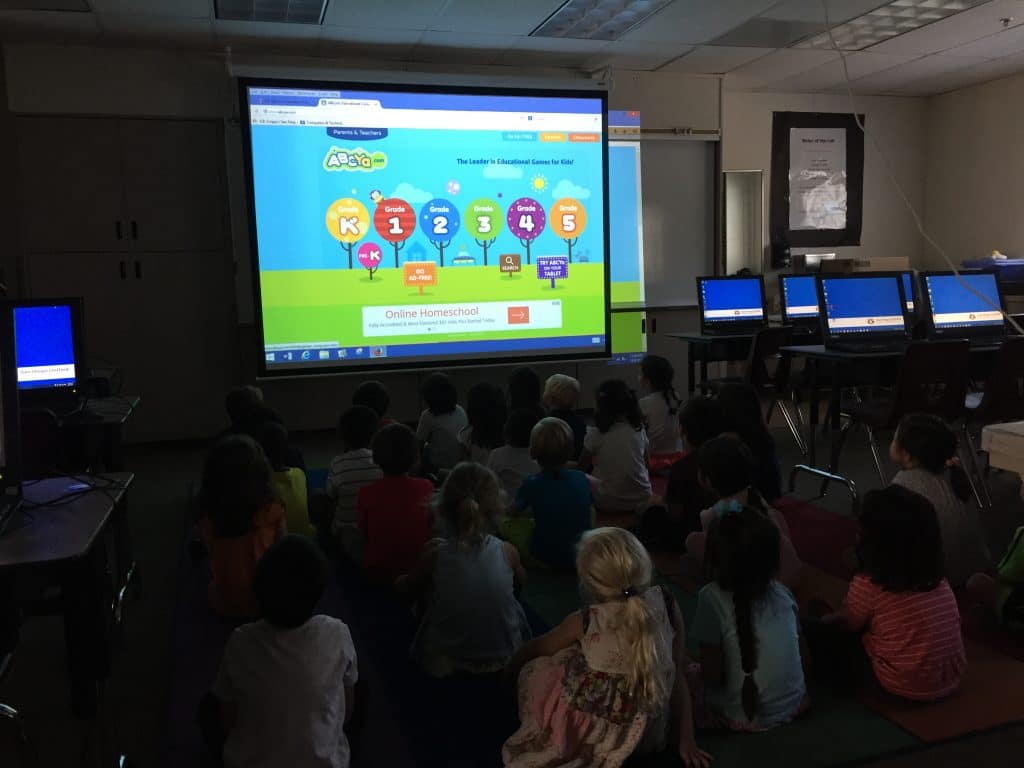 This Color Week –
YELLOW
We read our poem about Blue, and even met our friend Blue Bird puppet during Character Ed. this week. On Thursday, we all enjoyed a tasty Blue snack! See our Blue Picture below! Next week is GREEN…hunt for your GREEN outfit this weekend!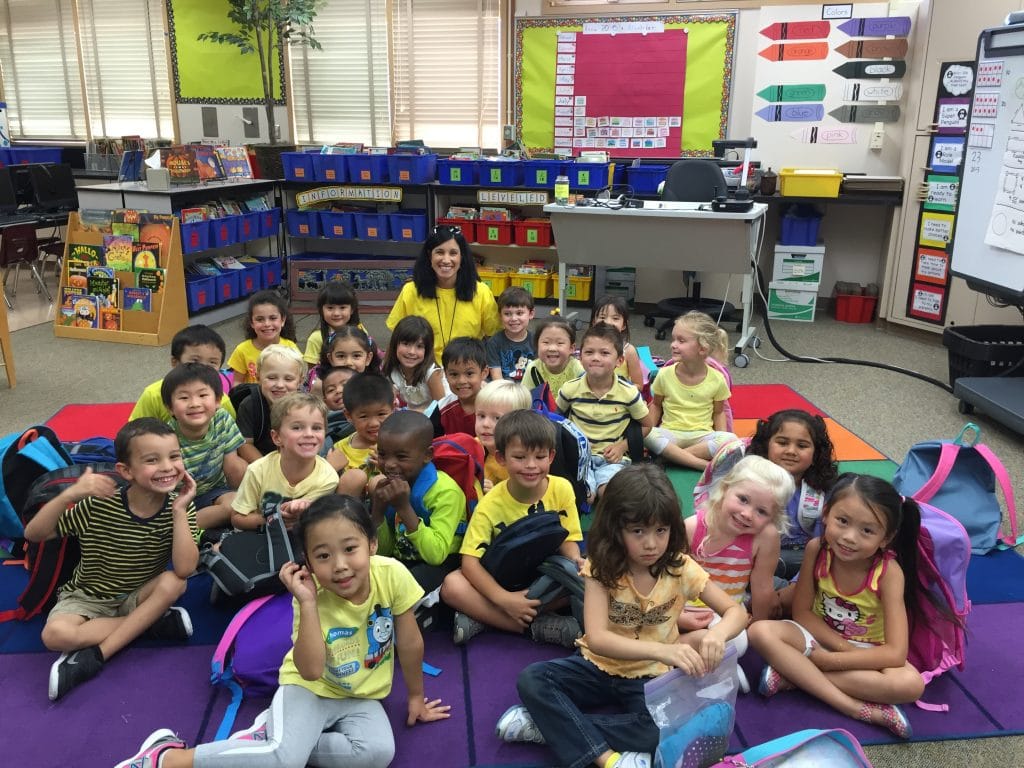 This past week in…
Math – Started our new concept in Number Sense 1-10. Though our students can count very high, we are spending time practicing the concept of understanding the amount that is attached to the symbol. Some ways you can practice at home are:

Have your child practice writing the symbols 1, 2, 3, 4, and 5.

This can be done with pens, markers, rice on a cookie sheet, sand, etc.

Write a number down and have your child match that many objects next to the number.
Show them 5 items (beans, crayons, etc) and have them count the items. Then scoop some of them away (undisclosed amount) and see if they can tell you how many you are hiding. If this is too difficult with 5, try it with 4 items.

Interactive Writing vs Writer's Workshop: This week we spent a lot of time in Interactive Writing. This varies from our writing time in a couple of ways.

During Interactive Writing, all students are writing the same message on either in the air, paper, white board, etc. We are practicing the conventions of writing as well as the formation of letters and the phonics of writing. Typically I'll have students come up to hold the pen and write, while I model the same writing on a white board for the rest of the class. We come up with the writing choice of words together for an authentic purpose (a quiet sign to remind us to walk quietly).
During our Writer's Workshop time, we are focusing on multiple things and students are each writing their own piece/message. Typically we will do a mini-lesson on an area to try on. Then students come up with their own idea and go off and write on their own.

Sight Word Practice: I, at, the
Letter Ss – We practiced the sound that Ss makes and came up with many words that start with Ss. We practiced reading our Ss book. Look for Ss words/objects as you drive around.
Here's an extra pic of the kids having so much fun with a song and Mr. Waczek our music teacher!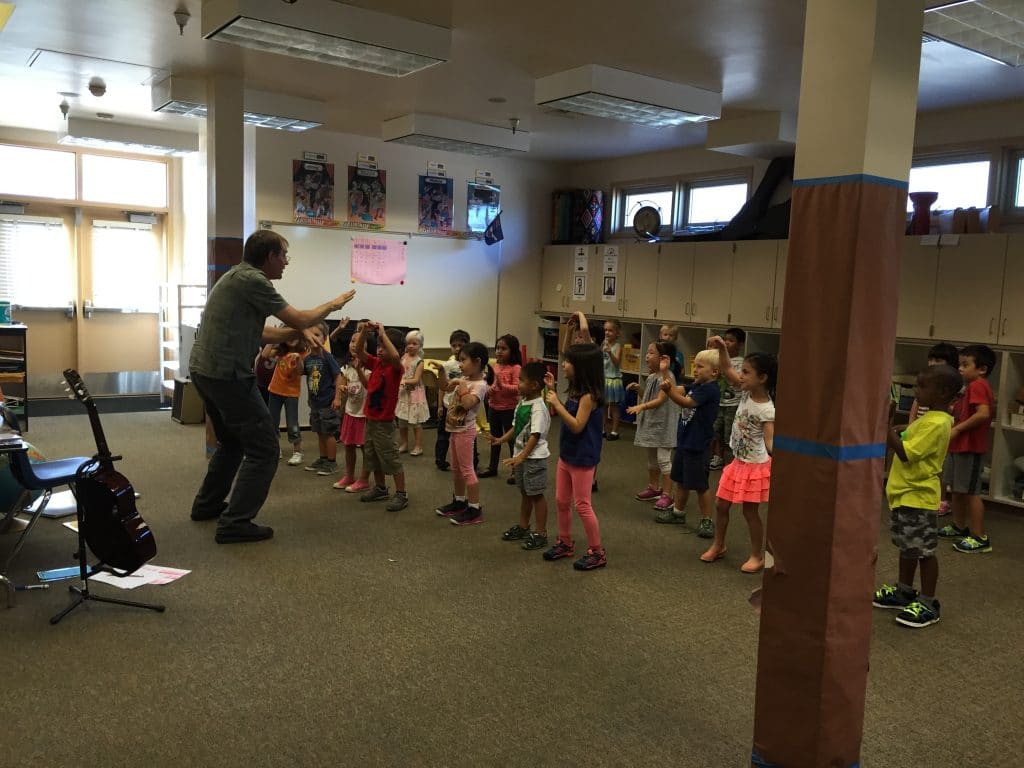 Future Dates to Mark
Our annual school Fall Festival is coming soon! Don't forget to mark you calendars now so you can all attend! Its a great evening of fun! Friday, October 23rd @ 5:30!
A Look at our Week Ahead
Monday – 10/12
Start of GREEN week!
Volunteer: Megan Black
Tuesday – 10/13
Wednesday – 10/14
Computer Lab with Mrs. Martin
Volunteer: Jeannie Smith and Nikki Green
Thursday – 10/15
Wear GREEN Day and have GREEN Snack!
California "Great Shake Out" – Earthquake Drill at 10:15
Mission Federal is in front of EBS before school if you are interested in opening a special savings account for your child.
Lunch Only day at 11:35 pm (eat a BIG breakfast)
Minimum Day, whole school dismisses at 12:30pm (dismissal in 206)
Volunteers:  Laarnie Chou, Melissa Adomeit
Friday – 10/16
Music with Mr. Waczek – 8:50 am
Volunteers: Stacy McMullan