Welcome to Week 6! This post includes:  •Super Pledge Update  •206 Book Borrow   •Box Tops  • Classroom Volunteers  •Homework   •Fall Festival Basket   •Great Shake Out (Earthquake Drill)  • Last Week's Color GREEN   •This Week's Curriculum   •Future Dates   •The Week Ahead  • Heart GOAL!
Our weekly blog post is to inform you, update you and share the school world of your Transitional Kindergartner! Feel free to give feedback or ask questions.
Super Pledge Update!
Our class is one of the many classes that have at least 80% of our envelopes in! If you haven't already done so, please return your envelope so your child can get their bracelet and we can get all of our class pledge envelopes in! We have a handful left we need to turn in! Remember you don't need to donate to return the envelope or get your child's bracelet!
This is a huge help to EBS, to help fund projects like the new shade structure on the upper playground (if you haven't seen it…check it out…its awesome!) and to create and run our computer lab and keep our classes sizes lower by hiring an extra teacher.
206 Book Borrow
As per some parents requested, we tried sending home Book Borrow Envelopes on Friday instead of Monday so families could read some of their reading sessions on the weekend if they wanted to. This allows families to choose which days they want to do their 5 (or more if you wish) reading sessions.
After reading Homework logs, I thought I'd add some solutions to the FAQ below:
"My child is bored and doesn't want to read the books multiple times…" –  If your child, is bored or complains about reading the books multiple times/nights, try using the Bookworm reward. I will send home one worm with each child next week. Basically, your child earns dot stickers for each time they read a book by themselves. This helps to build motivation for rereading. See the sample below!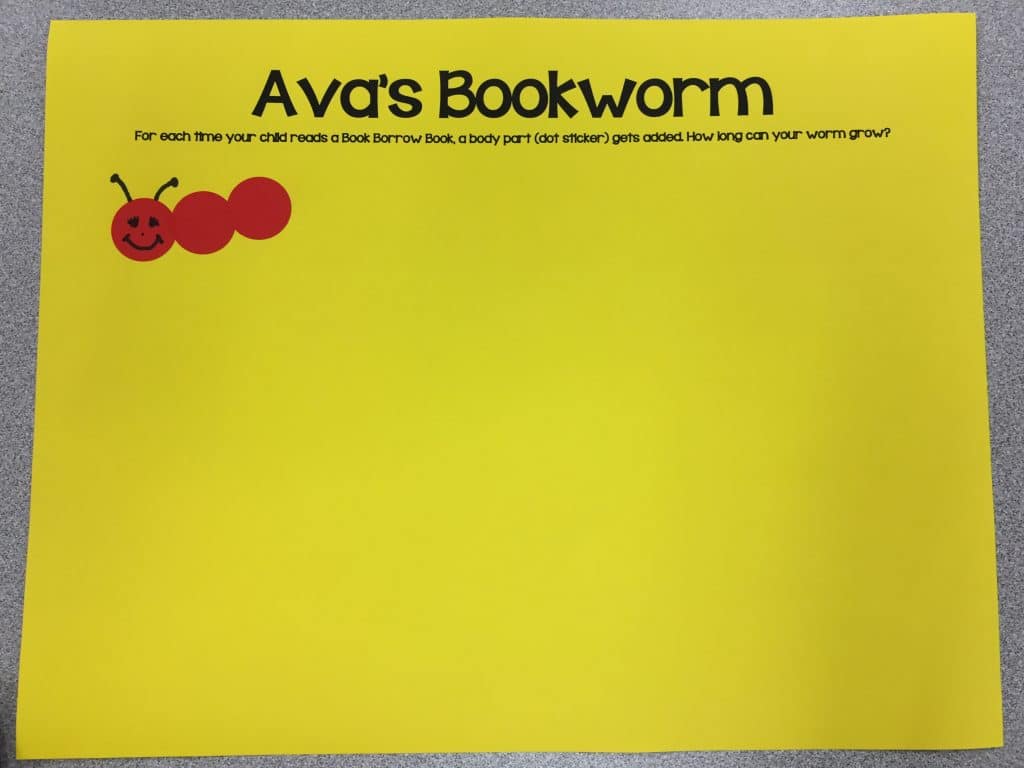 "Our books are too hard/easy…" –  If the books your child chose are way too easy on the first read, or too hard after 1-2 nights of reading, just bring the books in early and switch them out. You can also send a note on the books to let us know which books were too hard/easy or if you want to keep the books longer.  See sample pictures of notes to direct next book choices.
Remember to…
Talk about the meaning of the book after the first read through
Have your child point to each word as they read (typically in levels A-E)
Reread these books 1-3 times each night
Practice and build sight words (especially common ones you see in the book)
Log the reads into your Homework log

each

night
Box Tops
Thank you for everyone who turned in Box Tops these past two weeks. If you weren't able to send any in…no trouble or fear! There will be another collection time in a few months so you can start saving Box Tops now! Thank you again to contributing to what makes EBS so amazing! Thank you to the Brenner family for advertising and counting the Tops for our class!
Classroom Volunteers
If you are volunteering in the classroom, please feel free to come into the class a few minutes before the bell so I can go over how you'll be helping our class that day.  Thank you again for all your donated time to our kiddos!
Homework
Thank you for all the comments and feedback on the homework logs. Its great to see how the students are reacting to reading at home! Thank you for the comments regarding the student reading and the comments regarding your discussions when you read to your child!
Fall Festival Basket
A special thanks to Room Parents from Mrs. Offord's class and our class for coordinating our Fall Festival Basket. It is beautifully decorated and is for a Family Movie Night Out. This basket will be at the silent auction during the Fall Festival!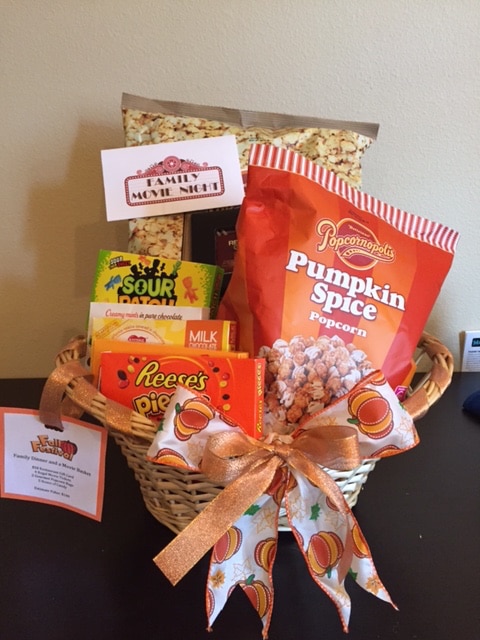 Great Shake Out – Earthquake Drill
This past week our class and many other businesses and all schools participated in the Great Shake Out. This is a time for everyone to practice what to do in the event of an earthquake. We discussed how in a "real" earthquake the ground would shake and then we discussed what we would do.
Get under the desks (one hand covering eyes/face, the other hand on a table leg)
Wait quietly while the shaking stops
Wait until 2 minutes have passed after the shaking has stopped
Go outside and line up with all the other classes in the clear area.
The students did a great job. Some of this was confusing as we spoke, but they did a fantastic job! We're so proud of everyone!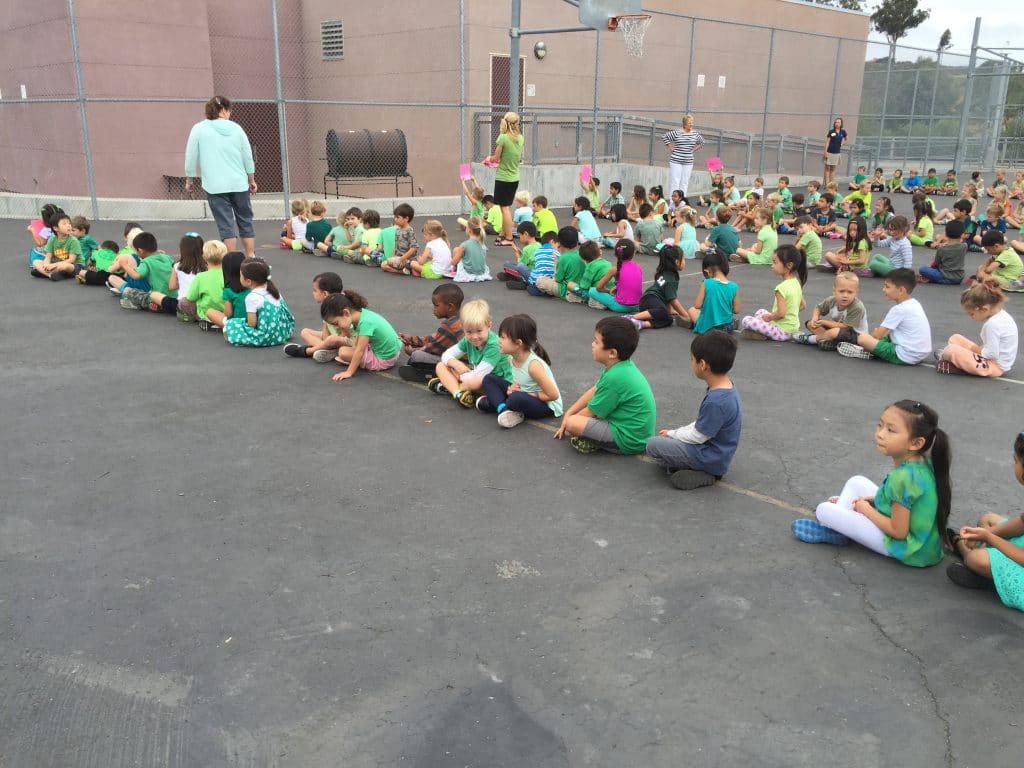 This Past Week's Color – 
GREEN
We read our poem about GREEN.  On Thursday, we all enjoyed a tasty GREEN snack and took our GREEN photo! See our GREEN Picture below! Next week is BLACK…hunt for your BLACK outfit this weekend!
This past week in…
Math – We continued our work on Numbers 1-5. This week, we practiced showing the number to understand the quantity attached to the symbol. We also spent some of our math time practicing adding and taking away cubes to build/breakdown towers to match the number given.
Interactive Writing – This week we started using whiteboards during Interactive Writing. Our amazing volunteers created a Interactive Writing Bag for each student. The bag contains a whiteboard pen, a whiteboard, a felt eraser, and their name tag (with other supports on it). Each day the students have started the routine of writing their first and last name two times (as shown on their name tag) while everyone gets seated and ready to write. This was a new routine, but has been very fun! Once everyone is ready, the students, a writer in front of the class and myself will construct authentic text to make labels, signs, etc. in our room.
Sight Word Practice: I, at, the, is, to
Letter Aa – This letter was our first vowel so far and was more challenging for the students as it has multiple sounds. This is a sound we will continue to work on. When practicing this sound (especially for writing), remind your student of the 3 sounds of Aa that we practiced "Aa as in apple, Aa as in Angel, and Aa as asleep." (/aaa/, /ae/, /uh/)
Fall Festival…this Friday @ 5:30
See Calendar Dates Page on our website to see important dates for this year!
A Look at our Week Ahead
Monday – 10/19
Start of BLACK week!
Volunteer: Megan Black, Phyllis Chan
Tuesday – 10/20
PLC Planning for Kindergarten/TK Teachers – Substitute in 206 for the morning
Wednesday – 10/21
Thursday – 10/22
Wear BLACK Day and have BLACK Snack!
Volunteer Picture Day for Badges (8 – 10:30)
Computer Lab with Mrs. Martin
Lunch Only day at 11:35 pm (eat a BIG breakfast)
Minimum Day, whole school dismisses at 12:30pm (dismissal in 206)
Volunteers:  Laarnie Chou, Kelly Murphy-Lyman
Friday – 10/23
Music with Mr. Waczek – 8:50 am
Volunteers: Stacy McMullan
Fall Festival (5:30 pm….come in your costume if you dare)