Welcome to Week 7! This post includes:  •Fall Festival  •206 Halloween Celebration  •Numeral Handwriting Practice  •Super Pledge Update   •Fine Artists   •Volunteers  •Conference Sign-Ups   •Computer Lab Independence   •This week's Color Day  •Book Borrow  •Homework: Sight Word Review  •Box Tops   • Last Week's Color BLACK   •This Week's Curriculum   •Future Dates   •The Week Ahead
Our weekly blog post is to inform you, update you and share the school world of your Transitional Kindergartner! Feel free to give feedback or ask questions.
Fall Festival
What a successful Fall Festival! It was so great to see all the faces around school and to be there at night was an unusual treat that all the kids loved! With all the activities going on, the students seemed to be having an amazing time!  So great to see many of you on Saturday Night!
206 Halloween Celebration!
This week is the 206 Halloween Celebration! The students will rotate through a series of crafts and games! Three cheers to our Room Parents (Laarnie Chou, Liz Urenda, and Jeannie Smith) for planning this fun event! See the information below!
WHAT: Room 206 TK Halloween Celebration!
WHEN: Friday, October 30th at 11:15 (right after recess)
WHERE: Room 206
WHO: All 206 Students and cleared adults are invited!
*A friendly reminder that students aren't allowed to bring candy or wear costumes to school. Snacks and treats will be provided for each child at the party!
Numeral Handwriting Practice
This week, your child will receive some Numeral Handwriting Practice. This is an optional, but recommended practice. There is no rush in finishing this, nor does it need to be returned as it is not homework. This is another way for the students to practice formation, strokes and directionality. The little rhymes that go with each number are fun and helpful reminders! This can also help to practice the Math Standard in Counting and Cardinality
(Write numbers from 0 to 20. Represent a number of objects with a written numeral 0-20, with 0 representing a count of no objects) as many kiddos, write certain numbers backwards.
Other ways you can practice writing these symbols to practice
Write them in the air using 2 fingers as your "pencil"
Write them in sand/rice on a cookie sheet
Parents write them in yellow first and then have your child trace them with a favorite color.
• Don't forget to check your child's hand grip for good habits and correct formation. I have worked on this with some of the students for extra practice. Here's a great little write up on pencil grip from the web to help… if needed, tuck a little cotton in the last two fingers to help an awkward grip from starting.
Super Pledge Update!
This is our last week to turn in Super Pledge Envelopes. We are close to 100%! Thanks for all your support and participation!
Fine Artists
This week in our Fine Artists Lesson, the students learned about Nam June Paik. The students read a book earlier in the week about this artist and then practiced making a Paik Piece on Wednesday! Here's a couple pics of our little artists! A big thanks to all the parents who came out to help with the lesson and our Parent Art Instructor…Megan Black!
Some quick background info on Paik –  He was born in 1932 in Korea and he was a musician, composer, and eventually created unique art using everyday objects.

Volunteers
Please drop in the class when the gates open to go over directions ahead of time on how you can help that day! Thank you so much for your cooperation!
Conference Sign-Ups
This week Parent Teacher Conference sign-ups went home! Thank you for all of you who have returned it so far! These are due by next Wednesday as we will be creating a schedule, sending out confirmations and reminders as the dates get closer!
Computer Lab Independence!
Now that we have been to the Computer Lab 6 or 7 different times, the students are starting to gain some independence on navigating and getting to the places they want to go! Let your child practice and show you their skills! One mom said… "she told us to get her to the EBS website, and then she could do the rest! And she did!"
Below are the directions to one of the websites the kids use at school. Get your child to the EBS website and see if they can do the rest. If they need a little help, here are the directions. Try to say the words below to help them remember what to do next. We say these phrases/words in the lab as well!
For Pumpkin Carving or Decorating on line…
(From EBS Website)
Click on "Students"
Click on "Computer Lab"
Click on "Ms. Martin's Favorites"
Click on "ABCya"
Click on "Pre-K" (or "Kindergarten")
Click on Holiday
Choose "Make a Pumpkin" or "Carve a Pumpkin"
How'd your student do? Great job kiddos!
This Week's
Color

Day….FRIDAY

(not Thursday)

Due to the Halloween Celebration we will be wearing our Color of the Week (ORANGE) and having our Color Snack on Friday this week, instead of on our usual Thursday! Set a calendar reminder so you don't forget!
206 Book Borrow
Thank you for all the feedback on Book Borrow Envelopes and on home reading! This is so helpful in choosing new books and in knowing how it is going at home! I have heard many of you mentioning the growth you are already seeing at home! You will see amazing growth this year with the consistency at home and school learning! Thank you for partnering with us in your child's educational journey!
Homework: Sight Word Review
On the back of this week's homework, all the sight words we've gone over so far in class/homework are listed. There are enough now that you can start to play a little game that is fun and helps your child in reading these words. Check out the back of your homework log on how to play this game ("My Pile, Your Pile") and continue to build your stack of sight words cards to play this game 1-2 days a week! Kids love it and its a great way to build strength in sight word vocabulary!
Box Tops
One last reminder regarding Box Tops…. The next EBS contest won't be for another few months, but you can continue to collect now! The winning class brought in about 600 Box Tops which helps the school immensely simply by cutting out the labels on many household products you use daily!
Continue saving and have family, friends and neighbors save too! They are so light weight, that even family and friends can send them in the mail to you to help you collect!
This Past Week's Color – BLACK
We had another great color week! The student's dressed in BLACK on Thursday and had a yummy black snack (Oreos)! Check out our color picture! Next week will be ORANGE!
Due to Halloween, we will be dressing up for color week/color snack on FRIDAY, October 30, instead of on our usual Thursday dress day! Thank you for our flexibility!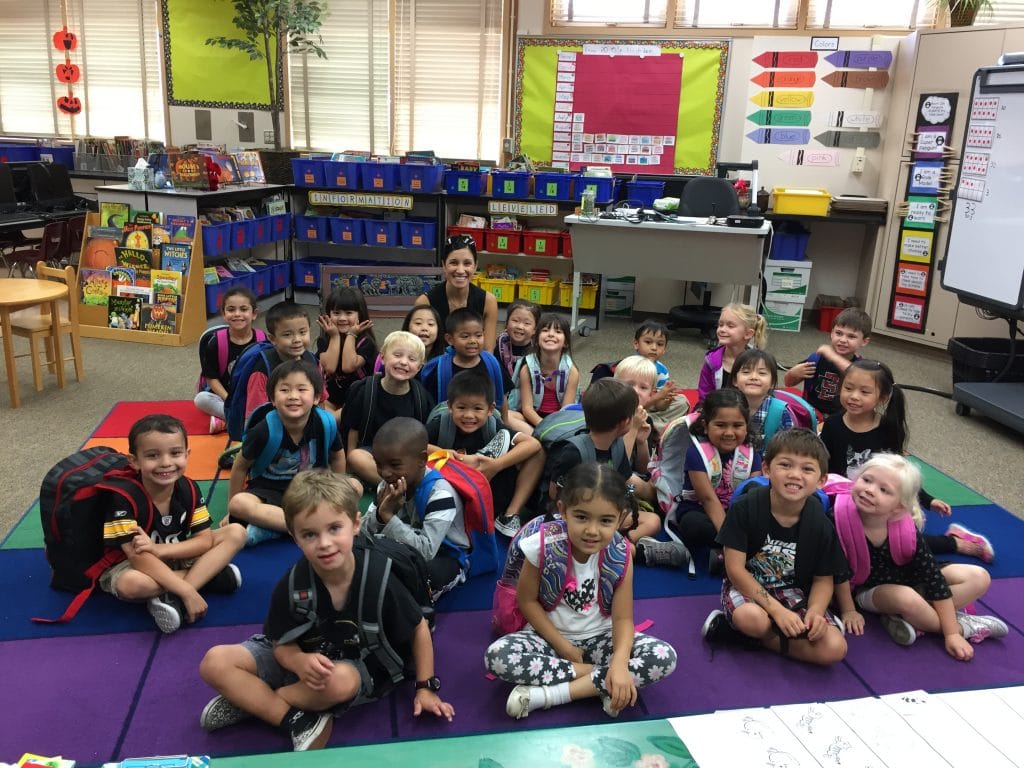 This past week in…
Math – We continued working with our understanding of numbers 1-5 and practiced showing different combinations of these numbers. This can be done many different ways. One way to practice this at home is called subitizing.  This is an awesome skill that builds great number sense and mental math ability. Read here to understand a quick background on this. Then use the same dots purchased for the Reading Bookworm to create Dot Plates and do some quick Dot Plate Activities regularly for 5 minute practice sessions! These will also be in the put in the Resources page of the website.
Writing – This week we spent time on writing stories/narratives (a sequence of events over time) to tell what happened First, Next, and Last in our story. For example I told them a story about an oven fire I had in my house. I drew the pictures and added words and numbered my pages 1, 2, and 3 to explain what took place first next and last. Have your child practice telling you a story of an event that happened at school, home, play date by telling you what happened first, next and last.
Sight Word Practice: I, at, the, is, to, it
Letter Cc – We practiced the /k/ sound and coming up with a list of C words. We introduced that "C" makes another sound…./s/. We practiced writing this important letter that helps us to write so many other letters. FYI…we use the "c" to make the letters …a, d, q, g, and the number 9. So many symbols that start with writing a "c." The most challenging part of writing a "c" for the students, was writing that

first part of the "c" that goes up

and then around and down. Practice writing this letter at home. Start with the little hook line that goes up and then the rest of the letter goes down and around.
Upcoming Events
Picture Make-Up Day (for Volunteers Badges too) on 11/10/15
EBS Scholastic Book Fair!!! (12th – 20th, Night Event on 11/19/15)
Grandparents Day – 11/20/15
See Calendar Dates Page on our website to see important dates for this year!
A Look at our Week Ahead
Monday – 10/26
Start of ORANGE week!
Volunteers: Saori Massey, Phyllis Chan
Tuesday – 10/27
AFP Meeting at 6:30 pm in the MPR
Wednesday – 10/28
Volunteers: Jeannie Smith, Megan Black, and Nikki Green
Thursday – 10/29
Computer Lab with Mrs. Martin
Lunch Only day at 11:35 pm (eat a BIG breakfast)
Minimum Day, whole school dismisses at 12:30pm (dismissal in 206)
Volunteers:  Laarnie Chou, Melissa Adomeit
Friday – 10/30
Wear ORANGE and have an ORANGE Snack!  (FRIDAY instead of Thursday!)
206 Halloween Celebration at 11:15 am (Come if you're Cleared!)
Music with Mr. Waczek – 8:50 am
Volunteers: Monica Rashidian, Stacy McMullan
Happy Halloween!