Welcome to this week's version of The SCOOP. You can read about updates on events from the past week and events that are coming up.
Character Ed. – Compassion
This week Jan Ash, a beloved 206 grandma, came in to teach our Character Education lesson. This month the concept was COMPASSION! It couldn't have been a better lesson. Ms. Jan came in to read the students a book that gave a great example of compassion. She then spoke with the kids about compassion and they discussed some different examples of compassion. Then, the students went to their seats to draw a picture and wrote about different ways they can be compassionate. Here are just a few of the quotes that our students came up! It was so impressive to see the variety of ideas that each little mind thought up! Your children are wonderful!
"I show compassion by helping others when they get hurt."
"I show compassion by making a valentine and card and then giving them a hug."
"Take care of my baby sister especially if she is feeling left out."
"When my grandma is in the hospital I take care of her."
"I don't like wasting water in the sink. (showing compassion by saving water.)"
"Help to pick up my room so my mom can see the floor."
"If they lose their dog, I can help bring it back to them."
Here are pics of the lessons and some student samples. Enjoy!
Bucket Filling or Bucket Dipping?
This week we read a favorite book of mine. There are a few different versions of this book (you may have read one), and they are all great. It is the greatest conversation and thought to have with kids. The concept of this book is that everyone has a bucket. When you compliment, love, hug, smile, etc you fill up someone's bucket and in turn, add to your own bucket. When you gripe, fight, put-down, bully, speak with anger or frustration, etc, you dip into and take out of other's buckets. The book goes on to explain, how many people we encounter that are mean or grumpy or unkind typically have an empty bucket. AND…the best way to help those people is to help fill their bucket! Filling a bucket is a two-fold reward — when you fill someone else's bucket, your own bucket is filled as well! We as humans were designed to fill! With that said, I gave them each a task this past Friday…fill a bucket a recess today and fill a bucket at home this weekend! …ready, set, fill-a-way!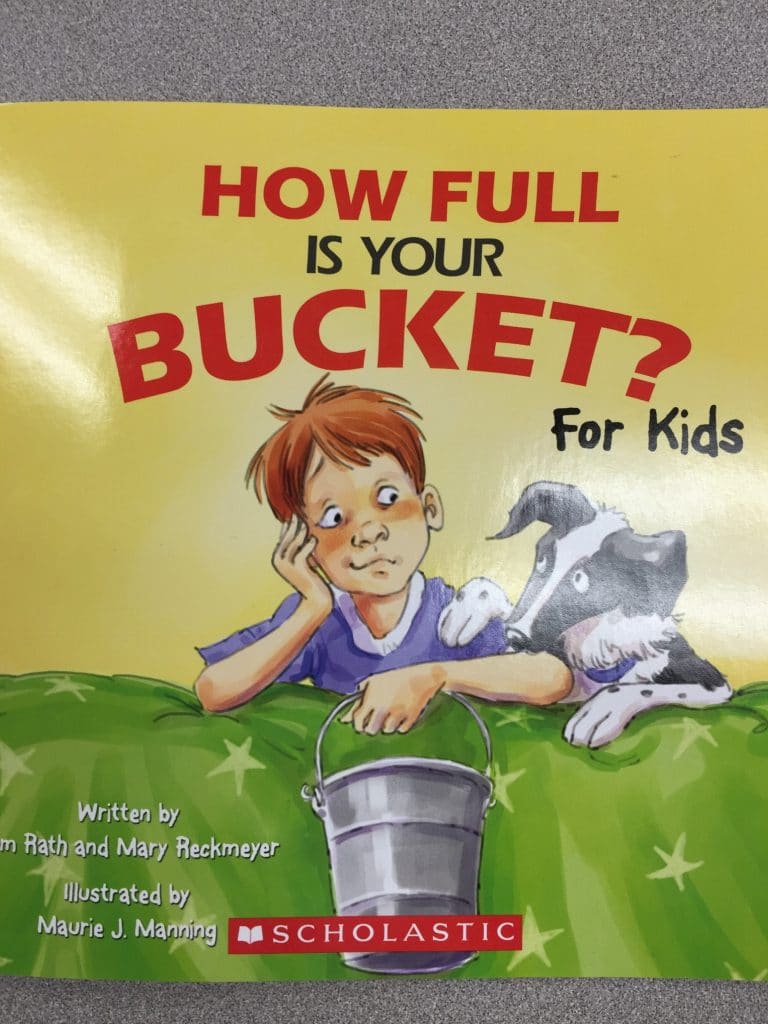 Reading Daily – Reading Logs (a true Kinder Garden)
As student Reading Logs do serve as "homework" for this Kindergarten/TK year, it is important to remember the purpose isn't to have every sticker filled on the class chart, but rather to create a habit for reading regularly and making it a part of daily and future life. Read to your child, listen to your child read to you, read side-by-side with your child (each having your own reading material in hand). It is the consistency that we aim for and is what will show the most growth with your child. All of these attributes have been proven to make your child more successful in school and in literacy!  I try to encourage them to "RAZ" their weekends and use their book borrows throughout their week. Use the log as a way for your child to practice accountability in their efforts.
Believe me I know we all lead busy lives (my own little kiddos make life so much more fulfilling and wonderful, but at  the end of our days and week we are flat-out exhausted) and there is so little time, but this diligence will pay off!
One of our TKers read 7 days this past week. We made a big deal out of this in class as we saw this student's log started on Friday night last week! This is not uncommon for this student! You may have noticed your child's reading taking off as we are just getting to spring! This is fantastic and one of the best things about teaching TK/K…a growing reader sprouting like weeds! Support and praise effort and diligence of your little reader and watch your Kinder Garden grow!
Comments??? – the comment section is a great way for you and I to be in touch specifically about what you are seeing at home during your child's independent reading practice. Please take advantage of this section. Share the concerns, successes and questions! I often write comments or questions back to you.
Last Call to be Cleared – March 27th
Just a reminder if you aren't cleared, the EBS Nurse office will be clearing through March for the 14-15 school year. The cleared status lasts 3-4 years so you will get your use out of this. If you have contemplated (even just to join us at the end of the year, father's day, a field trip, or even a impromptu visit/support to make your child's day) GET cleared! Its a simple TB test and some paperwork and is well worth it. If you aren't cleared by March, you'll need to wait until next Fall. (You know your thinking about…just do it!)
Monday – 3/16
PE with Mrs. Blower…wear Tennis Shoes! (this is required to participate and receive an accurate grade from Coach Blower)
Renew Book Borrow Bags (return the bags to receive new books)
Tuesday – 3/17
Return School Library books
Wear GREEN!

for St. Patrick's Day!
Wednesday – 3/18
Library Visit at 12:30   

(TK dismissal at 12:55 in the library)

Computer Lab
Thursday – 3/19
Minimum Day (dismissal at 12:30)
Mission Federal Credit Union at School for deposits!
Friday – 3/20
Homework/Reading Log Due (20 minutes a day! Don't forget to fill out comments)
Afternoon Run Club for K Students Only (Wear Tennis Shoes)