If you have any 206 friends who miss the information in this week's blog, please feel free to pass the word on via text, email or conversation. Thanks!
Spring Celebration – This Friday (March 27)
Come and join us this Friday for our Spring Celebration as we enjoy the beauty of the new season! See the details below. Flyers will be going home this week. Tell a friend to make sure everyone gets the SCOOP!
What: Story, Activity, Craft and Snack to welcome spring
When: Friday, March 27, 2015
Where: Room 206
Time: 11:30 – 12:30 pm
Who: Who's invited? Everyone who's cleared!!!!
RSVP: Please RSVP to Megan Brenk so we can plan accordingly      (mbrenk@gmail.com)
St. Pat's Day – (and the Leprechaun Surprise)
This St. Patrick's Day we celebrated by reading a St. Patrick's Day story, making a St. Patrick's Day Craft (see "6 Wishes" below), and having a rainbow of a snack (Skittles)! We also made sure to capture a "green" class photo before our day ended!
The student's were completely shocked and surprised as many leprechauns make a mess in rooms, but our little leprechaun made a different kind of mess. He left green in our toilet! Many giggles and gasps were made by this sight!
(Thanks to Megan Brenk for her help in making this all happen!)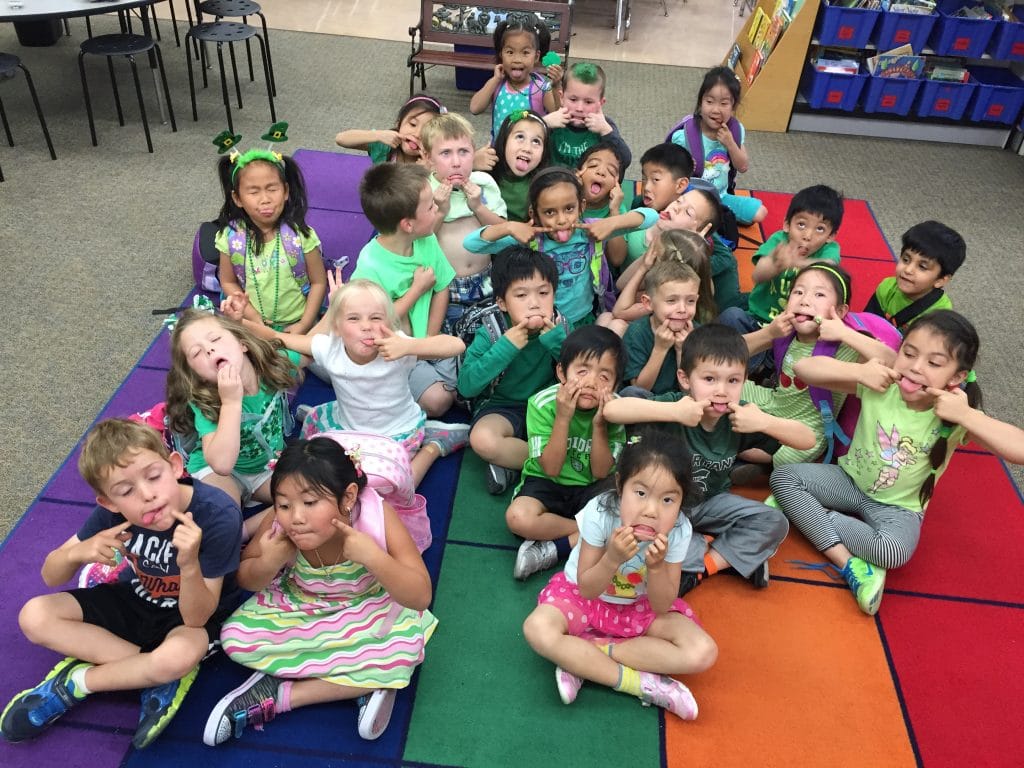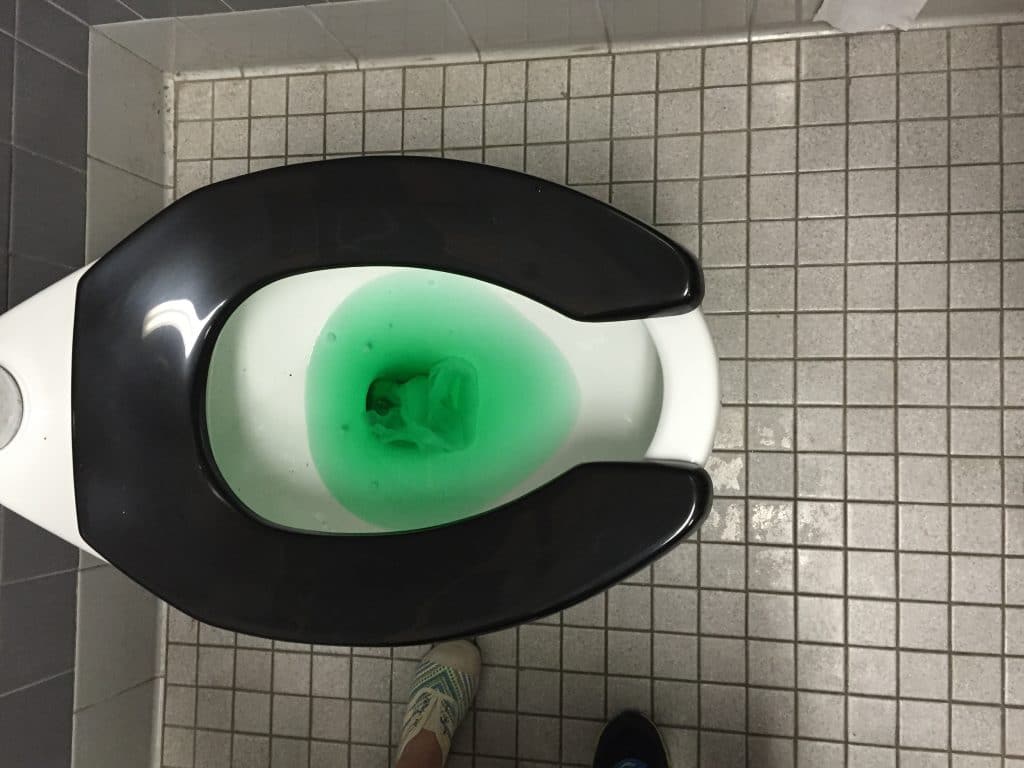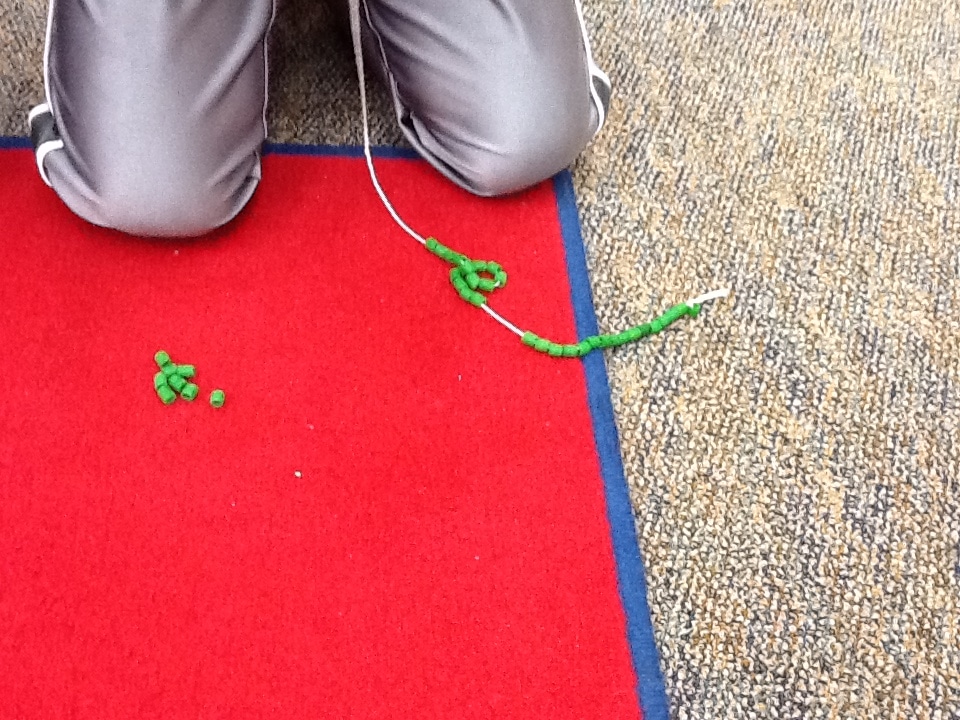 6 Wishes Craft
See some pictures from the 6 Wishes Craft.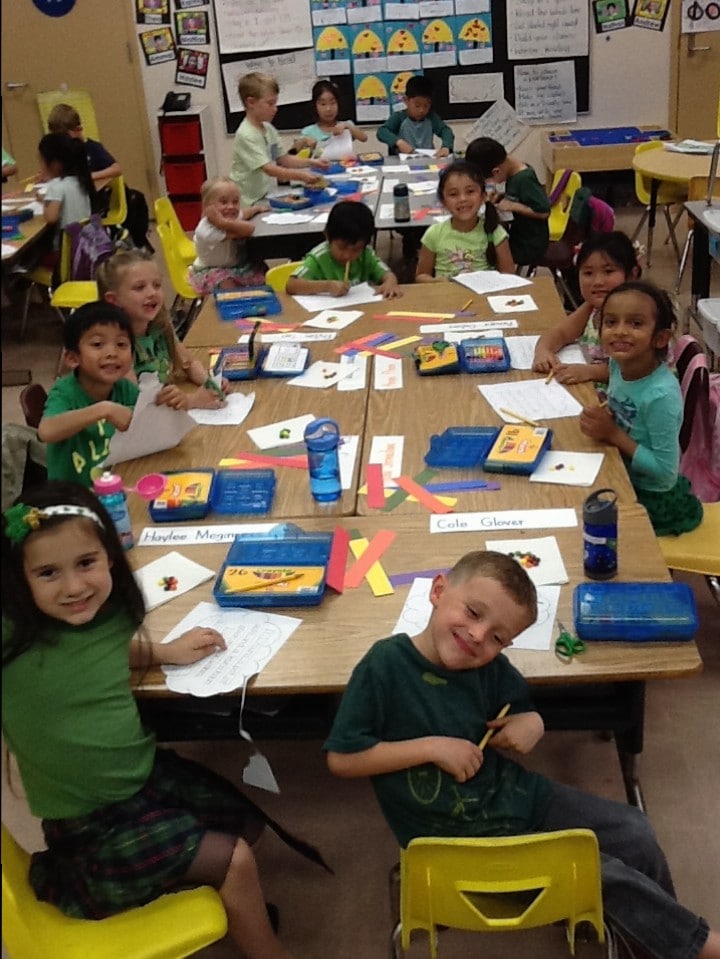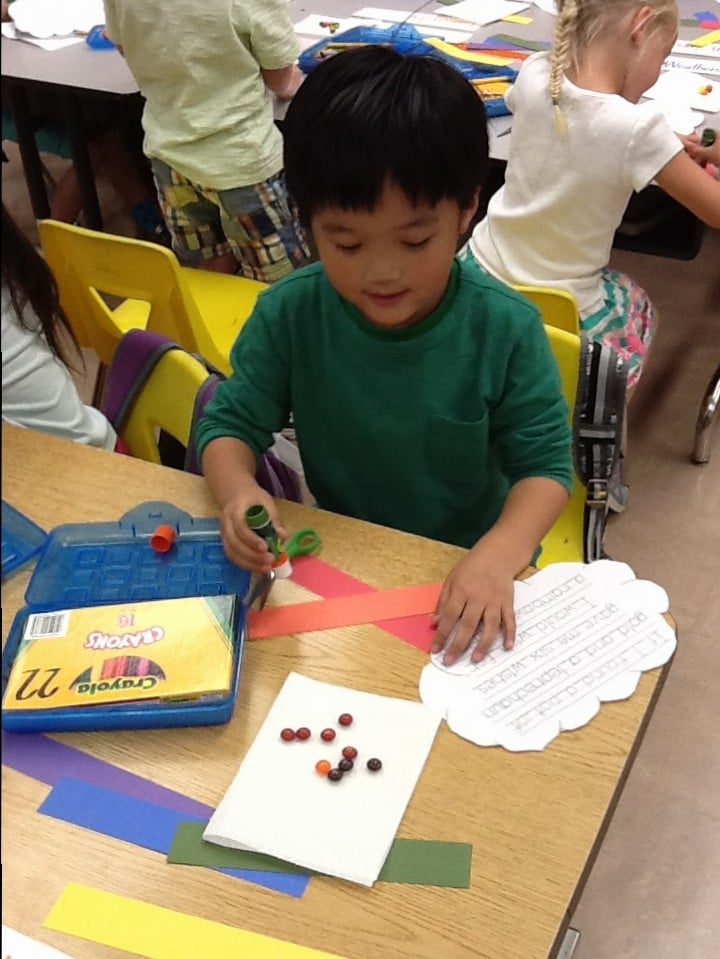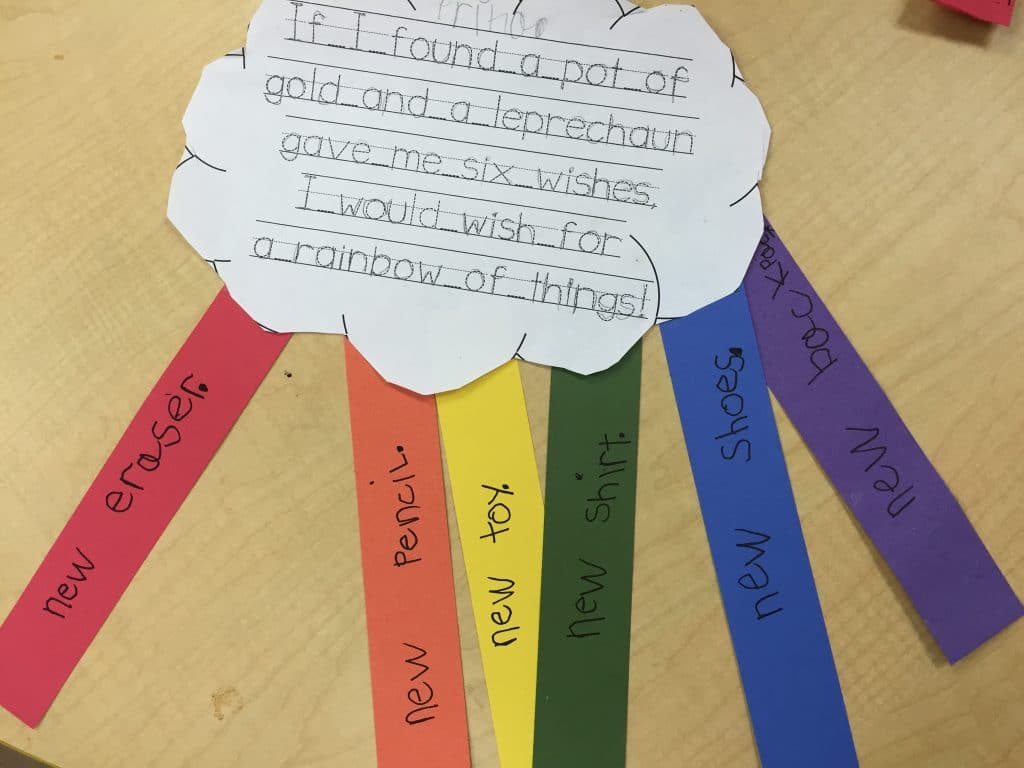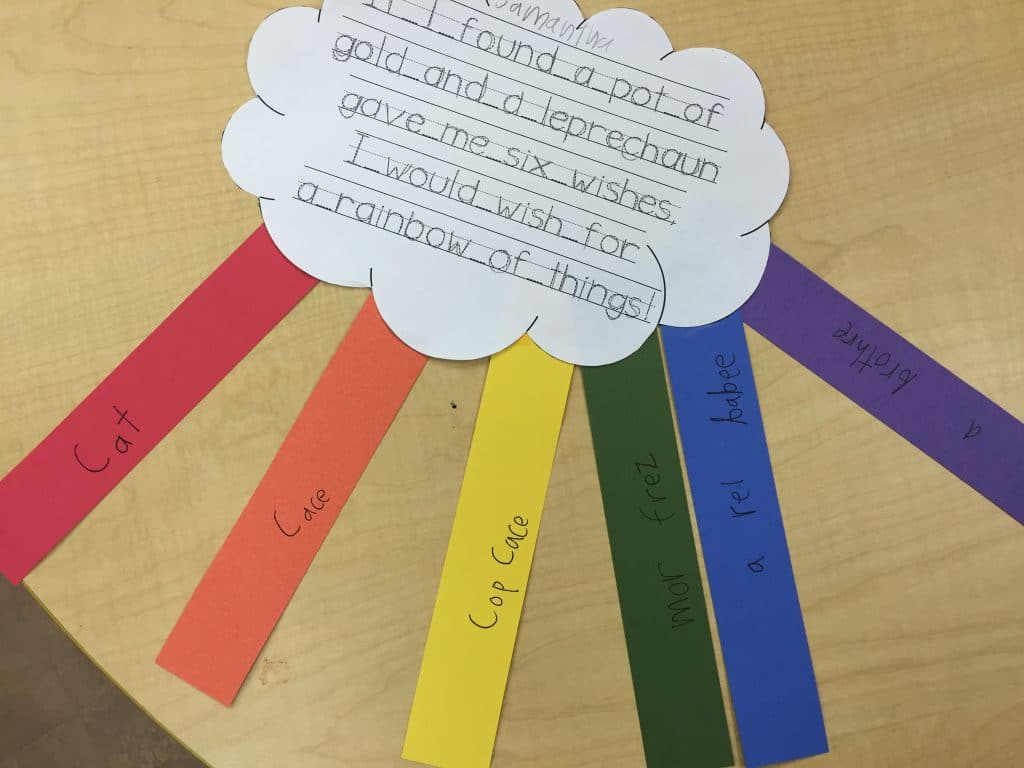 Jog-A-Thon Envelopes
Jog-A-Thon envelopes went home this past week as they are collecting all the donations and pledges that were made. These went home in student envelopes Wednesday and Thursday and were due on Friday. We are waiting for student award ribbons to come in to share with Grade Level winners (for running the most laps). We were told the ribbons should arrive by the end of the week so we may be able to announce this week or just after the spring break week.
 Kindergarten Science Night
This next Thursday (March 26th) at 6:30 pm, you and your student are invited to attend the Kindergarten Family Science Night. Each grade level at our school has a Science night and this month it's our turn. Unfortunately, siblings are not able to attend this event. Flyers (like the photo below) went home in folders this past week with the information.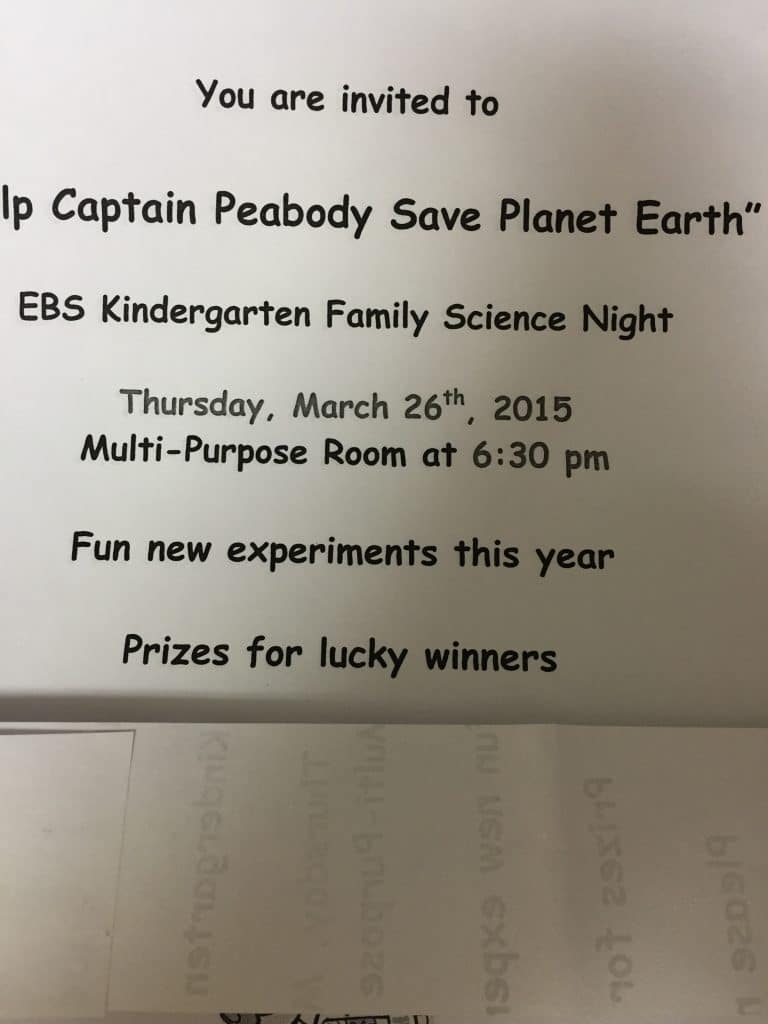 Mission To Save Banking Volunteers
We have been so fortunate to have been chosen by Mission Federal Credit Union this year to earn money back for our students by opening savings account and accumulating interest on it. The program is in need of some EBS representatives who can help on Thursdays mornings before school to collect deposits, etc. If you think you would be able to help out see the front office to help!
Math Challenge (number sets differentiation)
Each week during our Sticker Problem time, we get in partners (called Perimeter Partnerships as we sit in the perimeter around the rug) and read through our problem. Students then go out, solve the problem with another partner (Work-It-Out partners) and then come back to share their thinking with their original perimeter partner. When students are working with their perimeter partnerships, they solve the problem in two ways using the tools we have practiced and come to know well (see the poster below). If they finish solving in 2 ways, partners can go on to the Super problem, which is the same problem with a second set of numbers. If students can solve the Super Problem in 2 different ways, they go on to the Super Duper Problem which is the same problem with a third set of numbers. This allows students to spend time on the first problem as long as needed. This also allows for students who are able to be challenged with more difficult numbers to practice a second and third time. See an example below….the number sets are listed in parenthesis.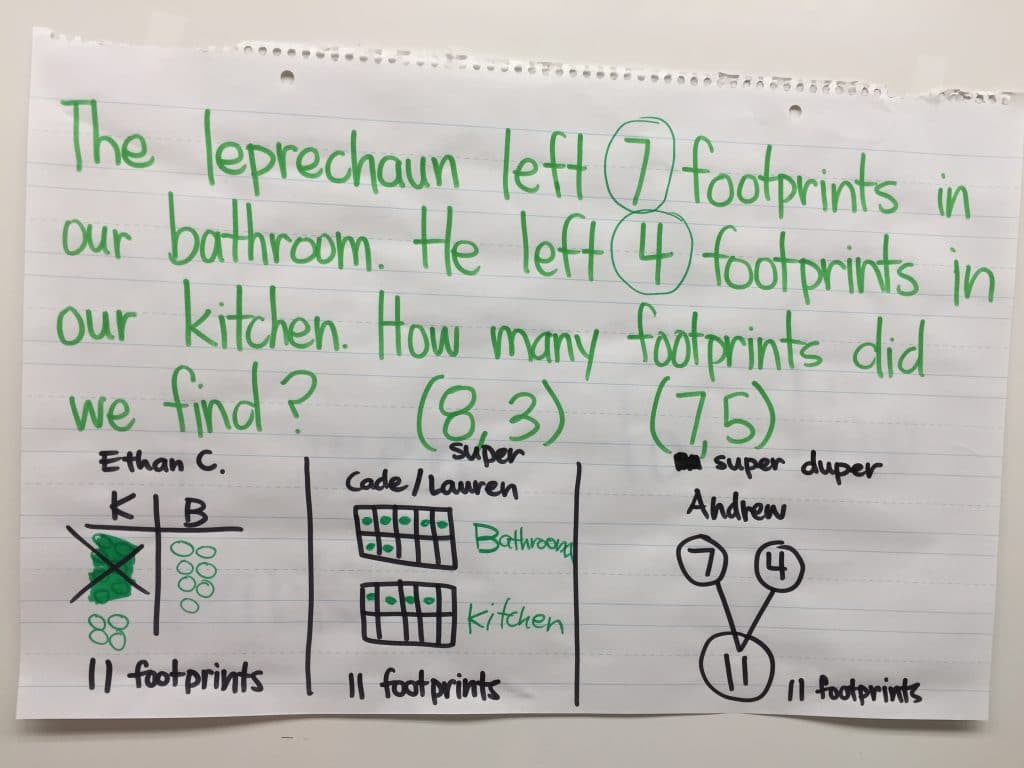 What makes me feel lucky?
Check out our writing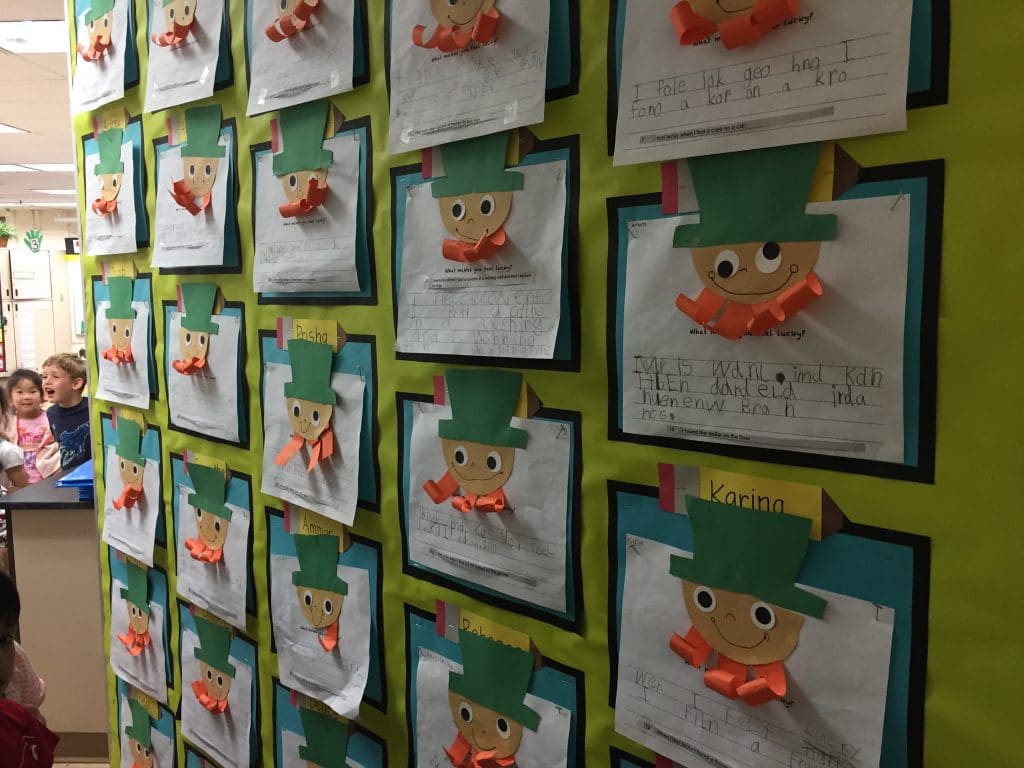 Partnerships
We've spent a lot of time working on improving our collaborative conversations. These conversations happen in whole group, small group, and in partnerships. We have spent a lot of time discussing what partnerships "look like" and "sound like." See our co-created chart to see what we practice as part of our partnership expectations.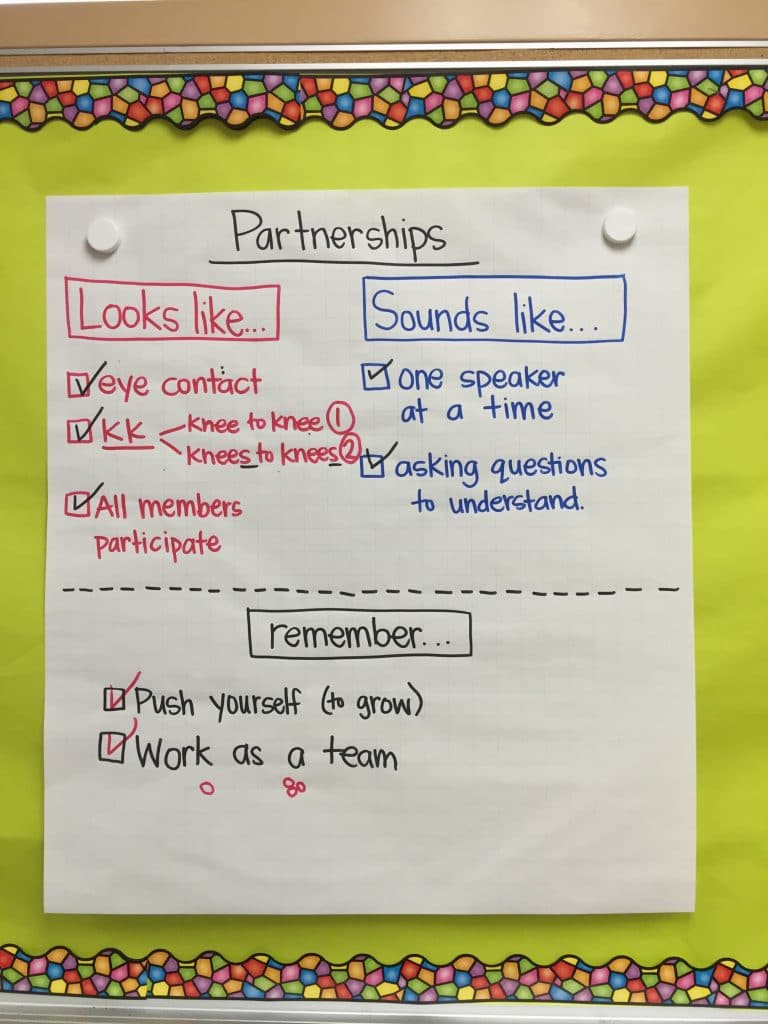 No Library Check-Out this Week
Due to spring break, there will be no check out in the library this week. The kindergartners will be going to the library a little later than usual for a story with Mrs. Tremblay, but to minimize the amount of books lost or unreturned, there is No Check Out this week. Last year 150 of our school library books were unreturned or lost so we are trying to keep these numbers down.
• TK (Yellow Group) – Dismisses at 12:30 this Wednesday March 25
Monday – 3/23
PE with Coach Blower (don't forget to wear your tennis shoes…sorry for the error last week)
Renew Book Borrow Bags (return the bags on Mondays to receive new books) – READ these books 1-3 times

each

night throughout the week!
Tuesday – 3/24
Return School Library books – no check out until after spring break
Wednesday – 3/25
Library Visit but no check out   (

TK dismissal at 12:30 in 206

– NO CHECK OUT)
Computer Lab
Thursday – 3/26
Minimum Day (dismissal at 12:30)
Mission Federal Credit Union at School for deposits!
Friday – 3/27
Homework/Reading Log Due (aim for 20 minutes of reading a session…break in two parts if needed)
Afternoon Run Club for K Students Only (Wear Tennis Shoes)
Spring Celebration! at 11:30 (RSVP to mbrenk@gmail.com)
Last day before

SPRING BREAK

(March 28 – April 5) -Return to school on April 6th