IN THIS POST:  Team TK, Fine Artists Next Friday, STEAM – Human Impact,  Mother's Day Zoom,  Asynchronous Work This Week, Anonymous Feedback Form, Art This Week, Save the Date, This Week
Team TK
This past week was the beginning of Phase 2, where families were able to choose to continue the year online or on campus. The kids seemed to transition smoothly in both groups, but all certainly missed friends. We spent the first part of this year, building friendships and Zooming together.
Now as we are apart for most of our week, we are learning new ways to stay connected. In our Social Emotional lesson on Friday we discussed some ways to share our friendship even on the days we are learning apart. Check out the responses from our sweet kiddos!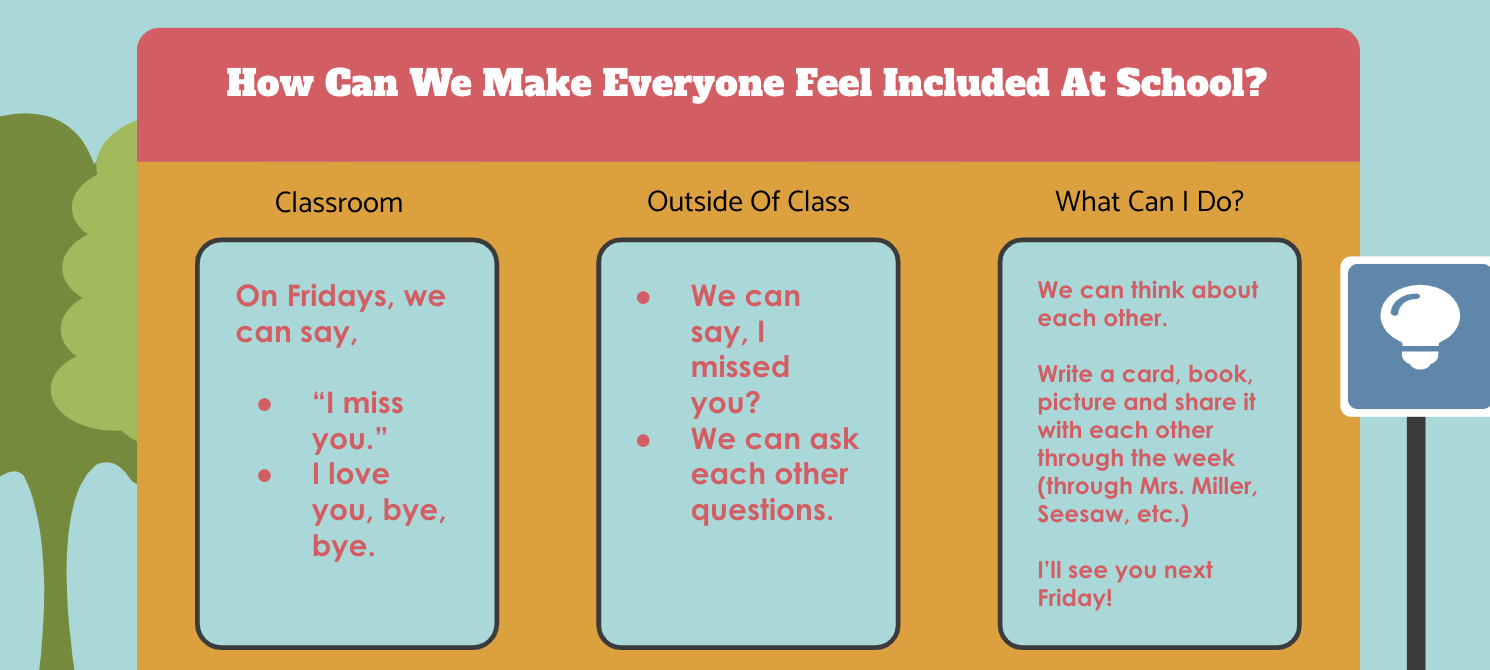 Fine Artists Next Friday
Next week we will have our Fine Artist lesson with Mrs. Molly Pincherli. We will need to start our Zoom a little earlier to make sure we have time to complete it.
Please log on promptly at 8:30 with materials ready.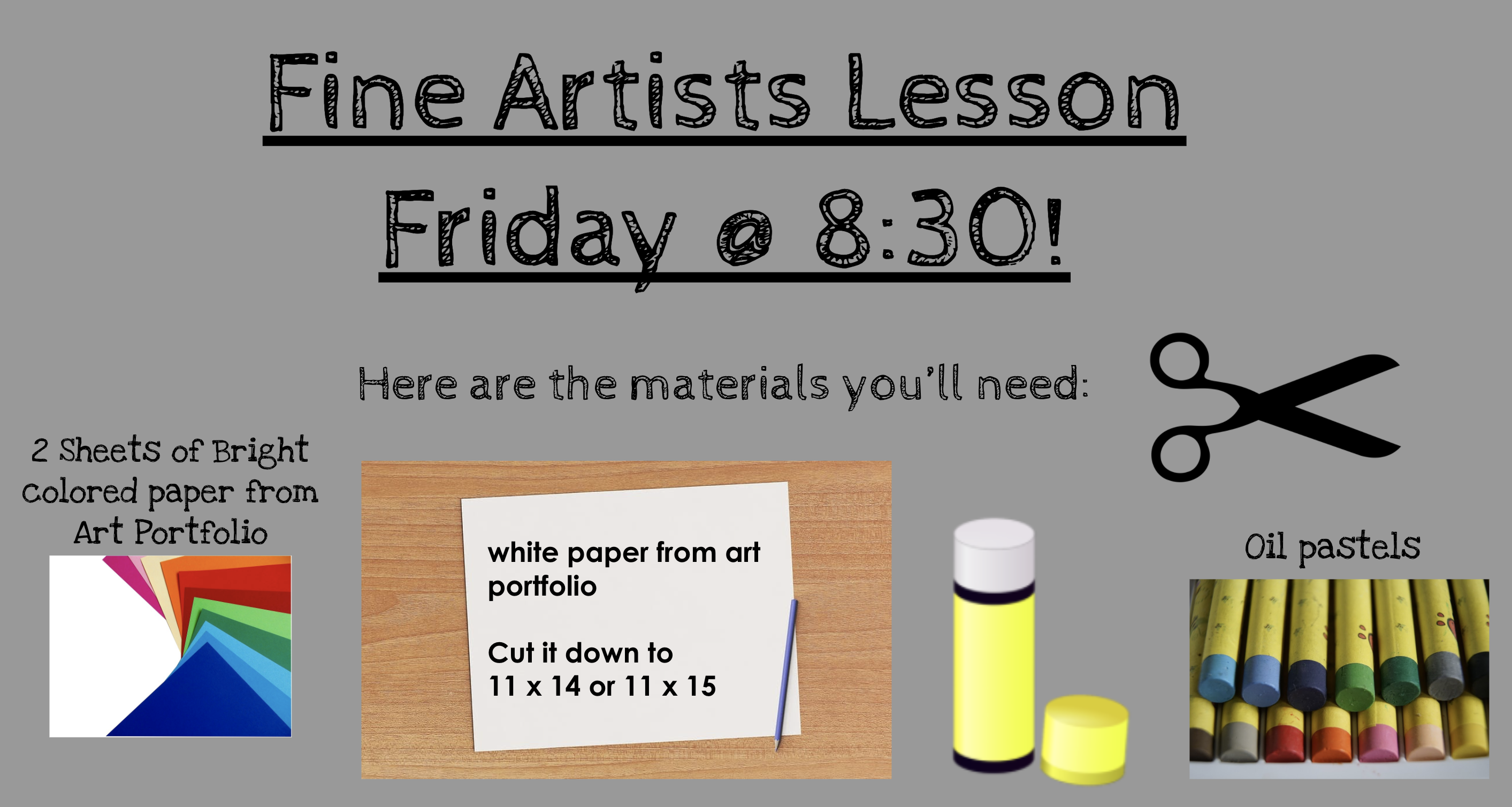 Music Time Correction
Please note the updated schedules. The online schedule has been modified as sent in an email, but the music time has been updated on both schedules as I had the incorrect time noted.
Music is on Fridays, 9:30 – 9:45 am
STEAM – Human Impact
We have started our Human Impact unit in STEAM. We began our learning of asking where trash comes from? We spent some discussion time brainstorming that question and had a Seesaw assignment to ask individual students about their thoughts on this question. We will continue to discuss Human's impact on our earth! Its a great unit and may notice some discussion or comments coming up from your child regarding this topic!
Mother's Day Zoom
Save the date in your calendars! We will be having the annual TK Mother's Day on Zoom. There will be a craft, there will be cuddling and lots of love and appreciation for our sweet mamas!! (There will be a materials pick up prior to this event!)
Please save the date for Friday, May 7th from 8:30 – approximately 9:10.

Asynchronous Work 
Whether you are online or onsite, please make sure you complete your asynchronous work:
Math – ST Math or Happy Numbers
Independent Reading – RAZ Kids  or Book Bag  or Get Epic
WRITING –  Assigned in Seesaw
Seesaw – STEAM Seesaws will likely be given to do on Asynchronous Fridays.
Anonymous Feedback Form
If you have feedback (positive or constructive) or ideas please take a moment to share your thoughts and feedback! I am loving getting to know the kids better and that they are getting to know each other better despite the challenges we don't typically deal with! Anonymous Feedback Form
Save these Dates
Fine Artists Lesson – Friday, April 23rd from 8:30 am – 9:30 am
SAVE THE DATE: Mother's Day Zoom –  Friday, May 7th  8:30 – 9:10 (approximately)
The Week Ahead…
Monday – 4/12/21
First Day of Phase 2
Onsite arrival from 8:40 – 8:55
Online begins at 12:00 (ELD) and 12:30 (all Online Learners)
Tuesday – 4/13/21
Onsite arrival from 8:40 – 8:55
Online begins at 12:00 (ELD) and 12:30 (all Online Learners)
Wednesday – 4/14/21
Onsite arrival from 8:40 – 8:55
Online begins at 12:00 (ELD) and 12:30 (all Online Learners)
Thursday – 4/15/21
Onsite arrival from 8:40 – 8:55
Online begins at 12:00 (ELD) and 12:30 (all Online Learners)
Friday – 4/16/21
Fine Artist 8:30 – 9:30
Music with Mr. Waczek @ 9:30 – 9:45
EBS Fun Fridays – 2:00 – 2:30 (ZOOM ID: 891 7068 6796 PASSWORD: FridayFun)