IN THIS POST:  Reading Logs, Yearbook Gratitude! – Thank You Holly!, Self-Care Challenge, Character Education -Honesty, This week's Art, Asynchronous Work This Week, Anonymous Feedback Form, Art This Week, Save the Date, This Week
Reading Logs
Just a reminder to log your child's reading! It is a way to gauge how many books they are reading, and how often they are reading. It also tells which types of books they like and and how difficult they were! Here's a great sample of a log turned in at Distribution. It shows at least 1 book read a day (weekdays). There is one page for each week of the month.
I know it can be a challenge with crazy schedules, but we have many of our students who are writing the titles in on their own by copying it from the book onto the log! This is a great practice and give responsibility and ownership to your child!
Yearbook Gratitude! – Thank You Holly!
Say a big thanks to our Yearbook Representative Holly Berberich for taking on the task of doing our yearbook page. She has diligently worked to collect student photos and class photos so that we could all be pictured and remember a special year! Big round of applause!

Self-Care Challenge
This month our Student Leadership Team has created a self-care challenge! This is a way to focus on kindness to ourselves! This challenge will be on Seesaw the week of March 22nd! Check it out and see how you can take care and be kind to yourself!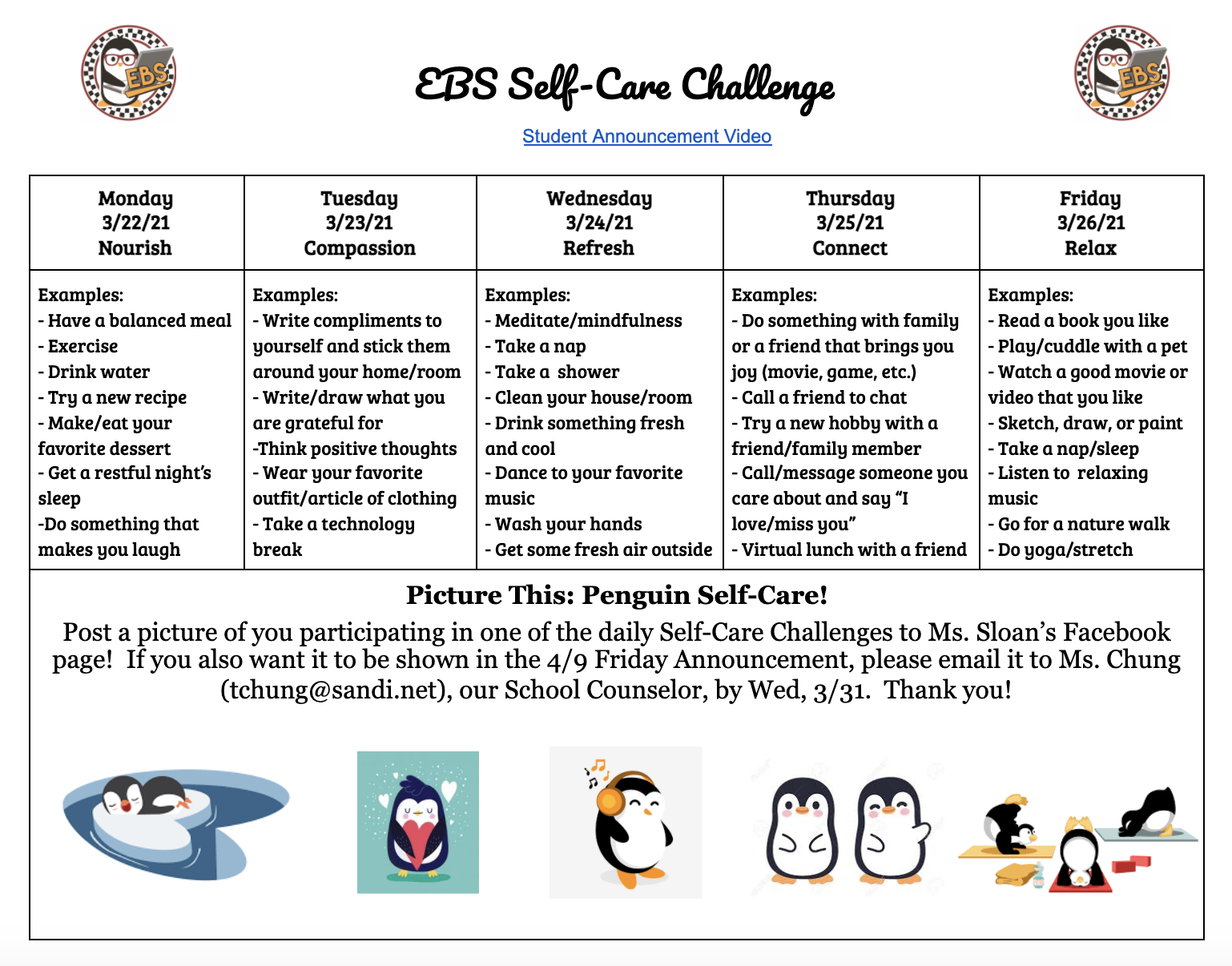 Character Education – Honesty
After giving ideas about what it means to be "honest" and "dishonest," Mrs. Nicole had the students try to give examples they could think of when they were honest and dishonest and how it makes other feel. Then the students listened to the story of The Boy Who Cried Wolf to show the example of some devastating consequences of being dishonest.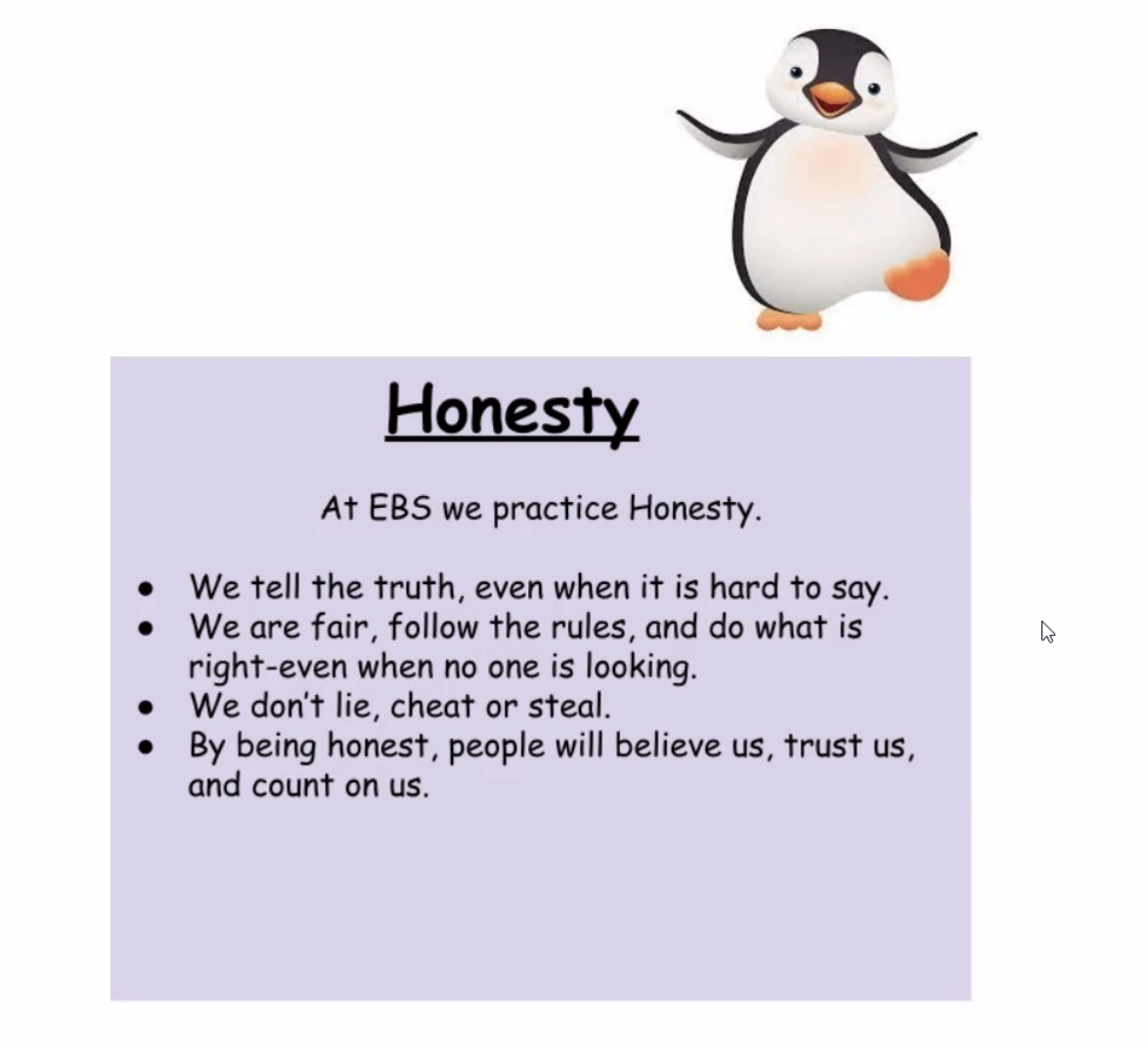 This Week's Art:
Our rainbow with a pot of gold at the end!


Asynchronous Work for March 15 – 19th
As we have worked a schedule to limit student online time, try to get practice on these platforms for student practice.
Math – ST Math or Happy Numbers
Independent Reading – RAZ Kids  or Book Bag  or Get Epic
Seesaw – Assigned within Seesaw
WRITING – Submit one piece of INDEPENDENT writing each week on Seesaw (done with paper and pencil/crayons). Please have your child use the camera feature to submit a picture of their writing. Then have them use the microphone feature to record their writing and submit with the green check.

If your child is NOT writing sentences, have them label a picture (with their own spelling or letter label for each item) and submit a photo and recording of it.
If your child is writing sentences, they can write a Beginning/Middle/End story about myself OR write a letter to Mrs. Miller asking me and telling me anything they would like. They may include a picture and must submit a photo of the writing and recording of them reading it.
Anonymous Feedback Form
If you have feedback (positive or constructive) or ideas please take a moment to share your thoughts and feedback! I am loving getting to know the kids better and that they are getting to know each other better despite the challenges we don't typically deal with! Anonymous Feedback Form
Save these Dates
Upcoming Distribution Days (TK/K)

Tuesday, April 6th
Tuesday, May 4th

Spring Break – March 29 – April 2nd
The Week Ahead…
Monday – 3/15/21
Morning Meeting
Social Emotional Lesson @ 10:30
The Qq book will be used in small books on this day!
Tuesday – 3/16/21
Morning Meeting
Art @ 10:30 (Materials needed: Leprechaun Art – small green and cream clipped together)
Wednesday – 3/17/21 
Morning Meeting
Music with Mr. Waczek, 10:30 – 11:00
St. Patrick's Day! Wear GREEN!
Thursday – 3/18/21
Morning Meeting
Tech Time with Ms. Martin (make sure your child can independently minimize.)
Friday – 3/19/21
Morning Meeting
Music with Mr. Waczek, 10:30 – 11:00
Friday Dance Party: