IN THIS POST:  Phase 2 – Beginning April 12, Preparation Week – Modified Schedule, Distribution Day 4/6, EBS Recipe Book, Fine Artist – Please Upload, Upcoming Weeks-at-a Glance, Order Your Yearbook, Want to Virtually Volunteer, This week's Art, Asynchronous Work This Week, Anonymous Feedback Form, Art This Week, Save the Date, This Week
Phase 2 – Beginning April 12
Phase 2 will begin so soon! I'm elated to welcome our students in the class for the first time! As for now, we have 14 students will be returning in person and 8 students who will be continuing online. Since we are a half day TK program, we will have the in-person students coming in the mornings and online students will be Zooming in the afternoons. All students will Zoom in on Fridays for a Morning Meeting time and for a brief music time with Mrs. Waczek!
I will be sending separate emails to Online Families and In-person families with information for your child's learning. Once I have finalized the schedules we plan to start with I will email schedules out to each group as well. Thank you so much for your patience as we nail down the details for our Phase 2!
Preparation Week – Modified Schedule
See the schedule below for the modified schedule week as our school will be working hard to prepare and train for a safe and wonderful return!

Distribution Days
Since we are switching to a hybrid model on April 12th, Distribution will now occur by using a Drop-off/Pick-up system. We will still have Distribution on 4/6/21 for all students. I'm looking forward to seeing you there!
April 6th – 2:00 – 2:45
Items you will return: (please do not send any other items as they are for your child to keep)
Yellow Folders
10 leveled books in a bag
Reading Log to track your child's reading
Notebook/Journal
Any ziploc bags you may still have
Items you will pick up:
Blue Folders 

Scholastic News
Scholastic Book Order
Alphabet Books
April Sight Words
Paper

10 leveled books 
New Reading Log
Notebook/Journal to Trade
EBS Recipe Book
If you haven't sent in a recipe yet for the school book, do so now! What a fun idea and way to share some special kitchen yummies! My family and I sent in this recipe! Its a favorite pancake of ours! Super fun and full of protein! If you want to submit a favorite recipe of yours, use the link below and don't forget to add a picture in with your EBS student or EBS cooks/bakers!
https://docs.google.com/forms/d/e/1FAIpQLSfUuPFaqvNfylZ8qWcbCDWu4sAXr89MxQ-4IGhkJKQFIeQBTg/viewform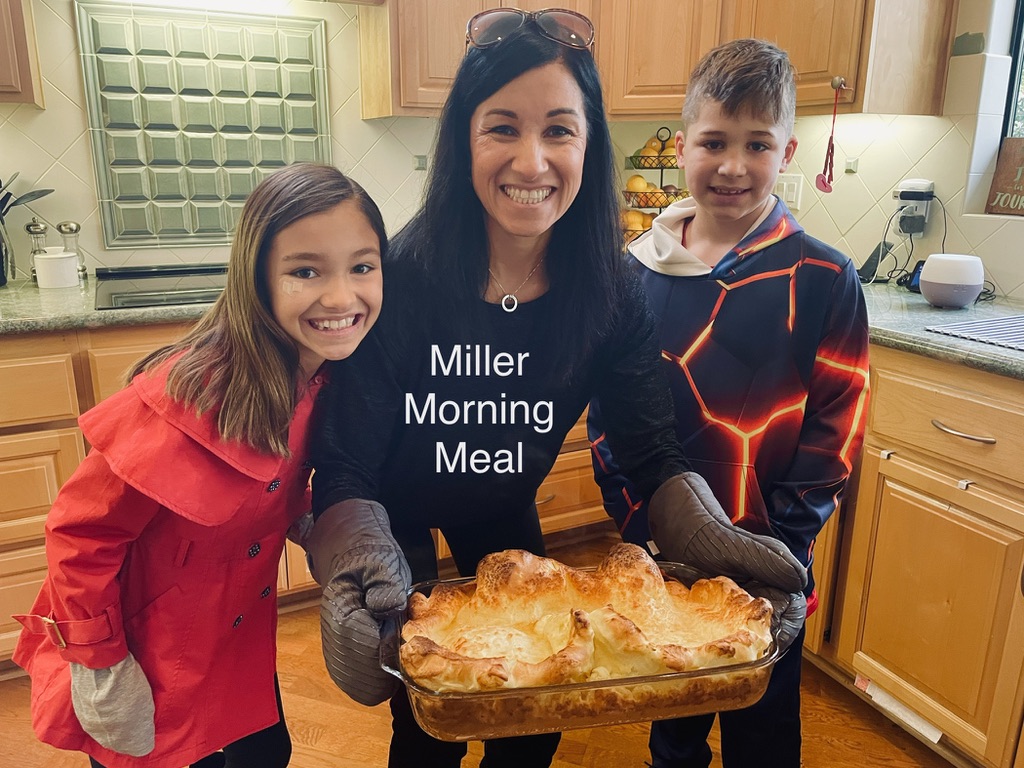 Fine Artists – Please Upload
Mrs. Molly taught our lesson this month! I participated on this one and had so much fun! It was a great stress relief! This lesson focused on surreal art, and was based on the artist, Rene Magritte.
Don't forget to upload your child's art to the link Molly sent out this week for the TK/K Padlet. Ms. Sloan is spotlighting photos of these as well! She randomly chose a student picture from our class this week! Super exciting!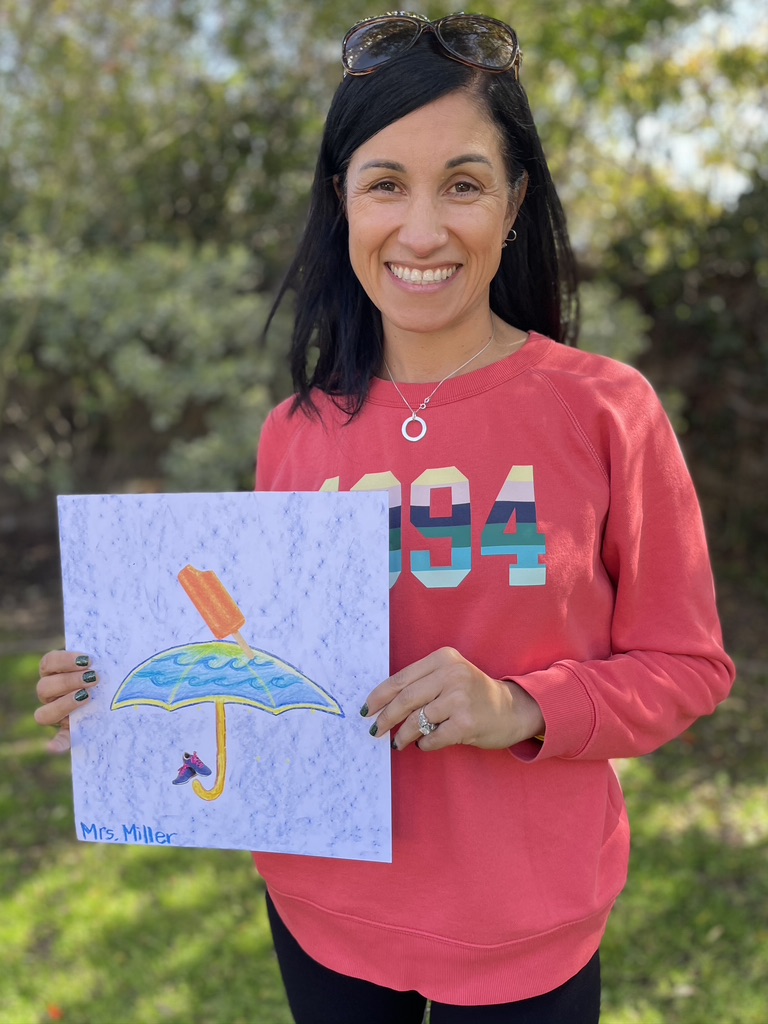 Upcoming Week-at-a-glance
March 28 – April 1st – Spring Break
April 5 – 9 – This week will be modified week as teachers will be preparing their classrooms for the start day for Phase 2. (Please check the schedule above for changed times.)
April 12 – 16 – This will be the first week of Phase 2. Thank you for your patience as we are working super hard to iron out kinks.
Order your Yearbook!
So much work has gone into making this yearbook this year! There are unique memories we will not forget and the reminder of how all forged ahead in the most challenging of times. I bought mine this weekend! The price is $28 for a book, and will go up to $30 after spring break! You can use the link below to purchase yours!
https://www.balfour.com/california/san-diego/ellen-browning-scripps-elementary-school

Want to Virtually Volunteer?
Whether your student is on campus or virtual for the rest of the school year, we can still have virtual volunteers or should I say Virtual Visitors! If you are interested in Zooming into our class to share a unique talent, skill, profession or hobby, please let me know. You can be creative in what you share with the class for a 10-15 minute visit!
You will just need to make sure you have your Volunteer form on file with our school office (see below and check if there is a March deadline as in typical years) and you can Zoom into share with our class.
https://www.linneamiller.com/volunteers/
In case you missed it in our private Facebook group, we had our first special guest this week! Mr. Marsh read an awesome story to the students and even had some special puppet guests join his visit!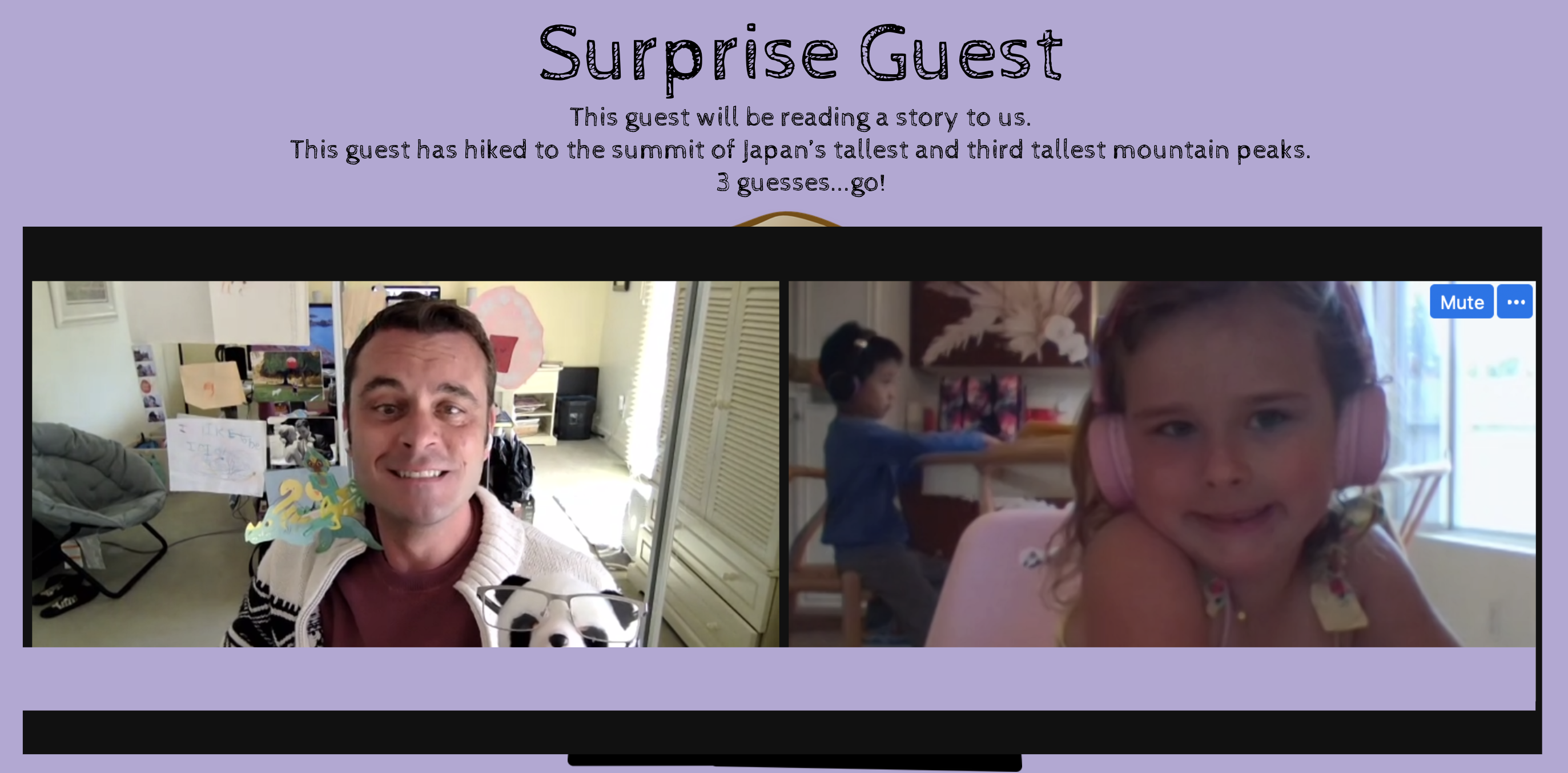 This Week's Art:
As we move fully into Spring, we are taking a turn from leprechauns to nature! We learned about the life cycle from Chick to egg this week and made some art to go with it!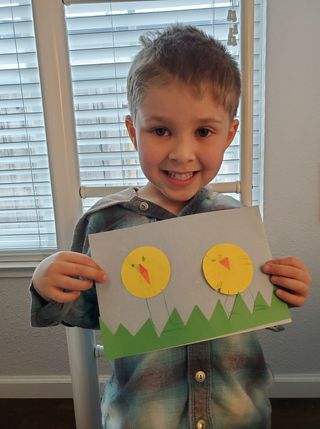 Asynchronous Work for April 5 – 9th
As we have worked a schedule to limit student online time, try to get practice on these platforms for student practice.
Math – ST Math or Happy Numbers
Independent Reading – RAZ Kids  or Book Bag  or Get Epic
Seesaw – Assigned within Seesaw
WRITING – Submit one piece of INDEPENDENT writing each week on Seesaw (done with paper and pencil/crayons). Please have your child use the camera feature to submit a picture of their writing. Then have them use the microphone feature to record their writing and submit with the green check.

If your child is NOT writing sentences, have them label a picture (with their own spelling or letter label for each item) and submit a photo and recording of it.
If your child is writing sentences, they can write a Beginning/Middle/End story about myself OR write a letter to Mrs. Miller asking me and telling me anything they would like. They may include a picture and must submit a photo of the writing and recording of them reading it.
Anonymous Feedback Form
If you have feedback (positive or constructive) or ideas please take a moment to share your thoughts and feedback! I am loving getting to know the kids better and that they are getting to know each other better despite the challenges we don't typically deal with! Anonymous Feedback Form
Save these Dates
LAST Friday Dance Party – Friday, March 25th
LAST Distribution Days (TK/K)
Spring Break – March 29 – April 2nd
Phase 2 begins – April 12th
The Week Ahead…
Monday – 4/5/21
See Modified Schedule for Phase 2 Preparation
Tuesday – 4/6/21
Modified Schedule for Phase 2 Preparation
Distribution Day – 2:00 – 2:45
Wednesday – 4/7/21 
Modified Schedule for Phase 2 Preparation
Thursday – 4/8/21
Modified Schedule for Phase 2 Preparation
TK Tour (Orientation) for Onsite students @ 11:30 – 11:50pm
Friday – 4/9/21
Modified Schedule for Phase 2 Preparation