IN THIS POST:  Distribution Day – January 11 (Monday), Distribution Modified Schedule, New Writing Unit – Informative Writing, Scholastic Book Order, Friday Announcement Snowflake Video, Paper Link Unity Chain, Asynchronous Work This Week, Anonymous Feedback Form, Save the Date, This Week
Distribution Day – Jan. 11 (Monday)
This Monday is our Distribution Day. You will receive all the materials your child needs until the next Distribution Day. Try to keep materials in bags, folders, etc so students can find them when we ask to pull them out. 
TIME CHANGE: Our new time is 2:00pm – 3:00pm
To be RETURNED:
Blue Folders
Journals
Reading Logs
Book bag with 10 books
Envelopes
Unity Chain Links (Optional)
Any Ziploc bags that we can use for next Distribution
Items being PICKED UP to use for the next month: 
Yellow Folders: 

Scholastic Book Order
New Writing Unit paper
Letter Book "O"
Scholastic News: 4 mini magazine articles inside.
New Reading Logs
New Dark Green Sight Words
Benchmark Unit 3 Booklet

Returned Journals with comments and goals. 
Ziploc with materials for 4 art projects
Book Bags with new independent reading books (reread books 3 or more times)
Distribution Modified Schedule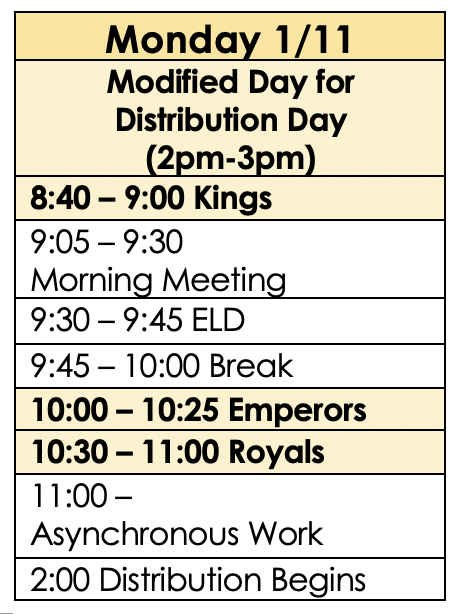 Scholastic Book Order – January
You will be receiving this month's book order at Distribution Day. Here is the information for online ordering and browsing. Online orders of $25 or more can be shipped directly to your home. 
New Writing Unit – Informative Writing
We are starting our new writing unit. It is about Informative Writing. We will be writing "How To" books. We will be thinking and writing in steps of things they can do by themselves. Some of the groups began to come up with lists of things they can confidently do by themselves without any help from parents or siblings. Some examples we heard from students on Friday: 
brush my teeth by myself
get dressed by myself
make my bed by myself
login to Clever by myself
clean my room by myself
draw a ____ by myself
mop the floor by myself (this was awesome and new one for me in TK)
set the table by myself
This might be a great motivation for independence as they may want to add to their own mental list of independence and feel a great sense pride for growing this list! If you could help them build their list (our Royals group already has one started in their journals) this could help them in our writing time together. 
Character Education – Forgiveness
This past week Mrs. Nicole came in our Zoom to teach us about the January Character trait of Forgiveness. She shared the school motto for Forgiveness and read them a story about 2 characters that learned about forgiveness. It was a tough concept to grasp but well worth the discussion and more follow up! 
Some big ideas in this lesson were: 
saying sorry
not to feel you have to say "its okay" when you aren't feeling okay. 
This concept also ties in nicely to our big idea in TK of loving and accepting mistakes as part of a learning process in life! 
Thank you Mrs. Nicole!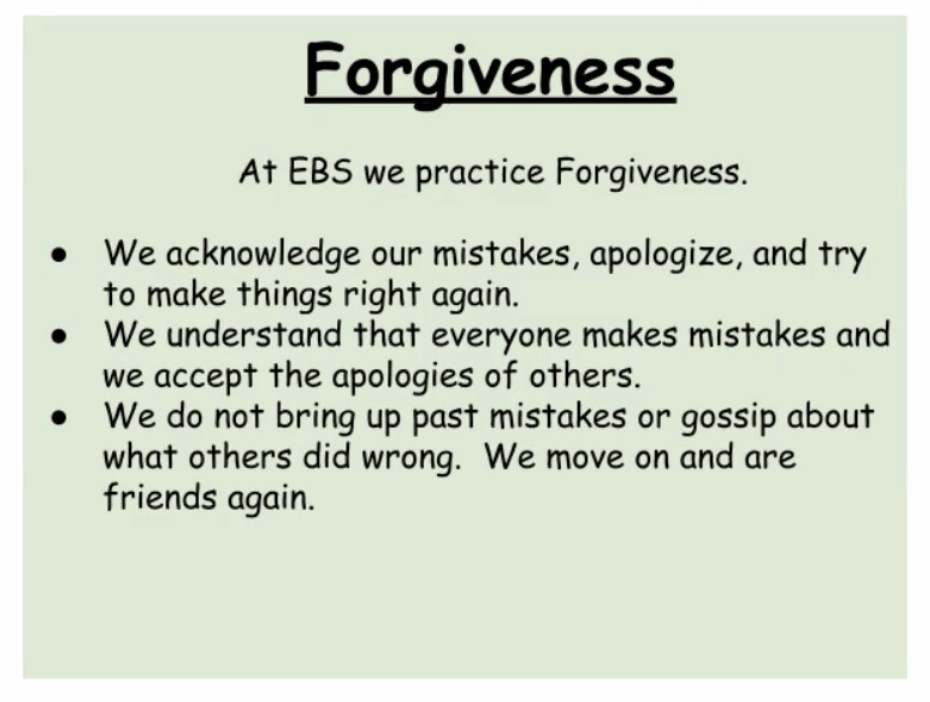 Friday Announcement Snowflake Video
Here's the craft shown in Friday Announcements in case the kids wanted to watch again or try it with your help. 
Paper Link Unity Chain – Turn in @ Distribution
As a way to unite our school and community and focus on the positive, our 5th Grade Leadership team has created an interactive family goal which we all hope to take part in. They are asking that each family make one paper link chain following the directions they have set out. I will send these to our class email so we can all participate. Directions have been emailed. Here are some samples: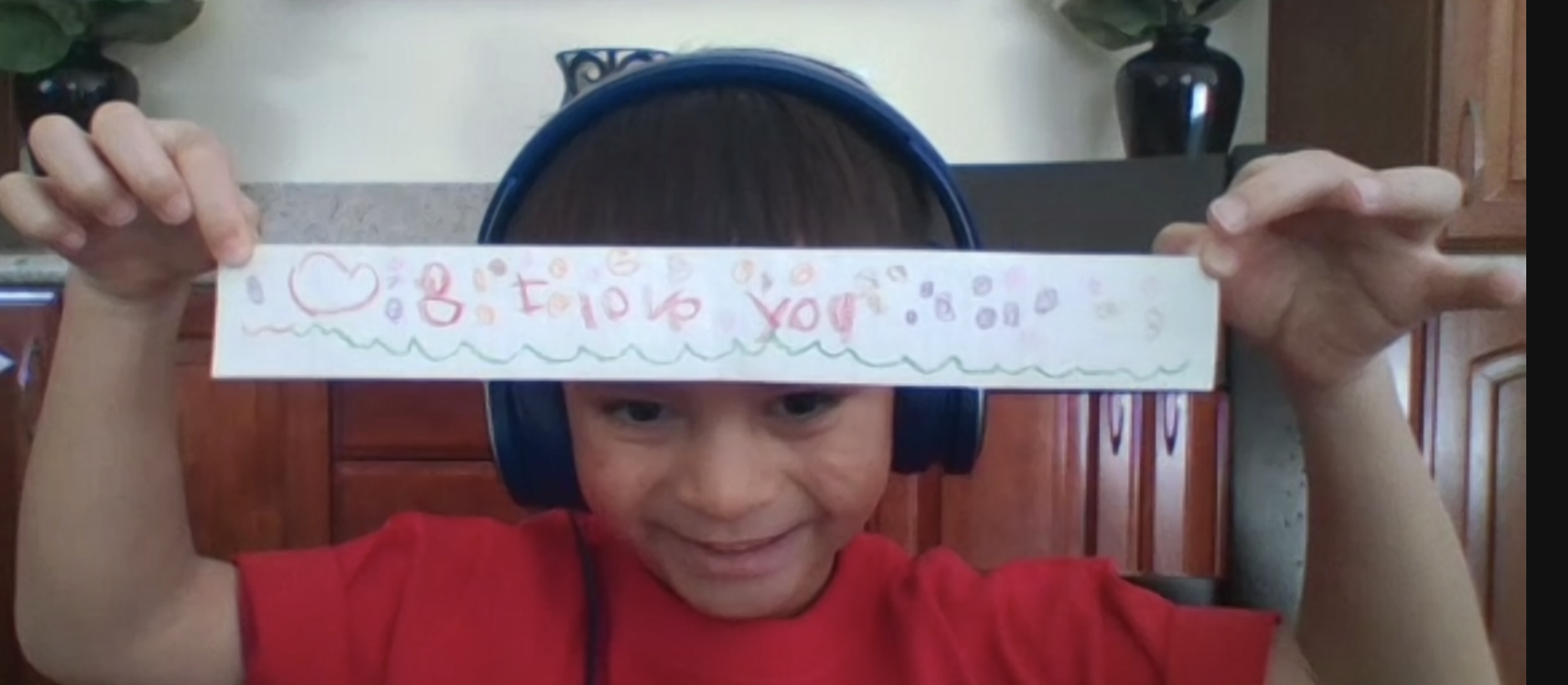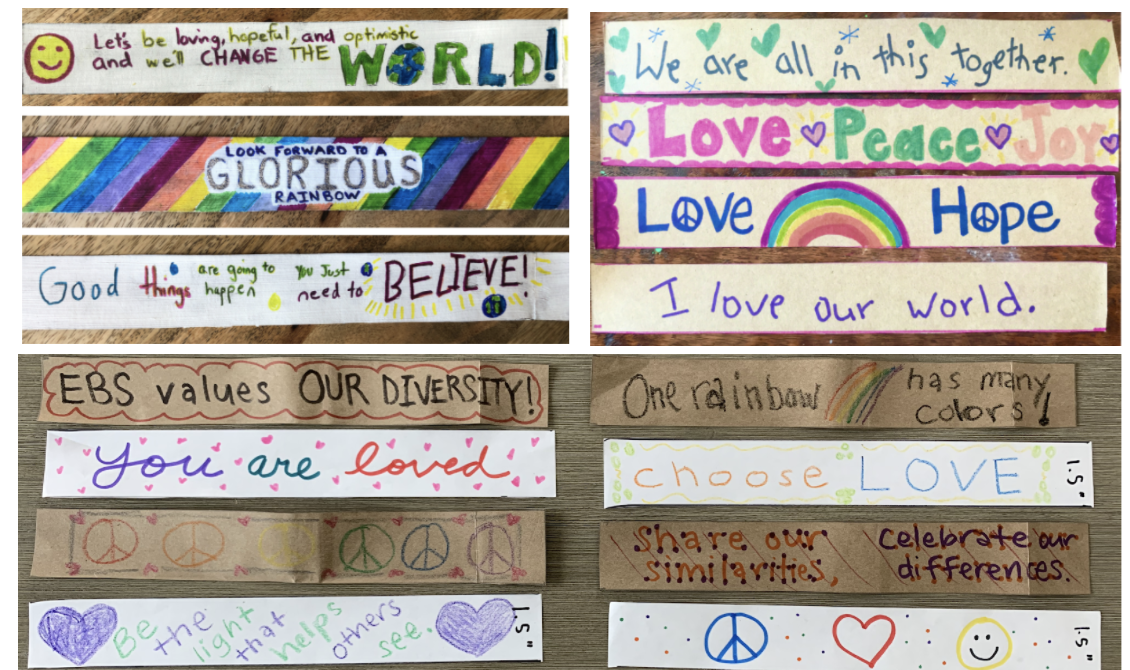 Asynchronous Work for January 11 – 15th
As we have worked a schedule to limit student online time, try to get practice on these platforms for student practice.
Math – ST Math 
Independent Reading – RAZ Kids  or Book Bag
Seesaw – Assigned within Seesaw
WRITING (NEW) – Submit one piece of INDEPENDENT writing each week on Seesaw (done with paper and pencil/crayons). Please have your child use the camera feature to submit a picture of their writing. Then have them use the microphone feature to record their writing and submit with the green check.

If your child is NOT writing sentences

, have them label a picture (with their own spelling or letter label for each item) and submit a photo and recording of it.

If your child is writing sentences

, they can write a Beginning/Middle/End story about myself OR write a letter to Mrs. Miller asking me and telling me anything they would like. They may include a picture and must submit a photo of the writing and recording of them reading it.
Anonymous Feedback Form
If you have feedback (positive or constructive) or ideas please take a moment to share your thoughts and feedback! I am loving getting to know the kids better and that they are getting to know each other better despite the challenges we don't typically deal with! Anonymous Feedback Form
Art
This past week we made snow globes! I love the individuality in each student's art! Check out this little artist from this past week.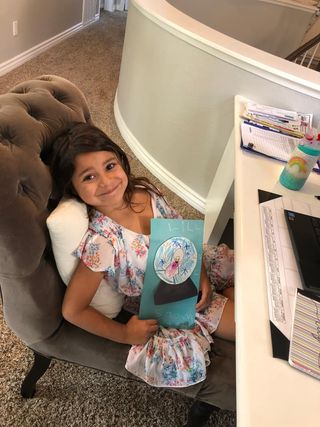 Save these Dates
Distribution Days (TK/K) 

Monday, January 11th
Tuesday, February 2nd 

Martin Luther King Holiday – NO SCHOOL – Monday, January 18th
The Week Ahead…
Monday – 1/11/21
Morning Meeting
Distribution Day – Modified Schedule (see above)
Tuesday – 1/12/21
Morning Meeting
Art Lesson @ 10:30 (Materials Needed: Clipped mittens.) Post finished product on Facebook!
Wednesday – 1/13/21
Morning Meeting
Music with Mr. Waczek, 10:30 – 11:00
Thursday – 1/14/21
Morning Meeting
Technology Class – We will be practicing to minimize and do one of our online apps. This is also to help all students get on RAZkids, ST Math regularly. If your child is now able to minimize independently they will not need help. 
Friday – 1/15/21
Morning Meeting
Music with Mr. Waczek, 10:30 – 11:00
Friday Announcements from Ms. Sloan
All School Dance Party @ 2:00 pm