IN THIS POST: Happy Hanukkah, Holiday Cards, Paper Link Chain – School Wide, Spirit Week, Asynchronous Work This Week, Anonymous Feedback Form, Save the Date, This Week
Modified Day – Friday12/18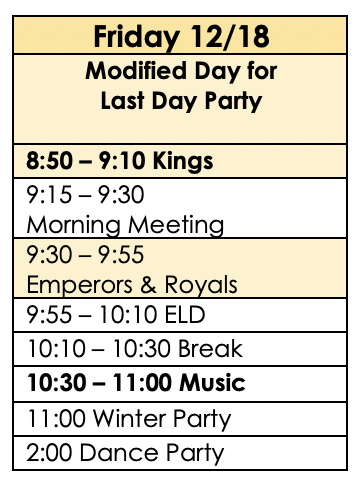 Happy Hanukkah!
This past Thursday Night was the start of Hanukkah. We took time to read and learn about the holiday. Our art was a Menorah (post a picture of yours on Facebook).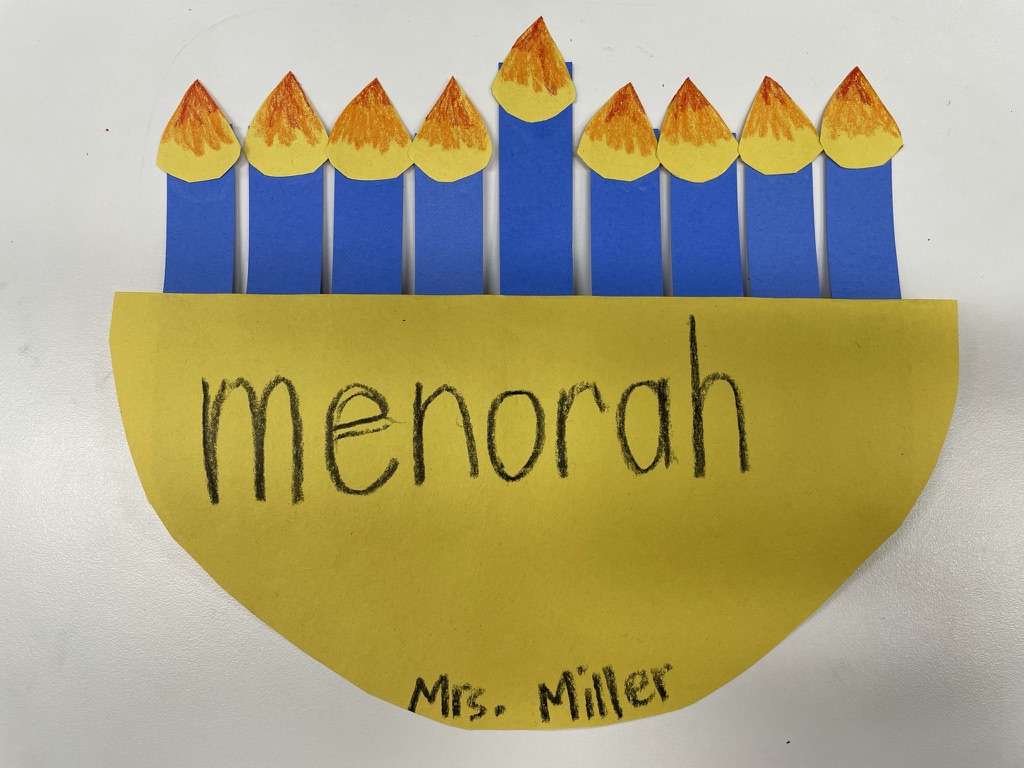 Holiday Cards – Post on FB Page
If your family has a holiday card, please post on our private facebook page.
We'd love to see and share the holiday fun!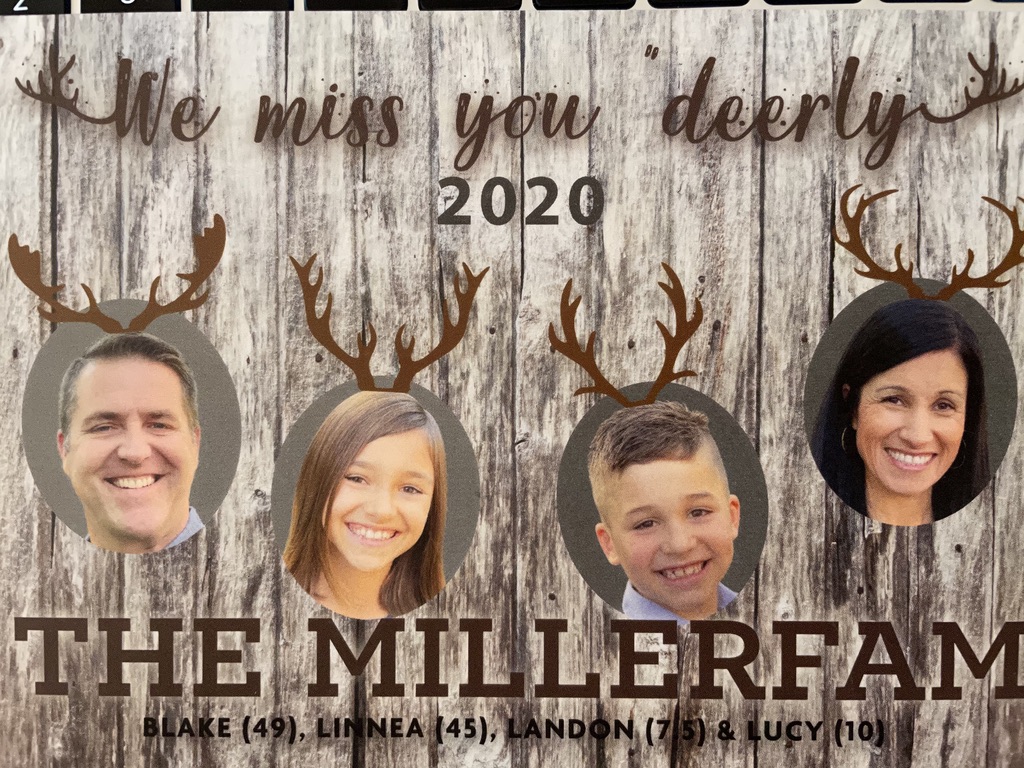 Fine Artists Lesson # 2
This week Molly Pincherli taught our second fine artist lesson. The art lesson was modeled around John Miro from Spain. The students drew on a plastic baggie like a stamp on their papers. They learned about surreal art. It was fun to make and very cool looking! 
If you are willing, go onto Padlet to add to our school's art collection. The link is below. You just need to post on TK with my name and your child's name. 
https://padlet.com/kathleenkanemurrell22/4eodoe6xgglfda6e
Paper Link Chain – School Wide
Our 5th Grade Leadership Team has thought of a way to unify and build a spirit of strength in this challenging time. They are asking that the whole school participate in this activity. The goal will be to make a school-wide paper link chain that will be hung in the library. They will be sending out further details and directions soon so that you can create yours over the 2 week vacation! 
Spirit Week – next week!
We have a school-wide Spirit Week coming up before our Winter Break! Each day we will dress up to show our school spirit and have some fun! Mark these days on your calendars! 
Monday 12/14 – Dress Like A Penguin Day (Dress like a penguin or in black/white)
Tuesday 12/15- One Color Day (wear as much of one color as you can)
Wednesday 12/16- Winter Day (Dress for the winter)
Thursday 12/17- Crazy Hair Day (Do something crazy with your hair!)
Friday 12/18- Pajama Day (Dress in your PJ's)
Asynchronous Work This Week: 

NEW ITEM
As we have worked a schedule to limit student online time, try to get practice on these platforms for student practice.
Math – ST Math (15 minutes) Tuesday/Thursday – 2 – 3 Days a week
Independent Reading – RAZ Kids (15 minutes) Mon./Wed./Fri. – 3 – 5 Days a week OR Book Bag

Please log each book your child reads on their reading log to turn in for the next Distribution Day. 

Seesaw – Any assigned activities for whole class and/or Penguin Groups (Royals, Emperors, & Kings). Check back to see if there are any pending assignments from the past that your child has not submitted. 
WRITING (NEW) – Submit one piece of INDEPENDENT writing each week on Seesaw (done with paper and pencil/crayons). Please have your child use the camera feature to submit a picture of their writing. Then have them use the microphone feature to record their writing and submit with the green check. 

If your child is NOT writing sentences

, have them label a picture (with their own spelling or letter label for each item) and submit a photo and recording of it. 

If your child is writing sentences

, they can write a Beginning/Middle/End story about myself OR write a letter to Mrs. Miller asking me and telling me anything they would like. They may include a picture and must submit a photo of the writing and recording of them reading it. 
Anonymous Feedback Form
If you have feedback (positive or constructive) please take a moment to share your thoughts and feedback! I am loving getting to know the kids better and that they are getting to know each other better despite the challenges we don't typically deal with! Anonymous Feedback Form
Save these Dates
Spirit Week – December 14 – 18th (prep for each day)
206 Winter Party – Friday, December 18th (save party bag)
Winter Break – December 19 – January 3rd
Next Distribution Day (TK/K) – Monday, January 11th
The Week Ahead…
Monday – 12/14/20
Morning Meeting 9:15 – 9:40 am
Social Emotional Lesson – (10:30 am)
SPIRIT WEEK – Dress Like A Penguin (or in black and white)
Tuesday – 12/15/20
Morning Meeting 9:15 – 9:40 am
Art Lesson @ 10:30 (Materials Needed: Clipped together – green sheet, black sheet, bag of sequence) Post finished product on Facebook!
SPIRIT WEEK – One Color Day (wear as much of one color as you can)
Wednesday – 12/16/20
Morning Meeting 9:15 – 9:40 am 
Music with Mr. Waczek, 10:30 – 11:00
SPIRIT WEEK – Winter Day (Dress for winter or holiday)
Thursday – 12/17/20
Morning Meeting 9:15 – 9:40 am 
Technology Class – Ms. Martin at 10:30 If you are able to be present or have another helper present at the beginning of this time to practice minimizing zoom that would be very helpful. 10:30 – 11:00
SPIRIT WEEK – Crazy Hair Day (do something crazy with your hair)
Friday – 12/18/20
Morning Meeting 9:15 – 9:40 am
Music with Mr. Waczek, 10:30 – 11:00
Friday Announcements from Ms. Sloan
All School Dance Party @ 2:00 pm
SPIRIT WEEK – Pajama Day (wear your pajamas day)
Class Winter Party (there will be a modified schedule on this day)