IN THIS POST:  Next Week's Schedule, Halloween in 206, Halloween Celebratory Zoom, PT Conference Sign-Ups, Fine Artists, Character Education, Asynchronous Work This Week, Anonymous Feedback Form, Save the Date, This Week
Next Week's Schedule (changes)
You likely saw my email from Friday afternoon. Next week, we are adjusting the schedule to get in assessments and to adjust the times for groups for our Halloween Party Zoom! Costumes are strongly encouraged if you celebrate Halloween. If you don't celebrate Halloween, you are welcome to wear your EBS Spirit Wear/Team TK Shirt. 


Halloween in 206
Celebratory Zoom (see below)
Costumes (if you celebrate Halloween) – If you and your family, celebrate Halloween, we encourage you to share your spirit and dress up on Halloween! Mrs. Miller will find something fun to wear! Can't wait to see those sweet costumes! 
Throughout the week, we will hear stories and our art will all center around Halloween! 
Halloween Celebration Zoom
Get ready for a SPOOKTACULAR time at our virtual Halloween celebration! On Friday October 30th at 11am our room mom's will host our first virtual holiday event with crafts (supplies were part of the last distribution pickup), stories and of course costumes! Be sure to wear your costume to show your friends and for a fun class photo!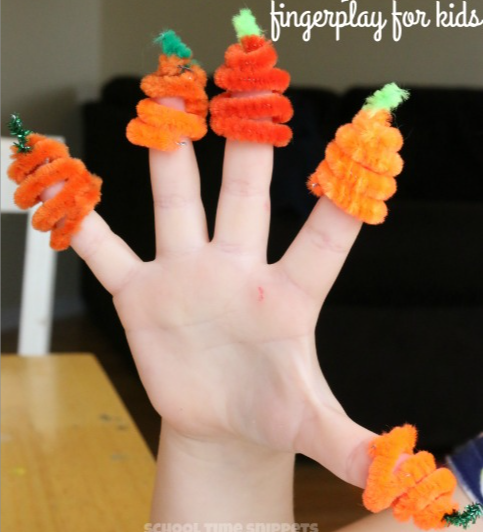 PT Conference Sign-ups Delay
We are currently waiting to hear back the District's guidelines on Parent-Teacher Conferences this Fall. I have a sign-up ready to send out (assuming it doesn't need to be modified) as soon as we hear back. I'll keep you posted. Thank you for your patience. 
Fine Artists Lesson Coming Up
Our first Fine Artists Lesson is coming up and I can't wait! I love art, so this will be lots of fun! Monday at 1:00pm we will begin our Art Lesson. Please have the materials you picked up on Distribution Day (large folded paper with construction paper and glue stick inside) ready and next to your child so they can follow along once the lesson has began. 
Character Education 
This past week, Nicole Meyer taught a fantastic lesson to our class about Cooperation! I sent you the information letter from her regarding her lesson in case you missed it! She'll be back next month on 11/17/20 to teach us about our next Character Trait for November!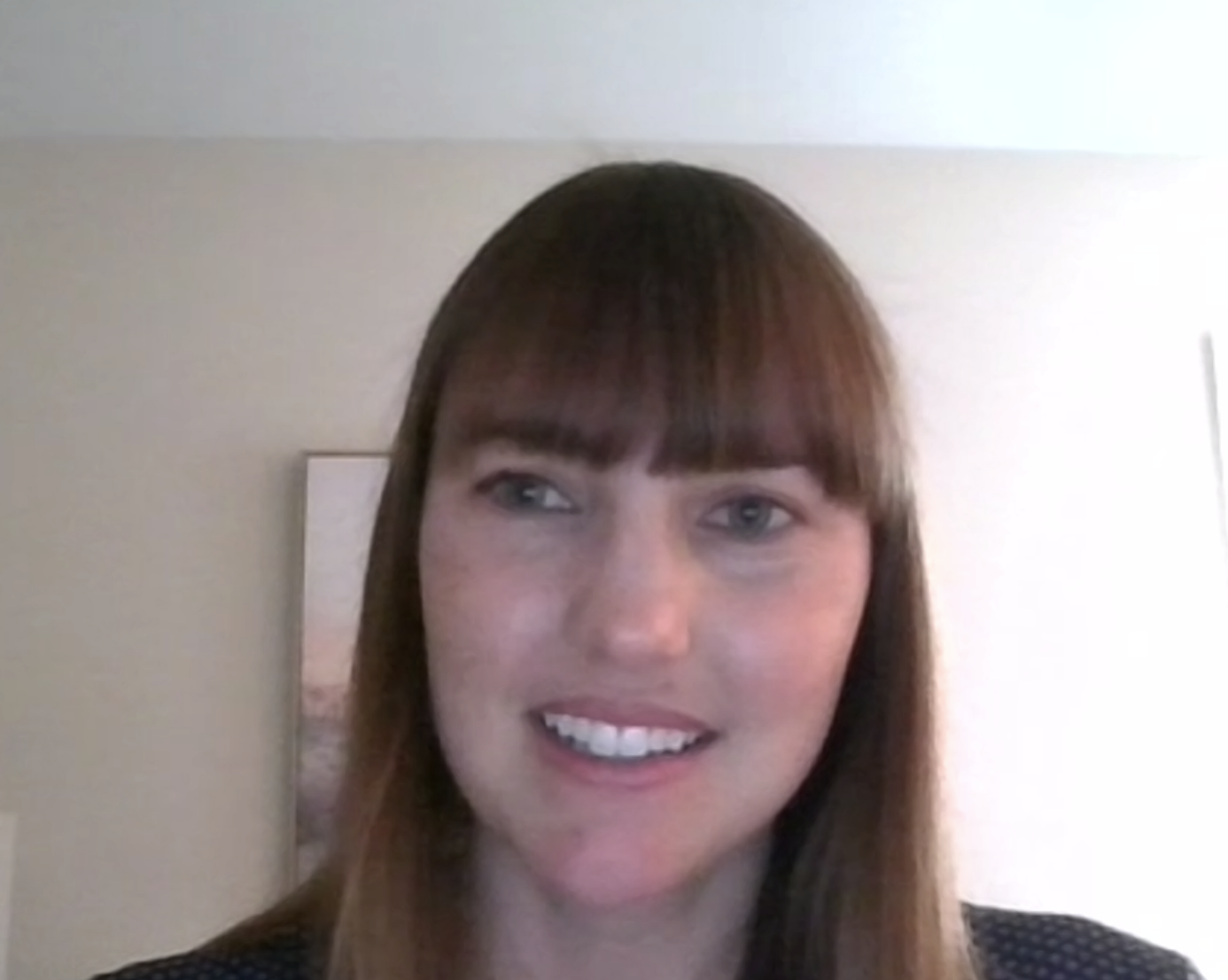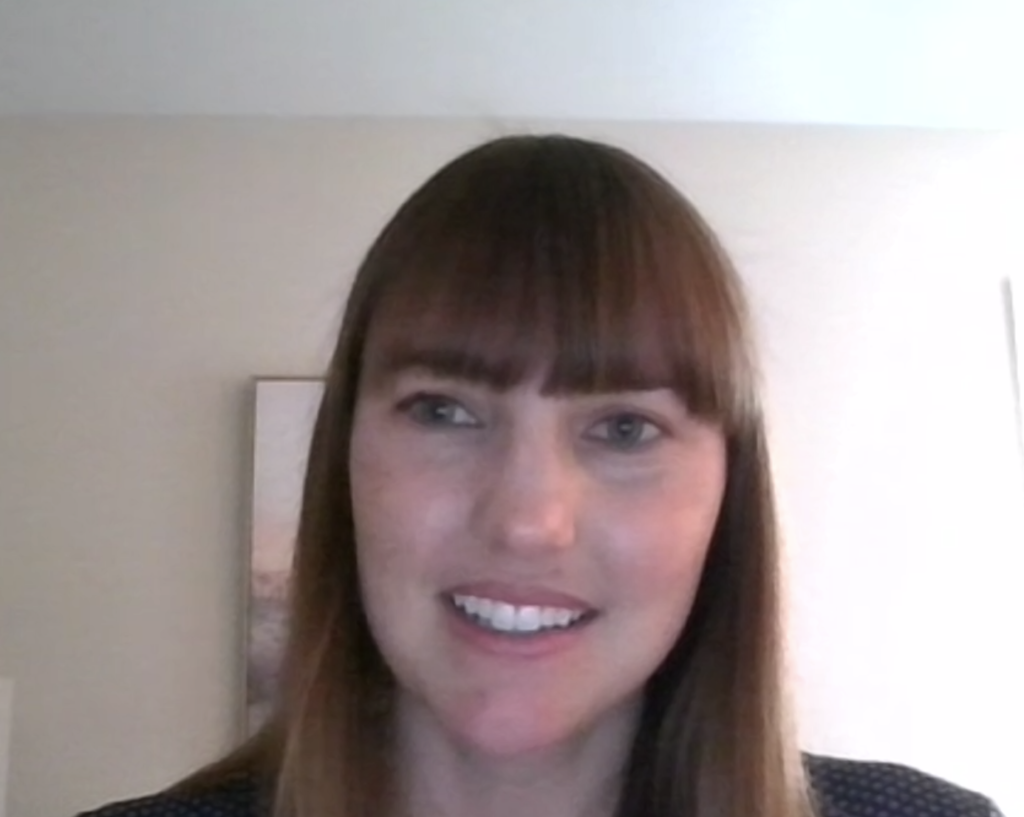 Autumn Reading Booklet (Scholastic)
This booklet was sent home for Distribution Days. You may cut it in half, staple it and add it to your book bag for your child to read. (see the booklet I'm talking about below)
ALL SCHOLASTIC Magazines and Booklets are yours to keep and do not need to be returned.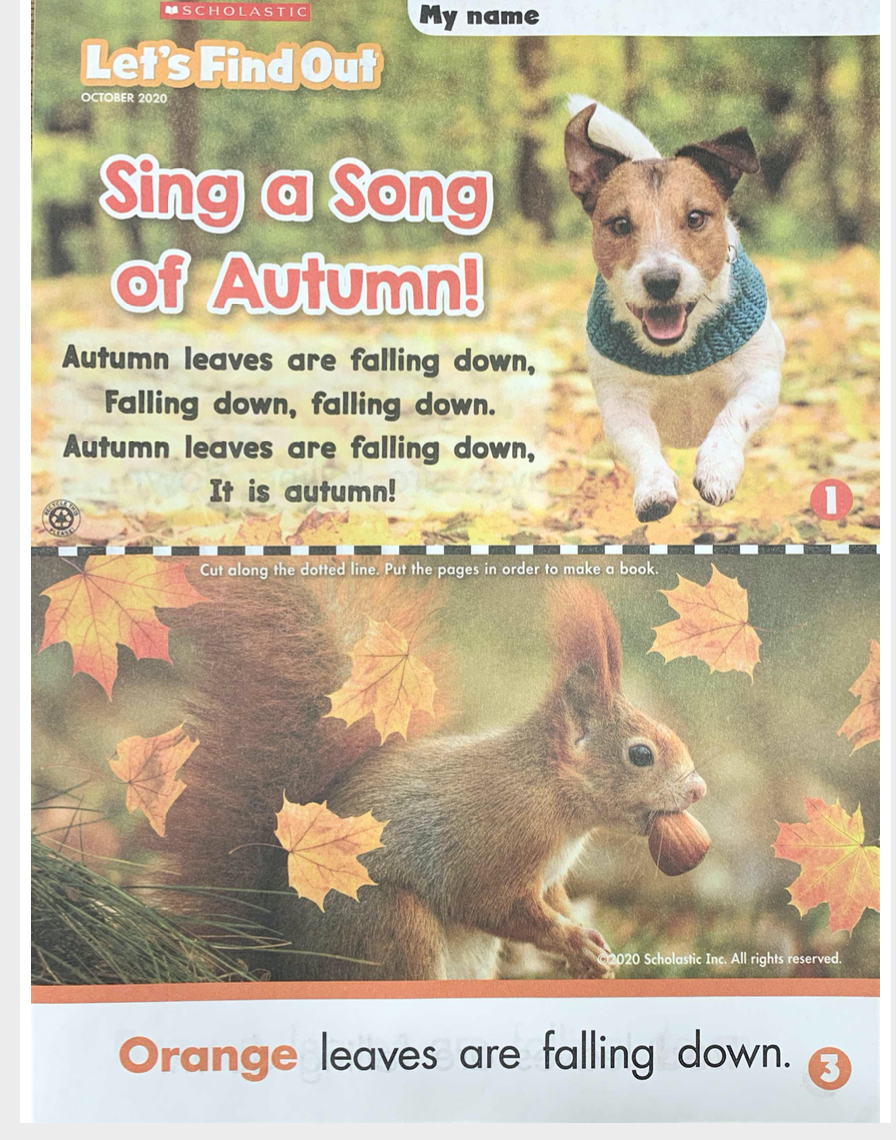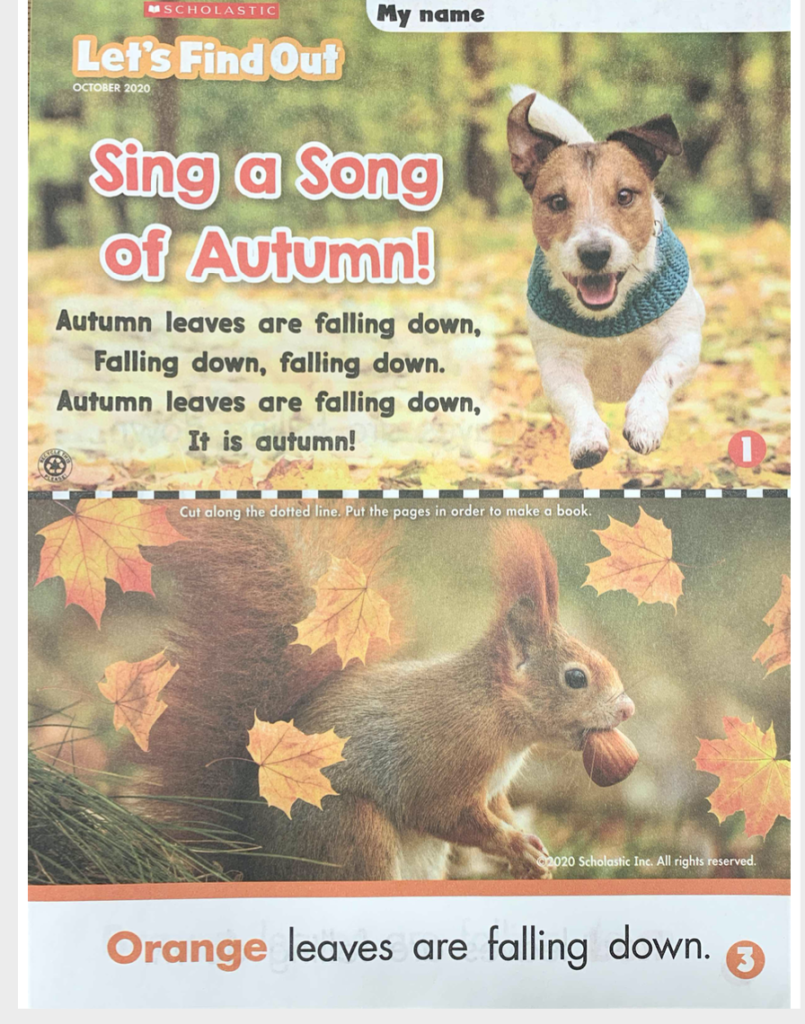 Spookley Art
We saw some adorable Spookley Art this week! In case you haven't seen it the Legend of Spookley movie is on Netflix or can also be found on Youtube if you don't subscribe to Netflix.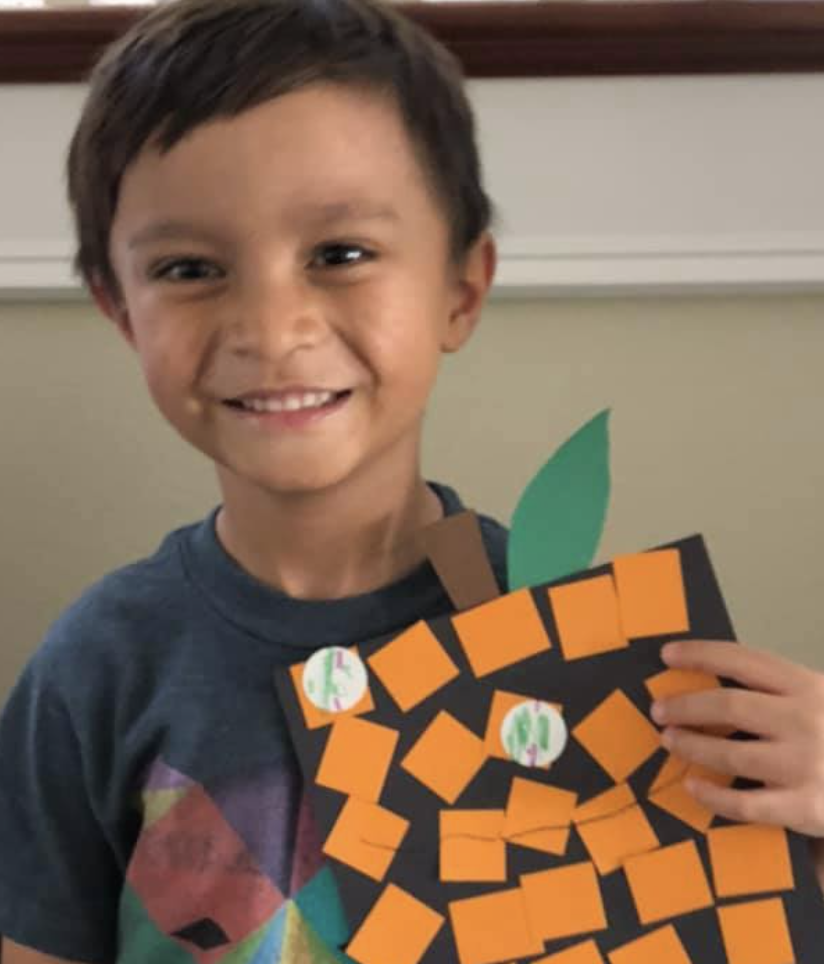 Asynchronous Work This Week:
This week's Asynch work has a little more as there are assessments taking place. These will all be released on Monday so you can work on them at your own pace. It is recommended that you spread them out to do a little each day, but if needed you can adjust based on your schedule. Thank you! 


Anonymous Feedback Form
If you have feedback (positive or constructive) please take a moment to share your thoughts and feedback! I am loving getting to know the kids better and that they are getting to know each other better despite the challenges we don't typically deal with! Anonymous Feedback Form
Save these Dates
Fine Artists Lesson #1 – Monday, October 26th @ 1:00 pm. 
Halloween Celebration Zoom – Friday, October 30th @ 11:00 am
Next Distribution Day (TK/K) – Wednesday, November 4th
Parent Teacher Conference Week – November 16 – 20
Thanksgiving Vacation – November 23 – 28
December Distribution Day – December 2nd from 3:00pm – 4:00pm
The Week Ahead…
Monday – 10/26/20
Morning Meeting 8:40 – 9:10 am
Social Emotional Lesson – (10:30 am)
Fine Artists @ 1pm (have materials beside your child)
Tuesday – 10/27/20
Morning Meeting 8:40 – 9:00 am
Art Lesson (M

aterials Needed

:

Directed Drawing

: Only materials needed: white blank paper with no lines, crayons, and black felt tip pen (given at 2nd Distribution Day)….There are no mistakes…all efforts and modifications are beautiful! Please have your vampire teeth handy as well…these were in the art bag from Distribution Day!
See schedule changes for assessments. 
Wednesday – 10/28/20
Morning Meeting 8:40 – 9:00 am
MUSIC with Mr. Waczek, 10:30 – 11:00
See schedule changes for assessments. 
Thursday – 10/29/20
Morning Meeting 8:40 – 9:00 am
TECH TIME – Ms. Martin at 10:30

If you are able to be present or have another helper present at the beginning of this time to practice minimizing zoom that would be very helpful

. 10:30 – 11:00
See schedule changes for assessments.
Friday – 10/30/20
Morning Meeting 8:40 – 9:10 am
Halloween Celebration Zoom – Friday, October 30th @ 11:00 am
MUSIC with Mr. Waczek, 10:30 – 11:00
Friday Announcements from Ms. Sloan
All School Dance Party @ 2:00 pm