IN THIS POST:  Food Drive, Character Ed. – Gratitude, Rubio's Night 11/21, Field Trip, EBS School Book Fair, Grandparents Day, Parent Teacher Conferences, Save the Dates, Upcoming Events, The Week Ahead
Veteran's Day
This week we made this Red Poppy art to share a symbol used in the past to honor those living Veteran's that were honoring our country and the people within! Take a look at the variety of poppies! 
PS..this was a tear art project! We got to practice having some frustration, not giving up and trying our best even through a challenging task! Such a good experience!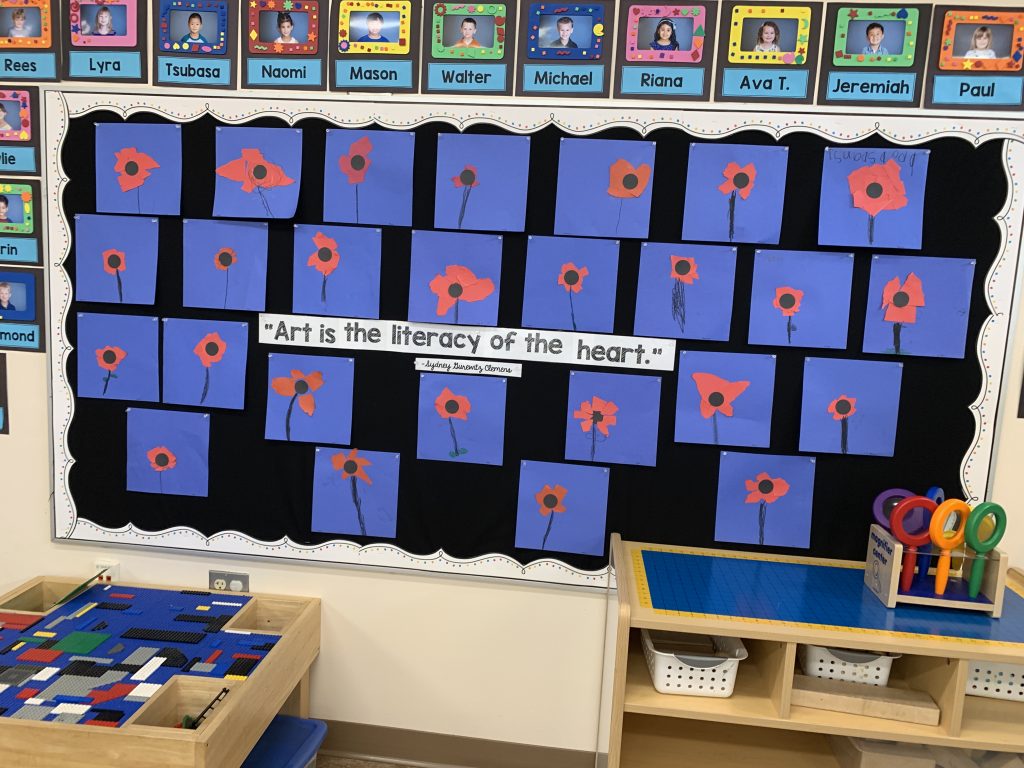 Food Drive
The EBS Food Drive has officially started! You can bring any cans into the classroom or leave them at the front of the school! I encourage you to not only bring a can, but to have a discussion with your child about where the can is going and why it is needed. Keep your eyes peeled…..in the next week or so, we will be sending home a note for your family to participate in a giving project (hint: Mexico) that goes directly to families in need. It is a great conversation piece for your family and more importantly a huge help to families in need! 
Character Education-GRATITUDE
This week, Nicole Meyer came in to teach our class about the character trait for the month of November. This month the focus is on gratitude. Nicole discussed the meaning of this trait and many examples. She read them a book called "The Gift of Nothing." The students then wrote their own writing piece…"I am grateful for…." These pieces are hanging in our entry way wall now for viewing! Thank you Nicole!
Rubio's Night 11/21
Mark your calendars…Visit Rubio's on the day of 11/21 to support EBS. We get a portion of the proceeds and you get to enjoy a yummy meal. More information will be coming out in email blasts from the school! 
Field Trip!!!
Our class had a great time on the field trip to the Apple Orchard! Mrs. Corcoran let the TK/K classes from EBS visit their farm this week. She saved the end of the apples for us to visit and eat. They were delicious! She spoke with our group about how these tasty apples develop along with the parts of the apple. We then got to pick our own bag of apples and then we got back on our bus for our drive back to our classroom! A special thanks to all of our cleared parents for coming along and helping the students for the discussion and during all the picking! 
EBS School Book Fair
The EBS Book Fair is coming! This is a fun event that we have at our school each fall. Our class will visit together to either shop (you can send money with your child) or window shop (in which you can return at a later time with your child to purchase). The book fair will be open from Thursday, Nov. 14th – Friday 22nd. Our class will visit this week on: 
Friday, November 14th from 9:00 am – 9:30 am. We welcome any parents to stay that morning and visit with us. 
Grandparents Day
EBS also celebrates a school Grandparents Day on Friday, November 22nd. We will be inviting all grandparents in to spend a short time with our class in which we will do a short activity together with them. Grandparents may visit the book fair with their grandchild this day as well. Spread the word with any grandparents to come and join us!!
Parent Teacher Conferences
Our first round of conferences begin this week! Just some reminders…
We will have about 25 minutes to discuss your child's progress and next steps. 
If you have a question, please let know initially so we can save time for it or address it at the beginning.
There is no childcare is available for conferences. 
Please let me know when you arrive even if there is another conference still finishing up. 


This Coming Week….
PINK

Week!

(….honoring breast cancer awareness) Each week we celebrate a new color and talk a little about the color word. On Thursdays, the TK/Kinder wear our week's color to celebrate! 
If you wish to plan ahead on your color wardrobe here is the color wearing order:
Thurs. 11/14 – PINK
Thurs. 11/21 – BROWN
Thurs. 11/5 – Rainbow
PINK Contest! For PINK week…we ask you to be creative! We know not all kids have a lot of pink, but we ask you to search high and low, borrow, and get creative! We will have a pink contest and 1 boy and 1 girl will be chosen for wearing the most pink! This is a small motivator to get into the pink spirit and to support 3 of our EBS teachers who will walk 60 miles next weekend in support of Breast Cancer! Go PINK!
Save these Dates
Veteran's Day (NO SCHOOL) – Monday, November 11th
TK Class Visit to the Book Fair – Friday, November 15th 9:00 – 9:30
Parent Teacher Conferences for TK begin Wed. Nov. 13th. 
Grandparent's Day – Friday, November 22nd
Thanksgiving Break – Saturday, November 23rd – Sunday December 1st
The Week Ahead…
Monday – 11/11/19
Tuesday – 11/12/19
EBS Morning Run Club begins @ 8:15am – 8:30am
Wednesday – 11/13/19
Computer Lab – Practice logging in at home!!
EBS Morning Run Club @ 8:15 am
Thursday – 11/14/19
EBS Morning Run Club @ 8:15 am
PINK  WEEK – All Kinders and TK wear PINK
Friday – 11/15/19
EBS School Spirit Days! Wear Spirit Wear!
EBS Morning Run Club @ 8:15 am