IN THIS POST:  Super Pledge….we're aiming to get to 80%, Logging In Success!, November Volunteer Calendar, Fall Festival, Reading Group ….switchin' it up!, Parent Teacher Conferences, Letter of  the Week Dd, Save the Dates, Upcoming Events, The Week Ahead
Super Pledge….we're aiming to get to 80%!!
We are closing in on the end of the Super Pledge. Not only does this help to improve and fund our school to provide the above and beyond school experience, but it also helps us to be part of the team! Most all of the classes have 80% -100% of their envelopes returned. You don't have to donate, but by returning your envelope regardless of a donation, you are saying you are "in" to be part of our EBS team. Our AFP is a powerful team that makes this school so fabulous. Just this morning, a friend was saying, "Your school is awesome! They have so many extras there." Its that "awesome" part that draws families here and makes us all want to call it our home school! Join the crowd on this one…return your envelope if you haven't already and show how much you appreciate and love being a part of this team! 
If by chance you need a new envelope, just stop by the school office and they have extras! 
ALL ENVELOPES ARE DUE BY FRIDAY, NOV. 1ST…THIS FRIDAY!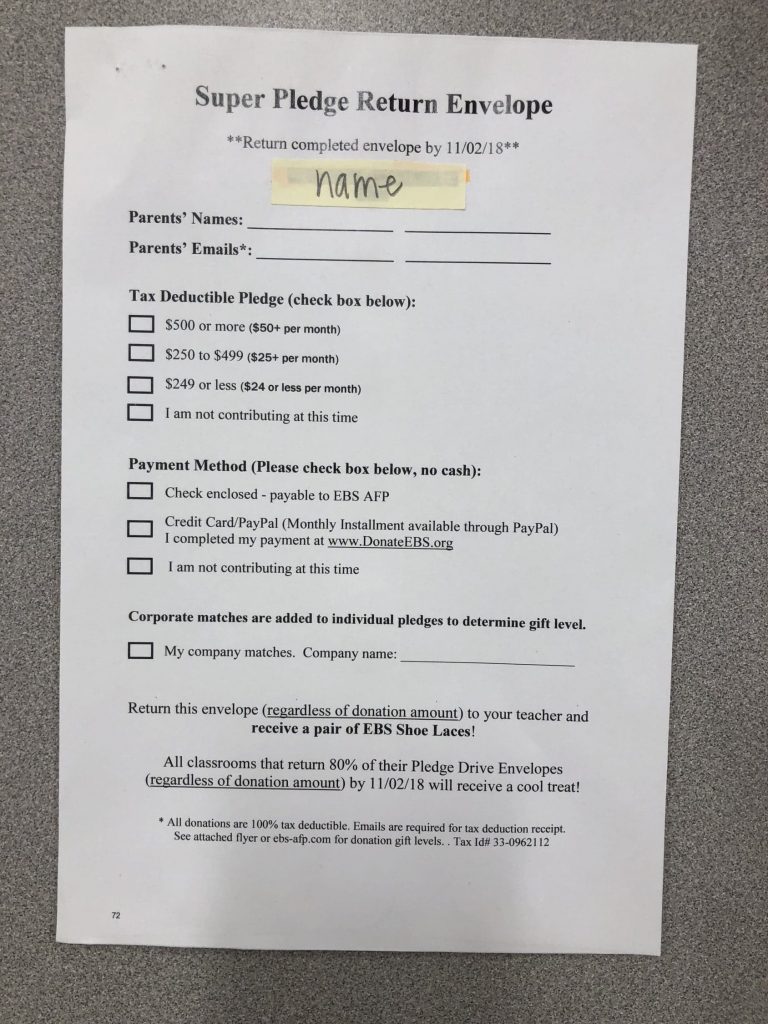 Logging In Success!
Applaud your little sweetie pie! As the youngest members at our school, we have almost 100% of our students who are able to log in! How awesome is that!!! Seriously give them a high five! That is a high achievement that not any 4 or 5 year old can say they are able to do!!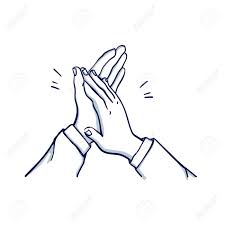 Volunteer Calendar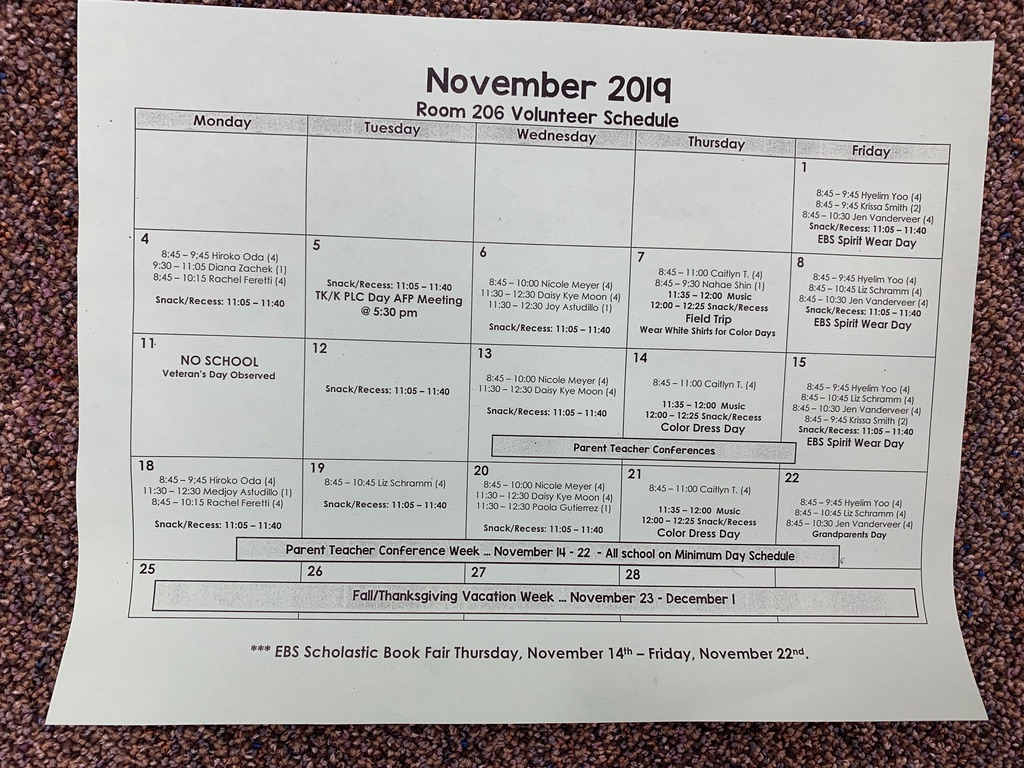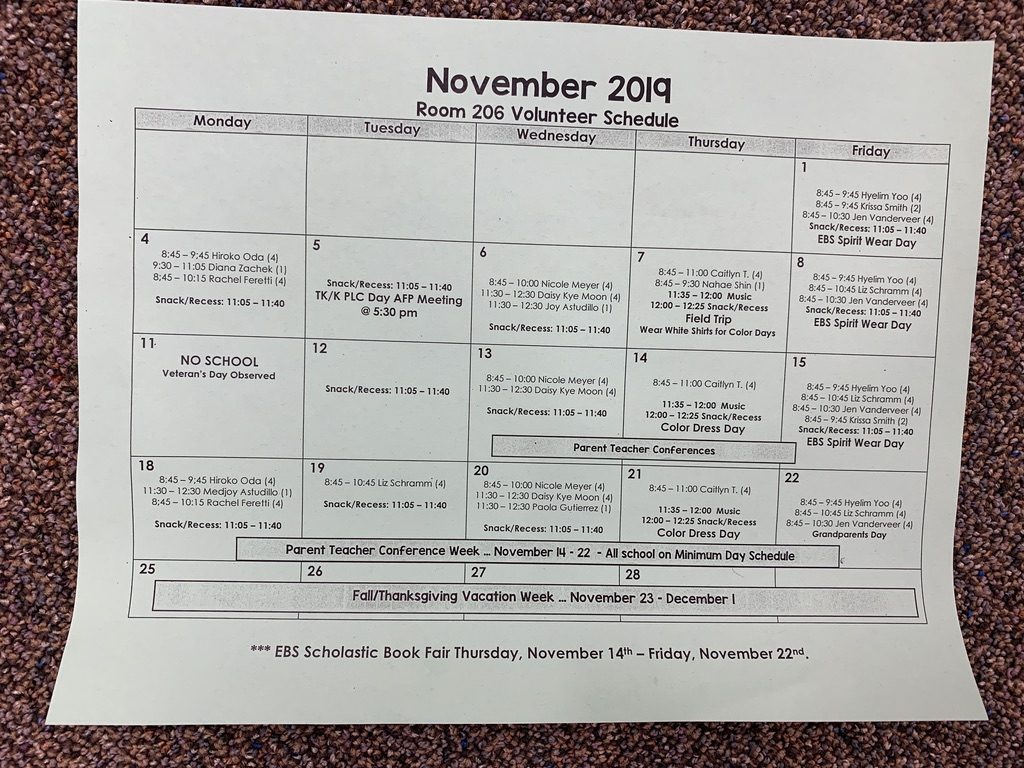 Fall Festival
Our school Fall Festival was tonight! It was a fun night filled with many activities! I saw many of our little TK friends in their adorable costumes! If you weren't able to make it out this year, make a point to stop by next year! There were new games and as always a lot of fun activities to do! Thank you for joining and we hope you enjoyed yourself! 
Reading Groups…switchin' it up!
This week we began our leveled reading groups! Amongst the TK and K classes we aim to provide every student with 4 days of leveled reading instruction. This means that they are receiving specialized lessons right at their instructional levels. The students also love this as we get to mix up with the Kindergarten classes and many of our students get to try out another teacher's style! If your child hasn't already told you about how they go to another teacher's class, ask them to share the experience about it! 
Parent Teacher Conferences
The Parent Teacher Conference  Sign Up Link was sent out this past week! I believe most all parents have signed up, but if you missed this, please check your email and make sure you sign up for a conference time! We will quickly go over your child's progress and next steps to keep on improving! 
It's sooooo fun to see all the growth and progress in such a short time! Thank you for all your support at home and in class! I seriously know how blessed we are…there are so many hands and faces in daily to make this year as successful as ever! Thank you all! Not only do we feel loved, but appreciate every moment and effort you all team up to give to our class! #TeamTK


Letter of the Week…Dd!
This week we practiced writing and remembering the capital letter, lower case letter and sound of "Dd." These students have made such great improvements. 
This Coming Week….
ORANGE

Week!

Each week we celebrate a new color and talk a little about the color word. On Thursdays, the TK/Kinder wear our week's color to celebrate! 
If you wish to plan ahead on your color wardrobe here is the color wearing order:
Thurs. 10/31 – ORANGE (HALLOWEEN!!)
Thurs. 11/7 – WHITE
Thurs. 11/14 – PINK
Thurs. 11/21 – BROWN
Save these Dates
TK Field Trip to the Apple Orchard – Thursday, November 7th 
Make-Up/Volunteer Picture Day – Thursday November 7th (prior to field trip)
TK Class Visit to the Book Fair – Friday, November 15th 9:00 – 9:30
Parent Teacher Conferences for TK begin Wed. Nov. 13th. 
The Week Ahead…
Monday – 10/28/19
Computer Lab – Practice logging in at home!!
EBS Morning Run Club begins @ 8:15am – 8:30am
Tuesday – 10/29/19
EBS Morning Run Club begins @ 8:15am – 8:30am
Wednesday – 10/30/19
Computer Lab – Practice logging in at home!!
EBS Morning Run Club @ 8:15 am
Thursday – 10/31/19
Music Class with Mr. Waczek
EBS Morning Run Club @ 8:15 am
ORANGE  WEEK – All Kinders and TK wear ORANGE
Halloween Party in Room 206
Friday – 11/1/19
EBS School Spirit Days! Wear Spirit Wear!
EBS Morning Run Club @ 8:15 am