IN THIS POST:  End of Year Countdown, Teacher Appreciation, Mother's Day Gratitude, Open House, Water for Sale, Western BBQ Lunch, Save the Dates, Upcoming Events, The Week Ahead
End of Year Countdown:
25 days left of TK
Teacher Appreciation
I can't even explain the love that was expressed in word, writing, gifts, flowers, smiles and hugs for days! Families…you spoiled me rotten! I truly care and love each of your sweet children! I have loved working with each of your families this year and appreciate all your kindness and acceptance! As I have with every year I've ever taught…I have learned so much that will help me improve! Thank you for all your kindness this week in particular! You have all gone out of your way to make sure I was cared for and loved! 
THANK YOU! ♥
Mother's Day Gratitude
This week we celebrated Mother's Day early! We had such a great day celebrating those ladies that took care of us as babes and continue to love us no matter how many times we leave our toys on the floor, or if we forget to take our plates to the sink, or if we need help tying our shoes for the 17th time that day…you love us just the same! It is for this and many other reasons, we wanted to say thank you! We enjoyed spending our morning together and hope you enjoyed our song! Thank you! 
Open House
Open House is this next week! Classrooms will ONLY be open from 5:30 – 6:30. Please make sure you arrive with enough time to visit as we close classroom doors promptly at 6:30.
Classrooms: 5:30 – 6: 30 (1 hour only)
Book Fair: 5:00 – 7:30
Food Trucks: 5:00 – 7:30
Art Show: 5:00 – 7:30 
Water for Sale
The cafeteria is now selling water each day for $1. If you child ever forgets their water and you would like to purchase one, they are for sale in the cafeteria. 
Western BBQ
A form will go home Monday regarding the Western BBQ Lunch. This will begin just after pick up on May 22nd. We'd love you to join. It is during the lunch hour with the other grades. If you plan on coming, sign in at the office (and get a visitor sticker) before the 12:30 pick up and you will be able to go through the gate with your kiddo at dismissal. You can head up to get lunch from there. Your child will go through the line and punch in their number. If you would like to also eat, you can pay at the cashier station and then eat together at the tables. 
If you aren't able to make it that day, definitely plan to come next year in Kindergarten! It happens 2x a year in December and May.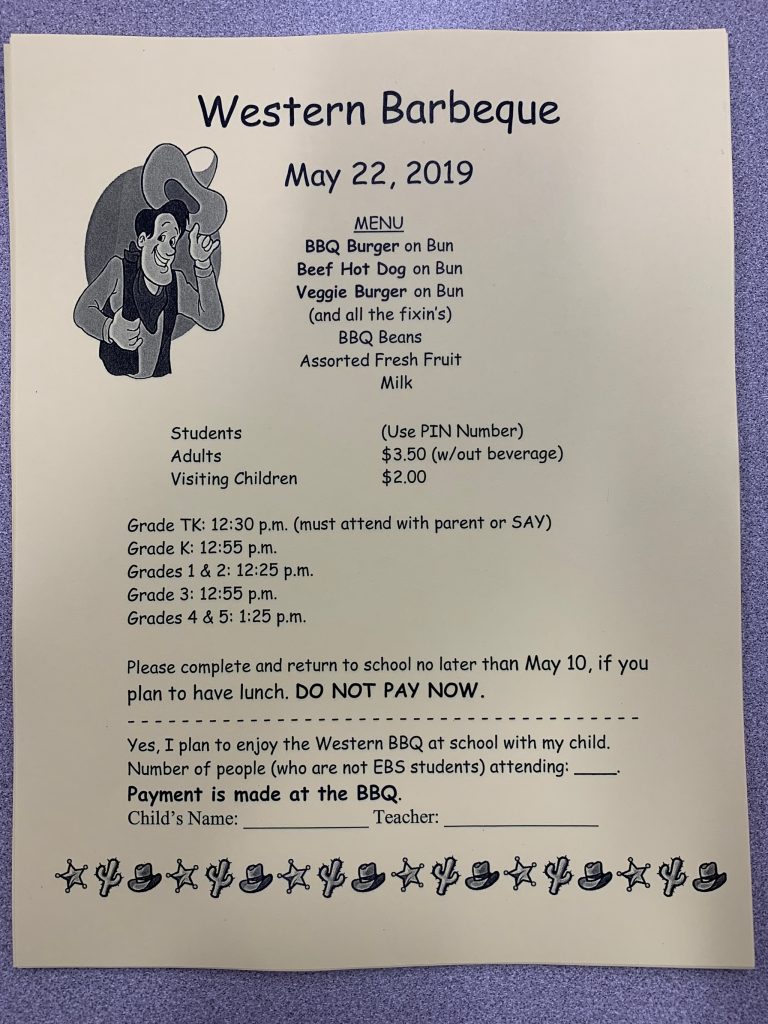 Save these Dates
Open House – Thursday, May 9th @ 5:30 pm
Field Trip Sunrise Senior Living – Wednesday, May 15th
Family BBQ – May 22nd
Memorial Day Weekend – Friday May 24 – Monday May 27th
Volunteer Appreciation Assembly – Thursday, May 30th
Father's Day – Thursday, June 6th @ 9:00am – 9:40am
Field Trip June (aka End of Year Party)
*NOTE: With both Mother's and Father's Day events, another relative is welcome to participate on behalf of a parent if a family member is unable to make it. 
Upcoming
Events
Spring Picture Day – Tuesday, April 9th 
EBS Idol – Friday, April 12th
Earth Day – April 22nd 
Get Air Family Night – Thursday, April 25th 
The Week Ahead…
Monday – 5/06/19
Before School Run Club
Mini Book Fair in the library
206 Visits the Art Show (Preview)
Tuesday – 5/07/19
Before School Run Club
Mini Book Fair in the library
Wednesday – 5/08/19
Before School Run Club
Computer Lab @ 10:15 am
Mini Book Fair in the library
Thursday – 5/09/19
Before School Run Club
Whole School Dismisses at 12:30
Music @ 11:05 am
Mini Book Fair in the library
Open House @ 5:30 pm
Friday – 5/10/19
Before School Run Club
EBS Spirit Days: Wear Red & Black or any EBS shirt!