IN THIS POST: Character Education – Gratitude, STEAM Materials Have Arrived, Grandparents Day in 206, Writing, POD, Gratefulness, Western BBQ, Upcoming Events, The Week Ahead
Character Education – Gratitude
This week Eva's Mom – Emily Forgeron came in to teach our class about November's Character Trait. This month we are learning about Gratitude. She explained to the students what Gratitude is and gave many examples of ways to be grateful for people, food, places or things. She then had each child choose a leaf with different color options. The color of the leaf they chose determined what topic they would write about. In the end, all the kids added their leaf to our 206 Gratitude Tree. Thank you Emily for an awesome lesson!
Our Fifth Grade students will be teaching us a follow up lesson on Gratitude when we return!
STEAM Materials Have Arrived
All of our STEAM materials (LEGOS) have arrived! They are unpacked and we will plan to start some lessons this week! I have a representative coming to meet with me on Monday to go over some ideas and teaching tips! The kids can't wait, especially now that they see the tubs of materials!
Grandparents Day in 206
Grandparents day went fantastically thanks to Mrs. Taber and Dani Powell! Thank you for all your hard work in planning and preparing materials! We had a great turn out and are so thankful for our families!
Writing
The students have really started to take off in their writing! Its been exciting to watch and to see their own excitement grow a they can now communicate messages in written word. I discussed with many of you some of the goals we are working on in class as they are just starting to get their own sentence down. Check out the three main focuses below that we will continue to review.
Capitalization

– This is a common habit that can be challenging to break in the years ahead. Many of the students learned to write their letters and name in the years prior to TK. They may have learned to write some or all of their letters using mostly or only capital letters. As they develop their are typically specific letters that they capitalize regardless of where or how they are using the letter. Often it is also letters that are the same/alike in capital or lowercase such as: Ss, Cc, Pp, Kk, Oo, Vv, Ww, Xx, Zz.

Punctuation

(periods mostly at this point) – This is a beginning to understanding and helping others understand where their ideas begin an end. As they begin to add more than one sentence this will become more noticeable if it is missing. In addition, you may see an overuse of periods as they explore such as adding them after every word or even after the writing of their name.

Spacing

– Consistent adding spaces between words. This is typically will come in and out before its consistent. It becomes especially important when they or others try to reread their writing. We aim to count out our intended sentences first and identify how many words will be in that sentence. We rehearse the intended sentence 3-4 times. Then we write the sentence with added spaces between each word.
POD
Problem of the Day – This is an activity we work on almost daily. We are learning how to read, understand, model, solve and explain number stories. The students have made great improvements. Many are still showing some confusion in writing the number sentence/equation to explain the solution. We don't officially learn the addition and subtraction unit until early spring, but will have a strong foundation when that unit comes.
Gratefulness
Just a note to say how thankful I am for each of you and your students. This has been a great start to the school year. Your communication and support have strengthened the work that happens daily in the classroom and more importantly has helped me to learn more about each of your families.
Many of your have shown so much love and support regarding my recent marathon and 3-Day walk. These were each special experiences! Thank you for asking and understanding the importance of these. The 3-Day walk was so impacting and powerful to feel that we can do something unifying and against cancer and in memory of so many lost. Thank you again!
Western BBQ
Check out the details of this fun event! It is a day offered by the district to come and eat with your child. Since it takes place after our dismissal parents may check in at the office prior to 12:30 and then enter our TK dismissal gate with their visitor sticker to go up to the lunch arbor to eat lunch. This event also takes place in May if you are unable to make it to this one!!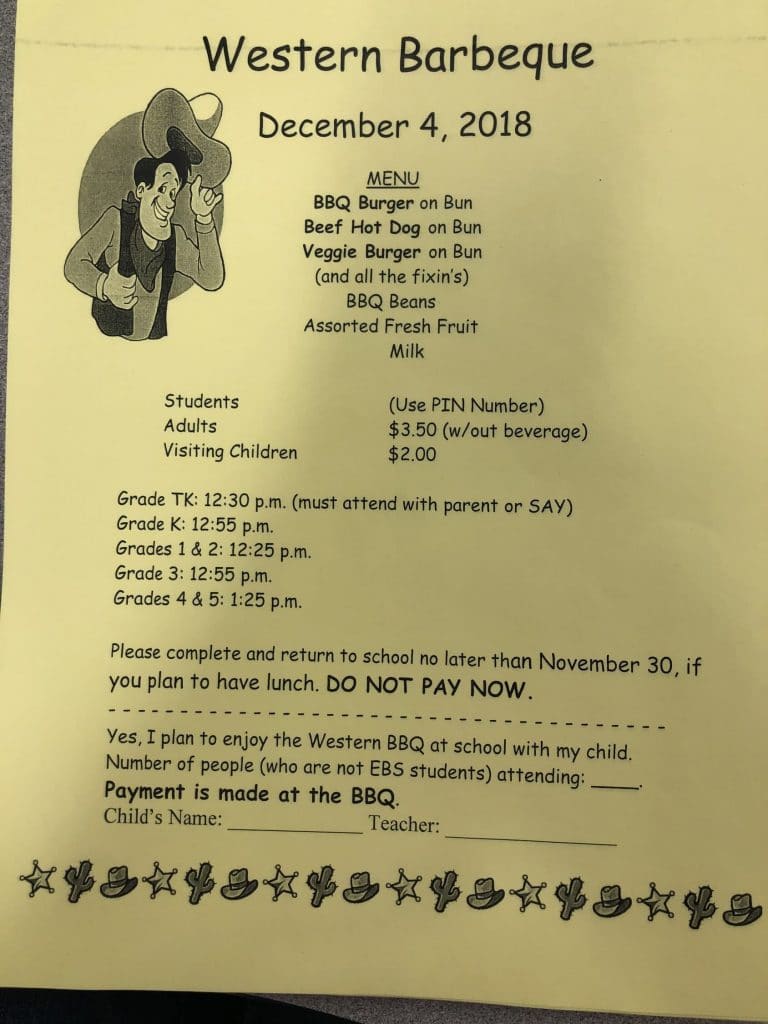 Upcoming Events
November 28 – December 7th – Holiday Sale
December 4th Western BBQ
December 4th AFP Meeting
December 21st – All School Minimum Day
December 22 – January 4th Winter Break
The Week Ahead…
Monday – 11/26/18
Before School Run Club
Computer Lab @ 10:15 am
Tuesday – 11/27/18
Before School Run Club
Computer Lab @ 10:15 am
Wednesday – 11/28/18
Before School Run Club
Library Visit
Thursday – 11/29/18
Before School Run Club

Whole School Dismisses at 12:30

Music @ 11:05 am

Mission Federal
Friday – 11/30/18
Before School Run Club

EBS Spirit Days: Wear Red & Black or any EBS shirt!