In This Week's Post: Penguin Parade, MLK,  Art, Valentine's for Rady's, Valentine's for Room 206, Volunteer Calendar – February 2018, Character Education – Forgiveness,  Upcoming Events, The Week Ahead
Penguin Parade
This past Friday was our Penguin Parade! The kids were so excited! We lined up with the whole school for COMPASSION/LOVE! The kids held their handmade signs (these will be on the wall next week) as we walked. Then we sat in our assembly area and listened to some speeches about the important concepts being marched for today!
MLK
This week and last week we spent time discussing Martin Luther King. We discussed how he helped everyone to get peace and to send the message that everyone can be great, regardless of their age, skin, height, gender, etc. He made a great impact in our nation and culture and helped to lead a great movement. This tied in beautifully with our Penguin Parade! Ask your child or have a conversation about some of the changes he made and laws that were unfair back before MLK.
Art
Check out some of the lovely art our class has done since returning from winter break!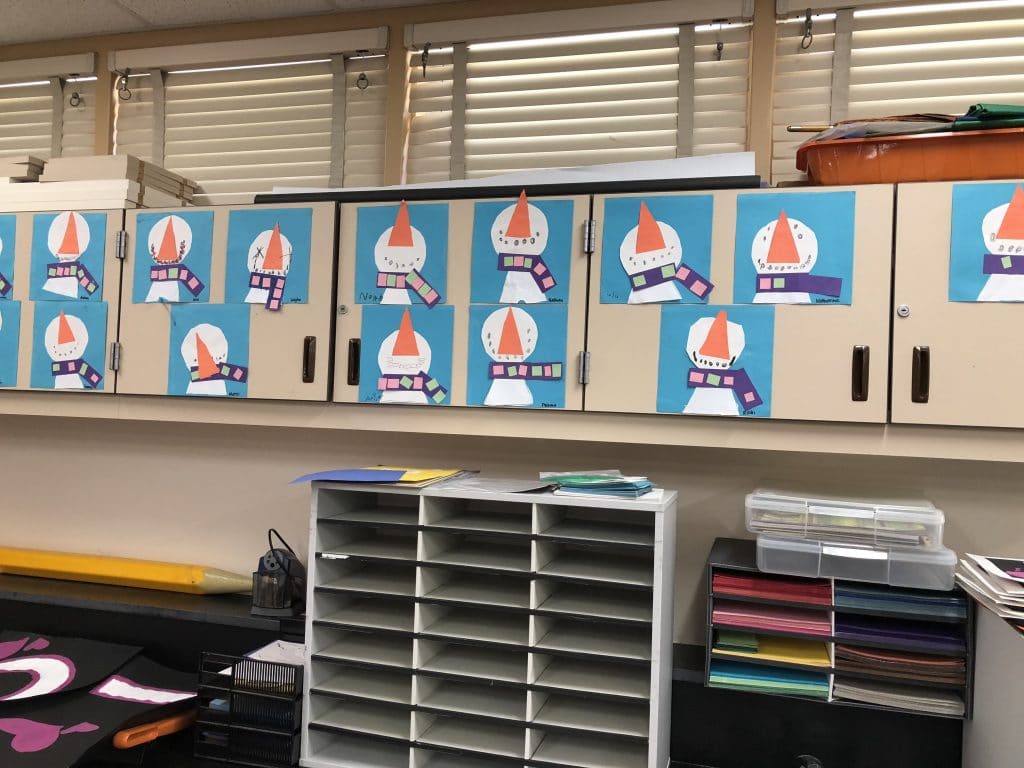 Valentines for Rady's
This month our heart goal is to make Valentine's for those who are residing at Rady's Children's Hospital. They are often checked-in and missing the daily typical life of child. Their health is compromised for a variety of reasons and we wanted to bring a smile to these faces. We will be making these in class over the next week or 2. If you are wanting to help, are cleared and have some flexibility in your schedule, let me know! This is one of the ways we are learning to have compassion towards others, especially those in circumstances that we can't even phathom!
Valentine's Day in Room 206!
Valentine's Day is coming up next month! I know there are always a few families to like to get an early start on their Valentine's so I like to send this out to give out an important message regarding this fun holiday of giving!
There is NO CANDY or FOOD allowed in any of the valentines. This is policy is designed to keep all kids safe. There are many other non-food options. Check out Pinterest or there are even a few non-food ideas sold with Valentine kits in stores.
Please make sure when you are filling out your valentines DO NOT label who the valentine is for. Only label the "From: " Though it may not seem as personal it is extremely helpful to each little mail deliverer as they fill their friends bag with notes/goodies.
There are 21 kids in our class so you aware of how many to make/purchase.
Volunteer Calendar – February 2018
I'm working on the February Volunteer Calendar this weekend! If you have any changes or requests, please let me know and I'll add them in before I print the final next week. Thank you!
Character Education – Forgiveness
This week Nikita Malavia came in class to give a lesson about Forgiveness. After giving a recap of what forgiveness is, she had them each decorate a heart and make it beautiful! The kids spent time making these as beautiful as they could. Then she asked them how the beautiful heart made them feel. Then she had them trade the heart with their partner and had them crumple their partners heart up. They were surprised and confused why they would do this. Nikita explained when we are hurtful or say hurtful words it is similar to what we did to the hearts that you can't make it look like it did before it was crumpled. Then partners shared their feelings and then asked for forgiveness.
"I felt sad when you _________."
"I'm sorry for ______, will you forgive me?"
"I will forgive you, please don't do that again."
Forgiveness may take time, when we are really hurt. When we say sorry and ask for forgiveness, it also means that we are going to try very hard to not do that again.
This was a powerful lesson that we can use all the time on the playground, at home and at school. Thank you Nikita!
Upcoming Events
Martin Luther King Holiday – January 15th (NO SCHOOL)
Father Daughter Dance  – February 9th
President's Holiday – February 16th and February 19th
The Week Ahead…
Monday – 1/15/18
Tuesday – 1/16/18
Before School Run Club
Computer Lab 11:15 am
Wednesday – 1/17/18
Thursday – 1/18/18
Before School Run Club

Whole School Dismisses at 12:30

Music @ 10:15 am
Friday – 1/19/18
Before School Run Club

EBS Spirit Days: Wear Red & Black or any EBS shirt!