IN THIS WEEKLY POST: 206 Winter Celebration, 206 Present, Generosity, Happy Holidays & Happy New Year
I hope you've all been enjoying the beginning of your vacation. I wanted to take a moment to share our  sincere gratefulness for each family in our class! We wish each of you a wonderful holiday and hope you enjoy the break with your family!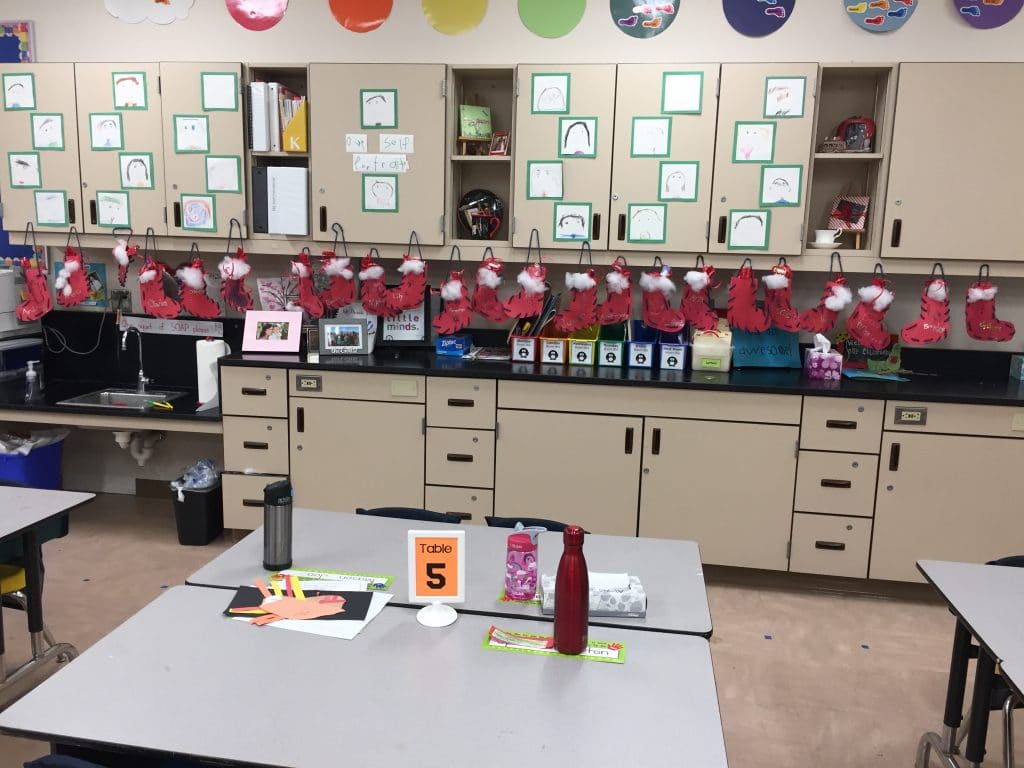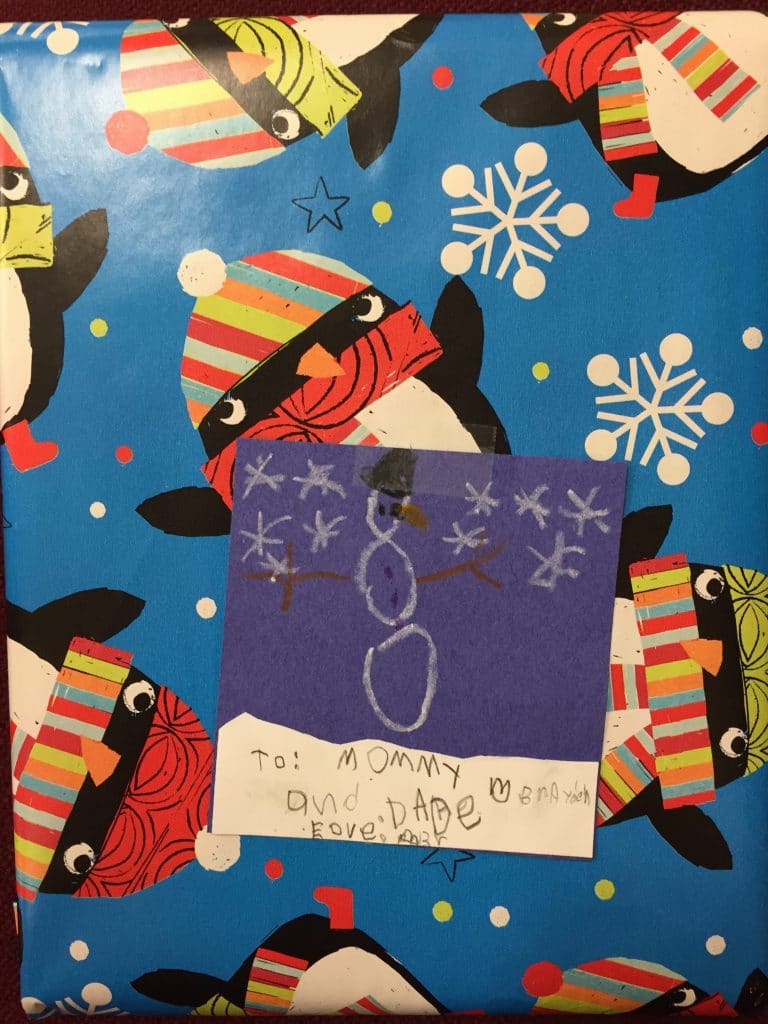 206 Winter Celebration
What a fun day we had! Thank you to our 3 Room Moms for planning and organizing such a fantastic day for our kiddos! These five-year-old cuties had a blast regardless of the rain in their pj's with all their classroom buddies! We had a so much fun! Read about the events that took place and see the photo galleries for each event!
Directed Drawing – Before the party got started we had about 20 minutes left. As the parents came in and prepared for the fun, we did a snowman directed drawing! This is where I give (and model) step by step directions and they follow along (great listening activity). I'll tell you, this was a challenging one and they did fantastic! My favorite part is that each one is different. These went home for families to enjoy!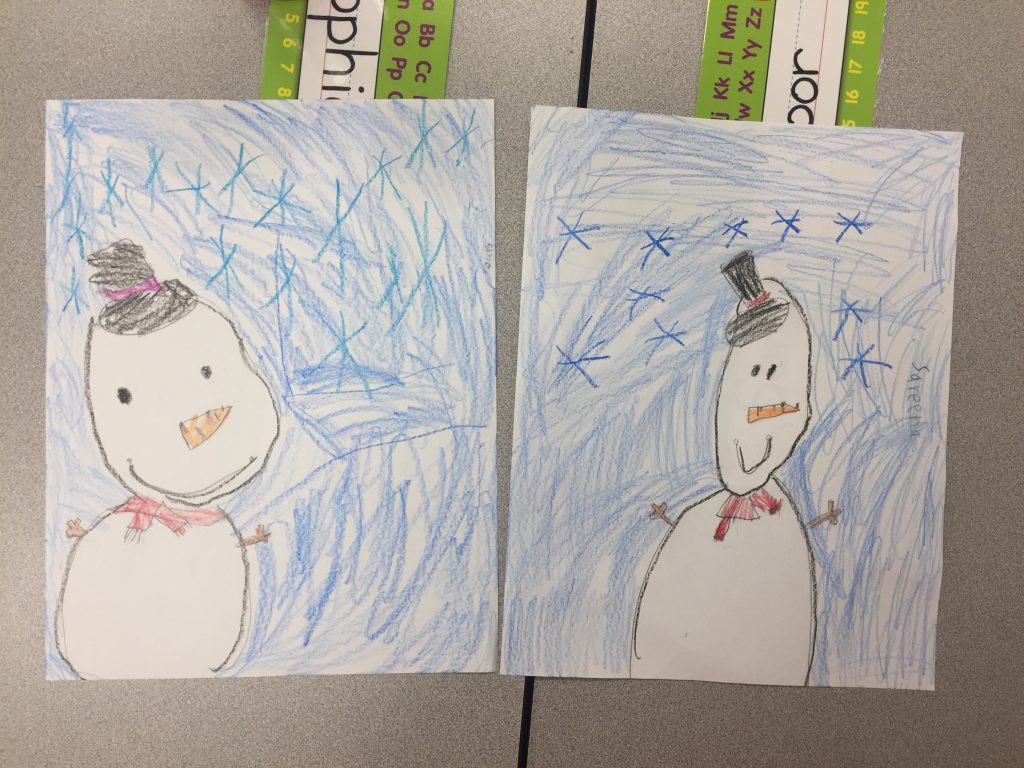 Photo Booth – Neda was our resident photographer! She set up a seasonal backdrop and had props for the kids to pose with! The result was ADORBS!
Craft – For the craft, the kids made a hanging present with their picture inside of it! They also made a set of reindeer antlers to wear as a headband! So cute and so fun!
Christmas Tree Decorating – This was a team effort activity. Five students were randomly chosen (and agreed) to be decorated like a tree. They had a lot of fun wrapping their human trees and decorating them!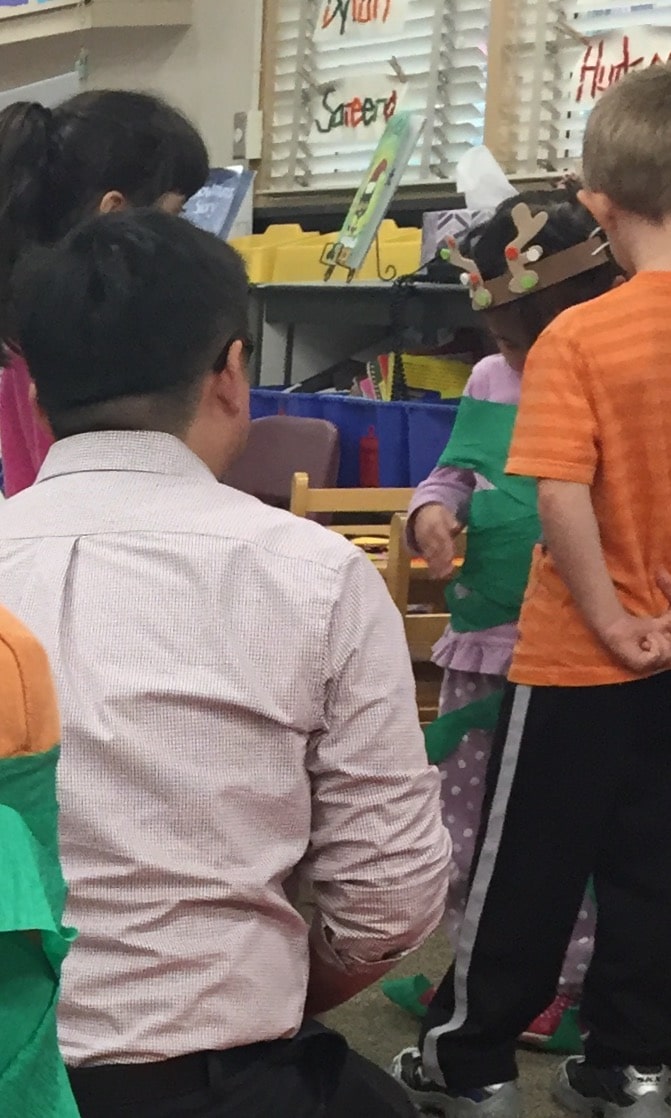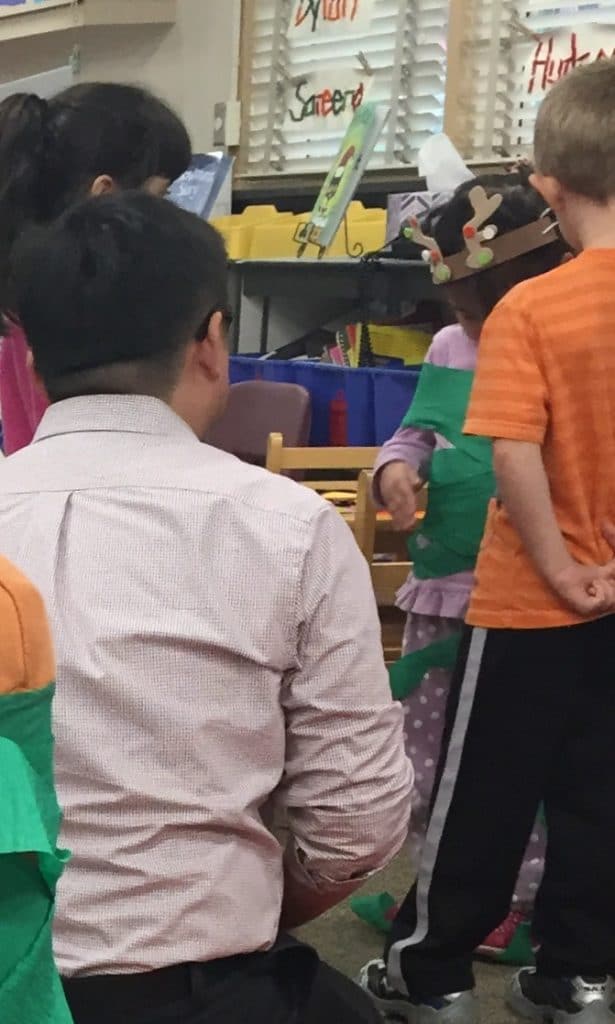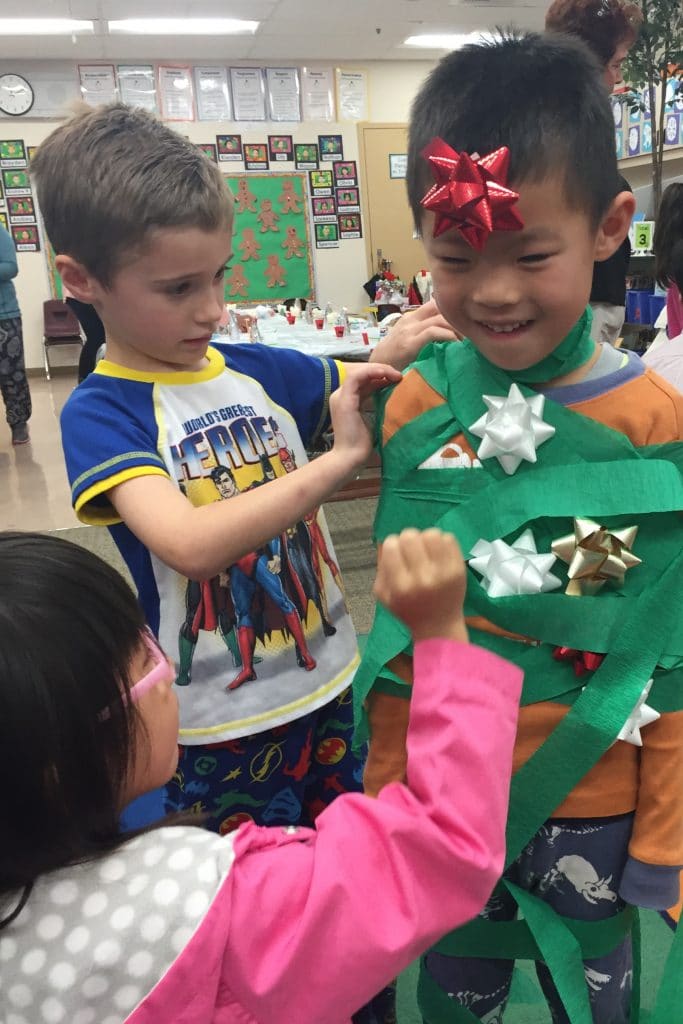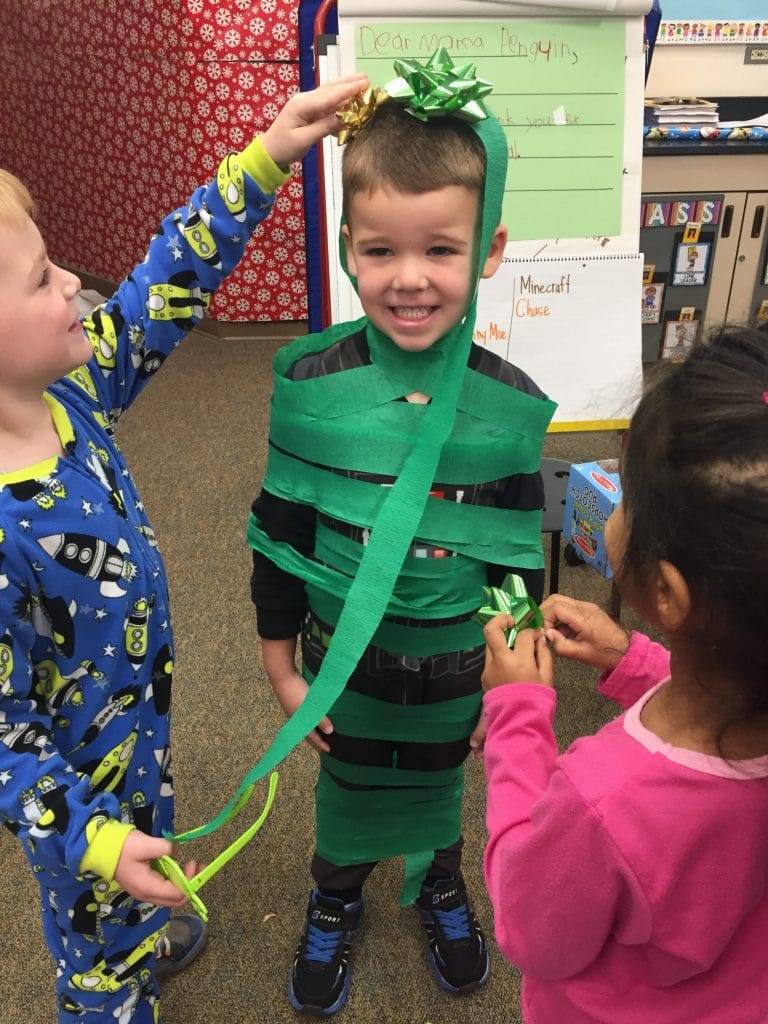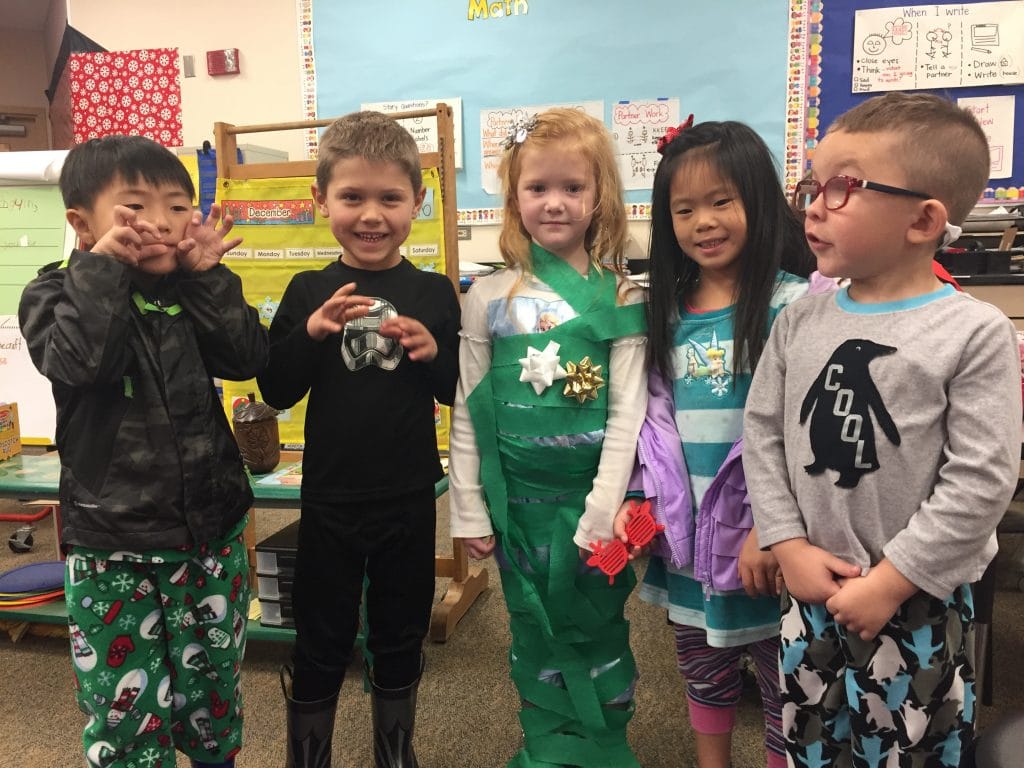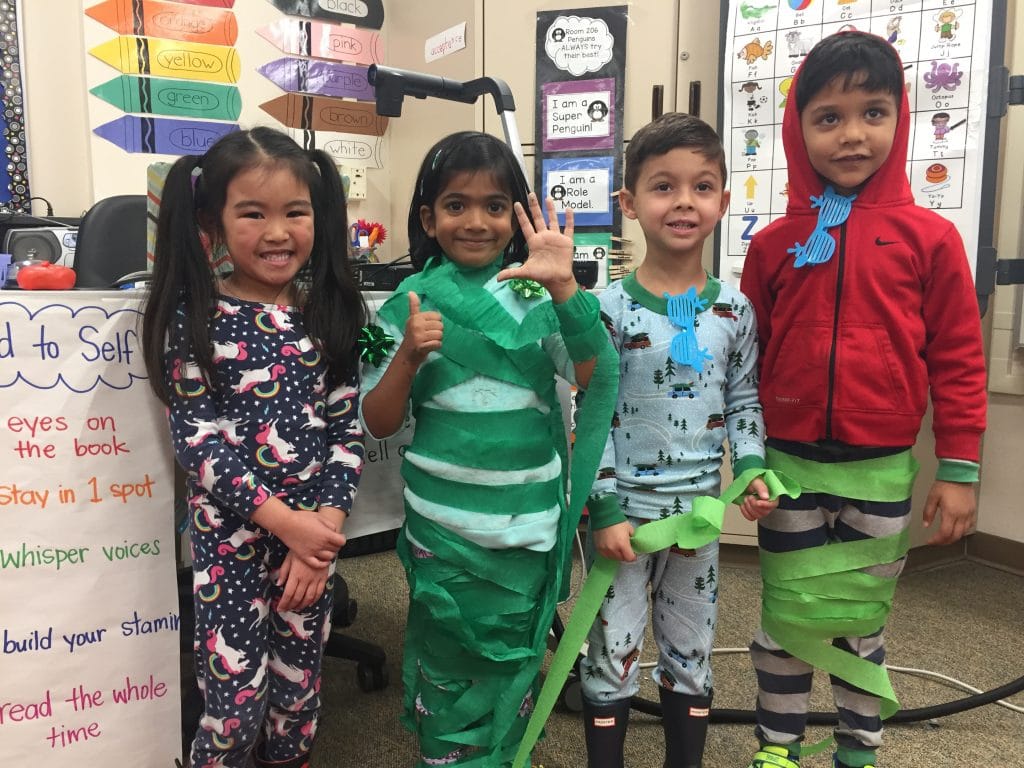 Book Exchange – Every student brought in a wrapped book to give to another class member. Rachel Franklin, had a special story that involved the words "LEFT" and "RIGHT" used in many different contexts. Every time they heard the word "left" or "right" they passed the book along to the neighbor on the correct side! We knew this would be a challenge and a fun and productive struggle for them…such a great activity. The kids had a green and red stars (one on each hand) to help remember left and right. We also had many adults in the room that also helped the students. More than the left and right being a struggle, it was challenging for some to get the concept of "we all pass in one direction." Many students leaned to trade mutally with the person next to them. By the end of the book they got the hang of it and were left with a new book in their laps. They got to open the books and enjoy a new read to take home!
Winter Snacks – While the human trees were being wrapped the parents decorated  the tables for a winter feast! The students had healthy, yet winter snacks. Check out the cutest treats everrrrr!
Caroling at EBS???
Just as we were about to wrap the human trees at our party, Mr. Waczek came through with his 4th and 5th grade Choir to sing carols to the class. They go through the whole school singing seasonal songs. He let our class join in on one!
206 Present: Love, Mrs. Hickson & Mrs. Miller
We had a special gift to the whole class that was wrapped up! The students were curious! They asked questions regarding the present, such as, "Is it flat?" After answering enough question to give us a good amount of clues the students made guesses to what they thought was inside. It was a tough one! We finally opened the present and found a hopscotch rug inside to use in the classroom for Fun Fridays/Mondays!
Generosity
Meals for Mexico – Thank you for all the food donations to our Mexico Neighbors! Each day we took count of all the new bags that came in! One student in our class also gave the great idea of putting stickers on the bags! So easy and another fun way to decorate! On Friday we 39 bags of dry food….that's 39 meals! Then at the end of the day as one mom came to pick  up her daughter she asked if it was too late to give their bag of dry food! I told her it was fantastic as she put us at 40 bags/meals! Thank you for your generosity to give. Its a busy season and for many there is sadness, pain, and for some hunger! Thank you for sharing the gift of food with others!
Tribute to Troops – Here's a capture of all the beatiful, patriotic stars that came in to give to those who serve our country! Thank you for taking the time and sharing the opportunity with your little one!
Happy New Year & Happy Holidays
I sadly never got my holiday family card up on the wall (so if yours was late too, feel free to bring it after the break…we'll plan to leave them up a few more weeks in January to enjoy. Just send them in your child's folder). Since I couldn't get it in the wall in time, I'm sending our silly card to each of you electronically! Please share with your two-O-sixer! Have a wonderful break and we'll see next year on January 3rd in 2017!
Upcoming Events – WELCOME to 2017
AFP Monthly Meeting

– Tuesday, January 3rd

Mother Son Bowling

– Saturday, January 7th

Penguin Parade

– Friday, January 14th

Martin Luther King Holiday

– Monday, January 17th
MONDAY – 1/2 NO SCHOOL!!!
New Year Day – Observed (enjoy the new year with your loved ones)
TUESDAY – 1/3
Mrs. Hickson teaches this day!
WEDNESDAY – 1/4
THURSDAY – 1/5
Before School Run Club
Computer Lab
Whole School Dismisses at 12:30 (pick up at Room 206)
Mission to Save Table open at 8:00 am in front of the school
FRIDAY – 1/6
Music with Mr. Waczek
Before School Run Club