September 8, 2015
Today was the first day of TK! This is a monumental day for family memories and photo albums. I recently was able to see a photo of a past Kindergarten student of mine, on her first day of Kindergarten side-by-side with her last day of Senior year! So crazy! I had many emotions with those photos, so I can only imagine what it must be like for her parents to see those photos as she is now heading off to college!!! Watch out folks….time flies by!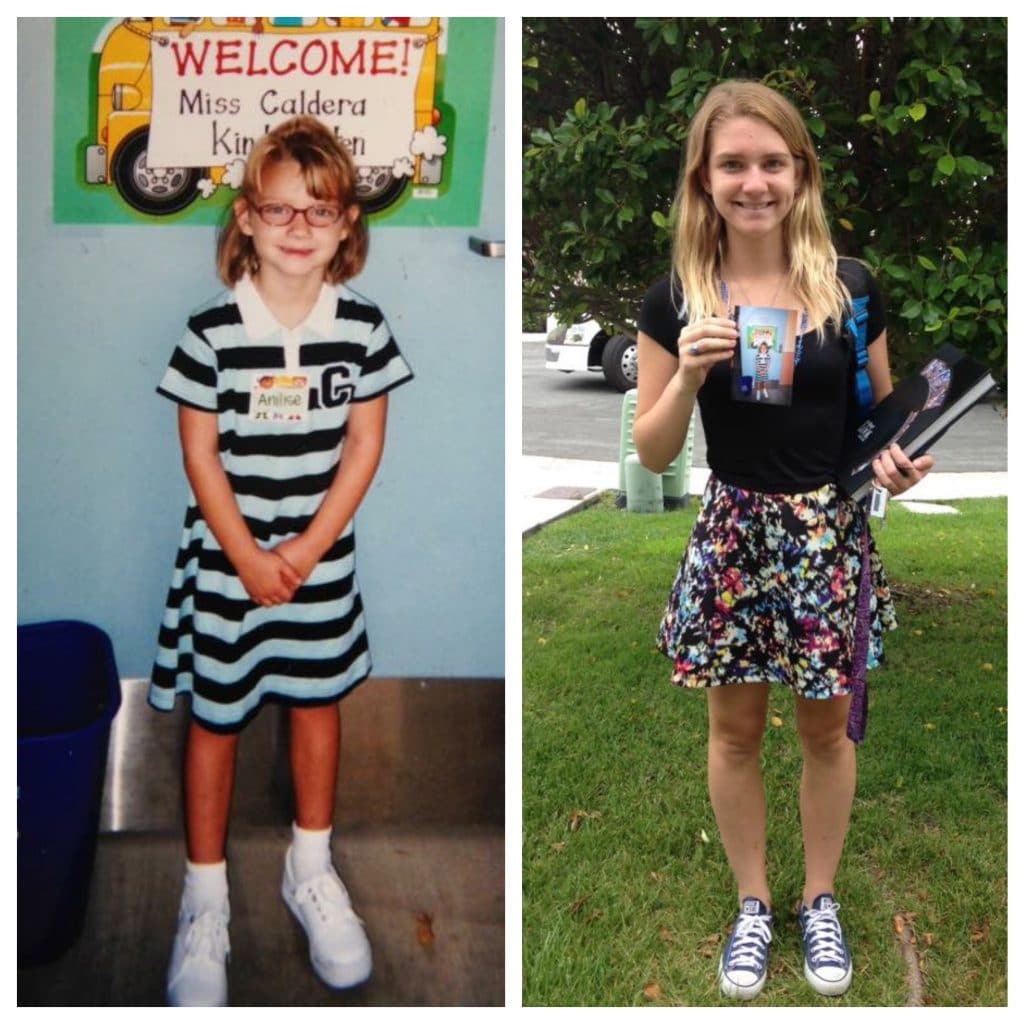 Our First Day!!!
In case you asked your little sweetie, "How was your day today? What did you do?" and you got the response, "I don't know" or "We had snack and played on the playground," I'm going to give you a little more details about our day! Today Mrs. Hickson and I were so lucky to have our first glimpse into the relationships we will build with this class of students!
Today we started some routines we will continue all year long, such as the Pledge of Allegiance, the calendar, lining up, recess, packing up, but we also did some fun activities, songs and crafts! Check it out below! We can't wait to see all those smiling faces again tomorrow!
We did our first writing together for Writer's Workshop
We made "First Day" Headbands to celebrate today
We read a First Day story, called the Kissing Hand with a craft.
We ate snack, and played on the playground (you probably knew that)
We had a meeting with other classes to go over the playground safety rules
Took "First Day" pictures (by Linnea's Husband) which you can see/download.
Folders
Our daily folders went home today with lots of information. Please try to return everything as soon as possible as we check it off each day to make sure we get all forms returned. Please remember to have your child put their folder in the folder tub each morning and check it every evening (even though some days it may be empty). Also feel free to send a note through folders to communicate or an email. Thank you again so much for all your support and cooperation that has made this day so successful!
Typically…I post our class blog update over the weekend, but the first day seemed to deserve its own post! Enjoy!
Photo Permission
Please don't forget to return these ASAP (tomorrow if possible) so I can get first day pictures up on our website! My husband was kind enough to come in and take some great shots! 
The Rest of the Week
Tuesday (Today) –
Volunteer Breakfast at 9:00 am in the MPR
Sign-up for TK Assessment Time
Wednesday – 9/9
Return daily folder in the red tub by the snack tub.
After school Assessments – in 206
Thursday – 9/10
Return daily folder in the morning
Send Lunch and snack this day

(packaged separately)

Minimum Day, whole school dismisses at 12:30pm (**IMPORTANT** Thursdays only – all TK children will be picked up at their respective classrooms – not at the front gate.)
Back to School Night (5:45 – 6:30 for K and TK classes….this is an adult event only, as to get the most information out of the evening…thank you in advance for your support). 
Friday – 9/11
Return daily folder in the morning