Welcome to Week 4! This post includes: • Picture Day   • Restrooms    • Homework Logs   • 206 Book Borrow   • Parent Volunteer Positions   • EBS SuperPledge  • EBS Run Club  • Computer Lab  • Color Week BLUE   • This Week's Curriculum   • Future Dates   • The Week Ahead
Our weekly blog post is to inform you, update you and share the school world of your Transitional Kindergartner! Feel free to give feedback or ask questions.
Say Cheese! – September 30th
Wednesday, September 30th is our school Picture Day. Luckily we were invited to go first thing in the morning so all the hair styles, gel and cleaned up outfits should look the way they did when you walked out the front door! The picture purchase form will go home in folders on Monday.
Restrooms Before School
Families – Many of our students are coming into the classroom first thing in the morning as we start our day and are needing to go to the restroom within the first 15 minutes of being in the classroom. Please help us by checking with your child to see if they need to use the restroom before getting in line to start our day. We can't thank you enough for helping us to limit distractions and make each day so successful! Thanks!
Homework Logs
Thank You for Returning! – Thank you for taking the time to read with your child, fill out the log and comments, and for returning the logs in time for credit. If you forgot to turn your log in on Friday, please return them Monday in order to receive credit. Thank you for all help (especially with the comment section…this becomes a great way for us to communicate back and forth about your child's reading). Your reading log from last week will come home on Monday or Tuesday with comments.
New Logs to go out on Monday! – In honor of BLUE week, the Reading Log is BLUE this time around. Please make sure you getting in at least 5 reading sessions with your TK Student! Feel free to use Tumblebooks to log in as well. (See below)
Lose your log? – If you ever lose a Homework log or leave a log behind somewhere, no need to fret… you can download a blank copy from the "Resources" page on the website, or use a blank piece of paper at home to list down the books you've read that week. Its the reading that's important, not the paper its recorded on! Thanks!
206 Book Borrow
I'm hoping to get books out this week to students. Students will take home 3-5 books at their reading level to keep and use for the week. They can read them multiple times each night to practice fluency and to overcome any hurdles within each book that exist on the first few reads. Keep your eyes peeled for your child's Book Borrow Bag in their backpack this week. In order to get new books, the students must return all the old books, so keep them safely stored in backpacks or another safe place that works for you and your family.
Parent Volunteer Positions Still Needed
We are still in great need of a few volunteer positions. Please check out the opportunities and the time commitment to see if you are able or interested to help our class in any of the ways listed below. If you are able or interested email me or stop by to sign-up or get more info!
Jog-A-Thon Coordinator – Communicate event information to parents in our class, coordinate class volunteers for the day of the event, distribute jog-a-thon t-shirts, bibs, and count class laps. This day is seriously a FUN event!
Folder Helper (Tuesdays and Thursdays Only for about 15 minutes after drop-off) – Empty folder contents in the morning just after school starts, and fill with any new papers. (Thank you Megan Black for covering Mondays, Wednesdays, and Fridays!)
Volunteer CLEARANCE – – In order to volunteer in the class, you must be on Nurse Dee's "CLEARED LIST." Even if you were cleared last year, you will NOT be on this year's cleared list until you fill out a volunteer application for 2015-16. You will not need a new TB test unless its been 4 years as it takes that long to expire. Check to see if your name is on the cleared list posted on our classroom whiteboard.
EBS Superpledge for AFP
The annual SuperPledge Drive is here! Flyers and envelopes will go home Monday. In short this is our largest fundraiser of the year and continually helps to provide EBS with many extras above an beyond what our district budget allows us (such as: Classroom supplies, shade structures, Playground Equipment, Computer Lab/teacher, Fine Artist Program, Run Club (see below), Character Education and other educations supplies). We are so fortunate (I say that as a parent and teacher) to have this amazing place to call our home school!
As an incentive for returning your envelope (regardless of the donation or amount) students will receive an EBS bracelet. This becomes a novelty for the kids and they will all want one (believe me!). If you could be so kind to look over the information on Monday, ask any questions you may have, and return the envelope with your child. We are hoping to return our entire class envelopes as we can earn a class incentive if we get them all in!
PS If you'd like one of those snazzy Penguin magnets you see on the cars around town (or other school incentives), these are given out for during Super Pledge (see info on the packet sheet). Here's a peek at the info sheet and envelope that will go home on Monday!
Thank you in advance for any donations, as we are all part of the AFP and help to create this wonderful place!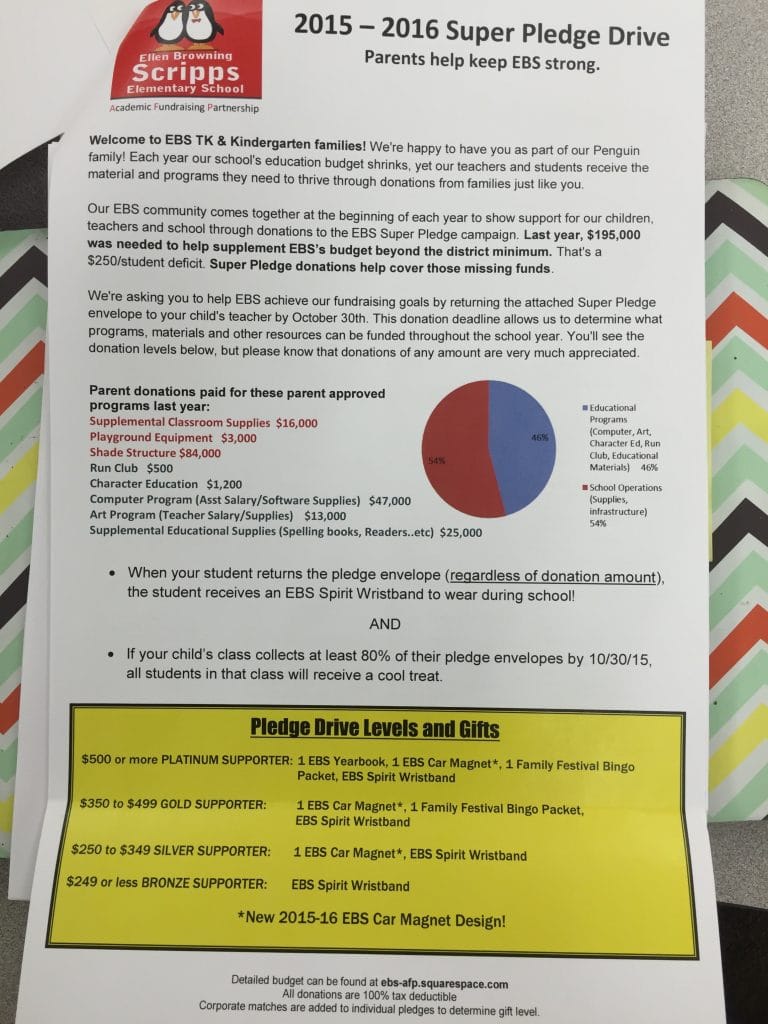 EBS – Run Club!!!
As a runner, I'm very partial to this club and opportunity! I LOVE that EBS has Run club! I highly encourage my students to get out and do some running! Its a great program that promotes healthy living, making new friends, and at the end of the year, your child will receive a certificate and will be recognized for participating (regardless of how frequently you go). There are also other goals to attain such as ribbons for getting to 100 laps mark or 200 laps (see a picture below from last year), and so on! Check it out one morning…see the info below! Be proud if you go…there aren't a lot of kindergartners…you may be one of the few and proud!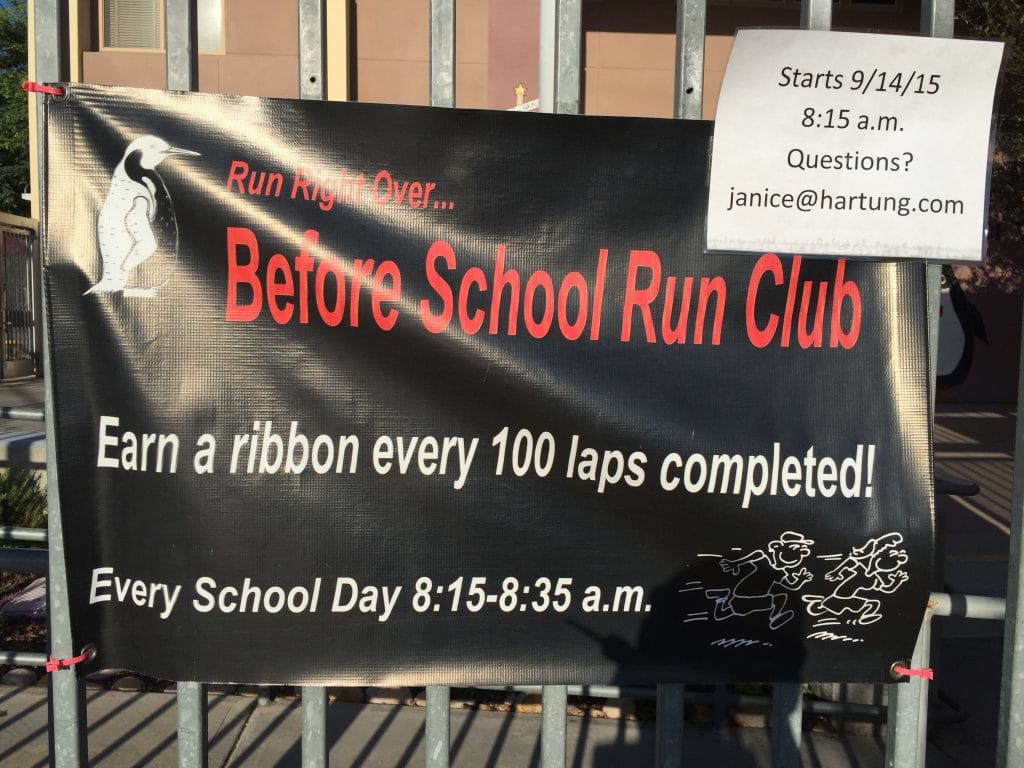 Computer Lab
This week the students got to attend their first time in the Computer Lab with our wonderful lab teacher, Ms. Martin. She showed them a school website called Tumblebooks and read them a story. Next week they will go on to the website themselves and try listening to a story on their own.
If you'd like to try it out at home, here are the directions…
Go to the EBS website
Click on "Students" tab
Click on "Computer Lab"
Click on "Website of the Week" (on the left at the very bottom)
Click on "Story Books"
Then choose the story you'd like (tons of options) and click on "Read Online" to listen
These stories can also be logged into your homework log!
Color Week –
BLUE
This week is BLUE week! We will be reading a poem about Blue and will practice some writing with the word BLUE. We will also have a BLUE snack and wear BLUE on Thursday for color spirit day! Here's our RED picture from this past week!…sorry, but we all just love to do our "silly pics." Maybe we'll try for a more traditional pose next week with Blue!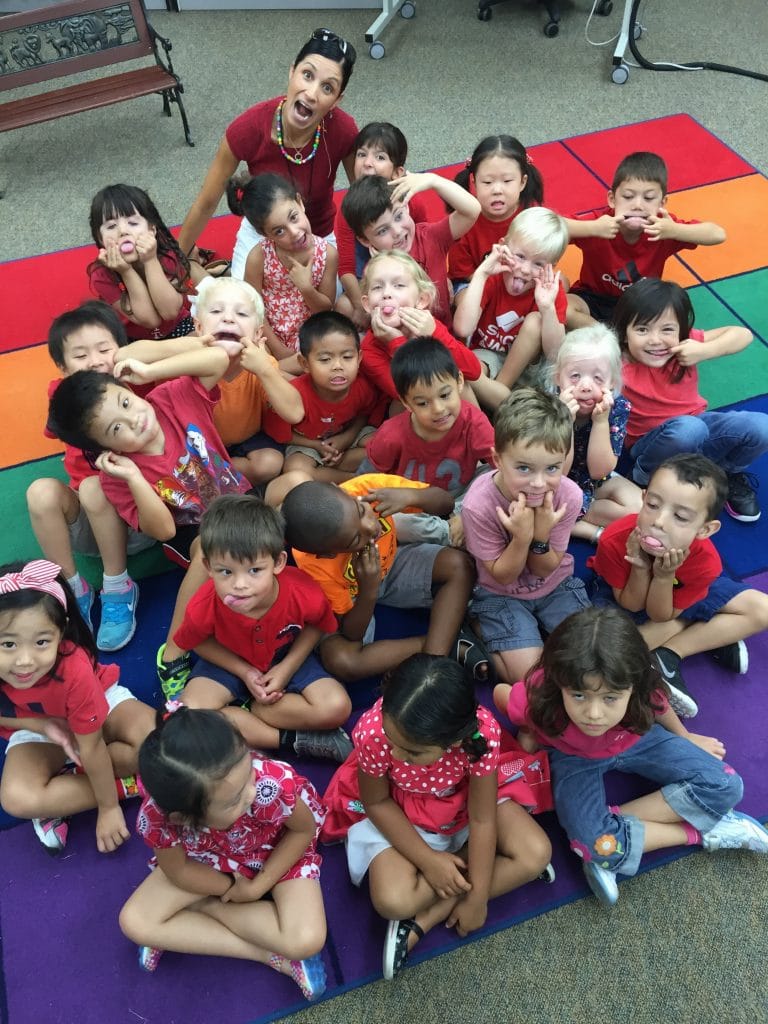 This past week in…
Math – We practiced sorting different objects by different attributes. We practiced sorting by color, by size, by shape, by number sides/edges
Writing – "I think I can…." Do you remember the Little Engine That Could. We referenced this book in our writing this week to focus on the power of belief and effort! You may have heard your little one saying this at home and feel free to use the phrase in different contexts, but we really tried to focus on saying this to help us get through some of those times in writing when it feels hard (thinking of any idea, trying to show the picture you imagine, writing letters/words, etc.)

Reading

– We had many Shared Reading opportunities this week using some Red texts and some familiar texts from last week (Mrs. Wishy-Washy, The Farm Concert, and some poems). We also read a Bb book and Red poem that we added to our independent book boxes. The students were given opportunities to practice these independently and repetitiously! They are doing terrific!
Future Dates to Mark
Our annual school Fall Festival is coming soon! Don't forget to mark you calendars now so you can all attend! Its a great evening of fun! Friday, October 23rd @ 5:30!
A Look at our Week Ahead
Monday – 9/21
Tuesday – 9/22
Wednesday – 9/23
Computer Lab with Mrs. Martin
PICTURE Day! Don't forget to practice your smile!
Thursday – 9/24
Wear BLUE Day!
Mission Federal is in front of EBS before school if you are interested in opening a special savings account for your child.
Lunch Only day at 11:35 pm (eat a BIG breakfast)
Minimum Day, whole school dismisses at 12:30pm (**IMPORTANT** Thursdays only – all TK children will be picked up at their respective classrooms – not at the front gate.)
Friday – 9/25
Music with Mr. Waczek – 8:50 am