Tell your 206 friends to check out the blog this week so they don't miss any important information!
Thank You Mom!
Mamas …we (your child and I) absolutely adore you!  Being a mom is the most wonderful, difficult and important job you'll ever have or do! You are amazing and deserve to be honored this weekend! Thank you for all the extra time you take and all the patience you extend even on the most difficult of days! We will always love you and have the utmost respect for what you do! Thank you for loving us and believing in us to attain anything! Happy Mother's Day! Don't forget ….we're proud of you too!
The hardest job in the world is the best job in the world!
https://www.youtube.com/watch?v=2V-20Qe4M8Y
P.S. Hope you enjoy your little gift from your little one. They wanted to surprise you with it this Sunday morning. A special shout out to 206's Grandma Jan,  for helping me on Friday to surprise all you moms with the gift, cards, and wrapping for the Mother's Day gifts. Check out these pics that Ms. Jan took of our kiddos!
Open House Next Week
Next week is Open House. Make sure you mark your calendars! It will be a great time! You will be taking a beautiful tour of 206 by one of the best guides in the land…your student! They will be showing you all around the classroom. There will also be other school events that evening as well including some delicious Food Trucks. See the flyer below for details. We hope you can make it!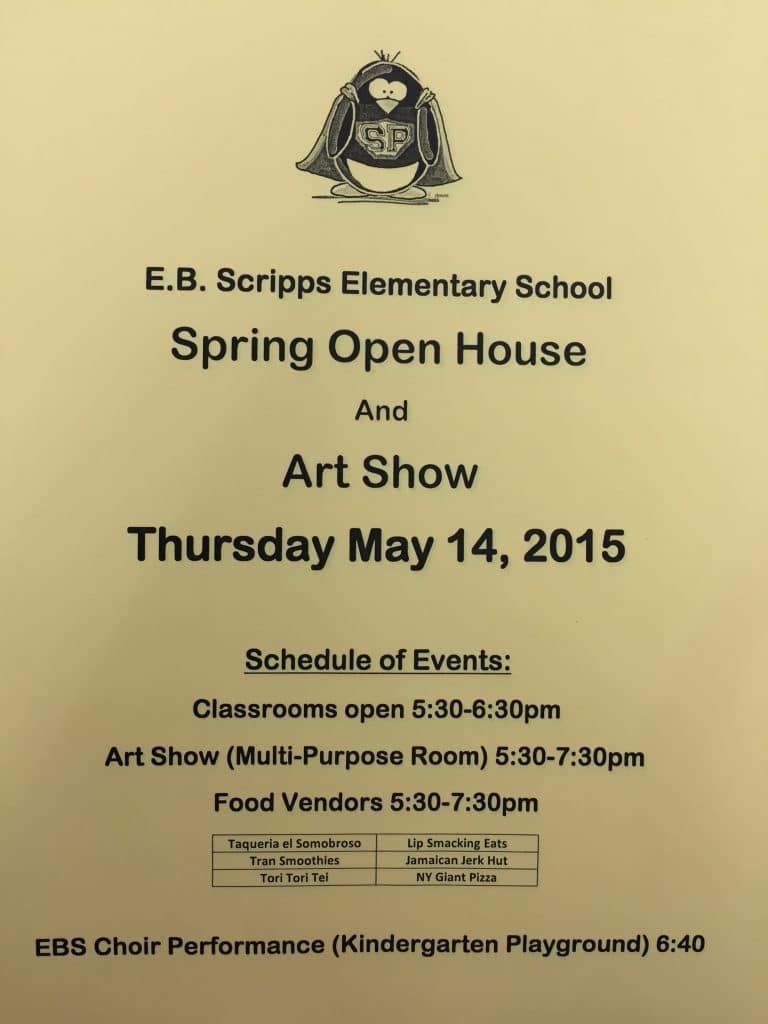 Details About Our Last Field Trip
Driver Information – All drivers, please remember to turn in (1. your driver form, 2. a copy of your CA license and 3. a copy of your registration) this week!
Lunch – Plan a disposable lunch. Plan to pack your child a lunch that is fully disposable with no containers, lunch bags or metal utensils.
Attire – The day of the field trip, we will be wearing our EBS Jog-A-Thon shirts from this past March. (See a picture of the shirt below) This will help us to stay together as our 206 group.
Pokemon Cards – Not Allowed
A new rule has been issued at school regarding Pokemon cards. These are not allowed on campus and need to be left at home. It is recommended that all toys stay at home, so toys will remain safe and are not a distraction to the learning environment.
Music with Mr. Waczek
You may not get to see it, but can your children sing! Our amazing music teacher has great talents. He plays many games with them around singing and holding a tune. It is beautiful to hear their little voices. Once I was even able to hear a solo by one of the students…absolutely beautiful! Here's a picture I got to sneak in when they didn't know I was peeking in!
Late or Tardy?
If you arrive at school after 8:45 (official school start time), please remember to stop by the office for a late slip as attendance is often already submitted.
Also remember to have your child bring their folder inside as the folders are emptied/stuffed first thing in the morning (Thank You…. Hilda Yu and Alice Sestok) and it is very possible your child's folder will not get emptied or filled with new information if it is left outside. This week some picture orders/money almost missed the deadline as they were left outside when students arrived late.
This guy…..
This guy…this great guy was named Vice Principal of the Year by the Administrators Association of San Diego. We are so proud of him! He works ridiculously hard in so many different areas at EBS that you might not even know about. He makes an awesome team with our Principal Ms. Sloan as they work together to set a fantastic tone and support students, teachers and parents to make EBS what it is today. If you don't know much about Mr. Morici, click here to read his bio and give him a round of applause! Congratulations Mr. Morici!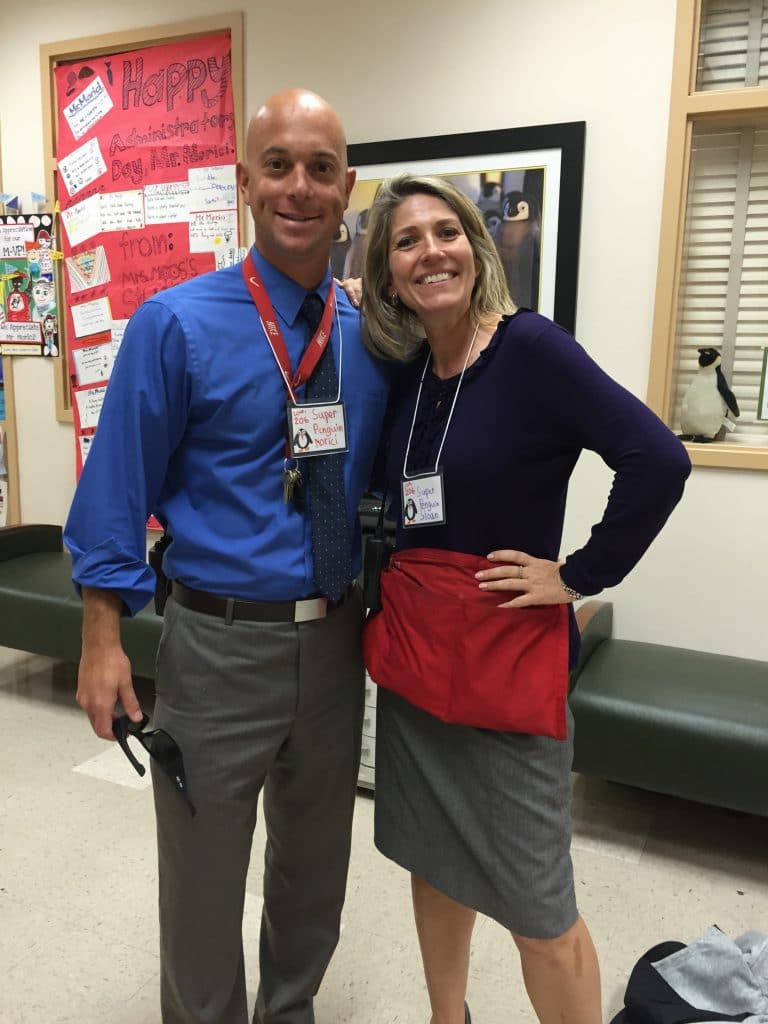 Yearbooks
Just another reminder to purchase your school year book! Hold on to the memories!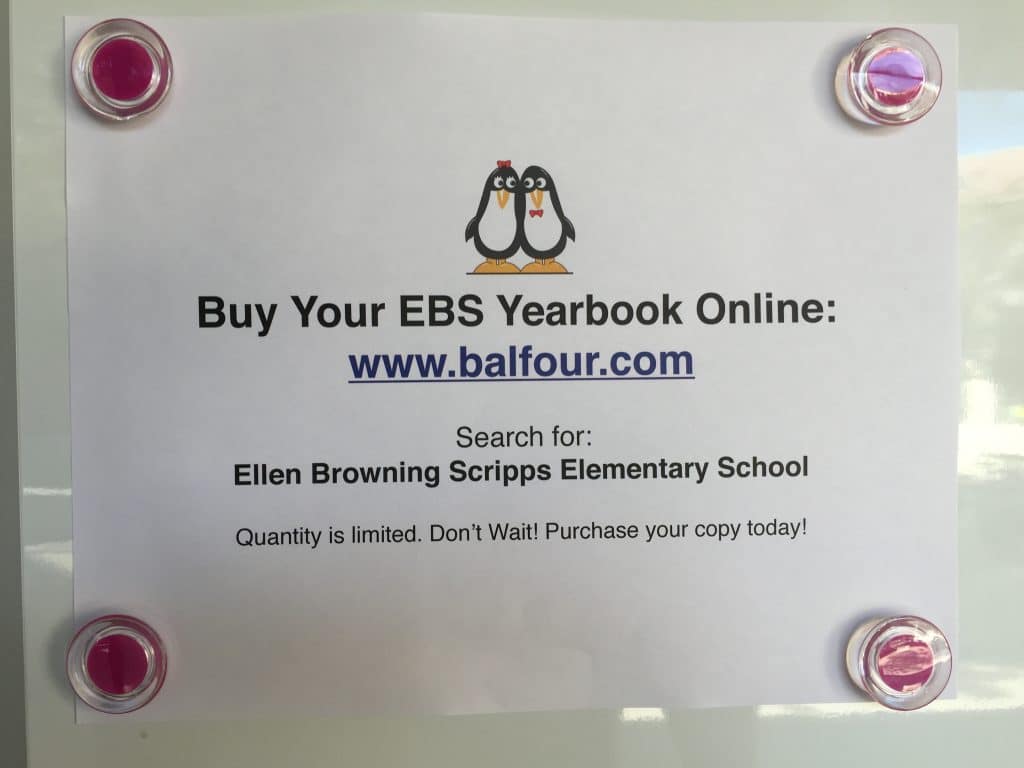 Thank you
Thank you parent readers! I just wanted to thank you for taking the time to read this blog. I try to include the pictures and information that would be most helpful or interesting to inform you about the time your child spending in our "learning place" (as the kids called it yesterday). Our time is down to only a few short weeks….we are getting sad about it already…its been a great year! Thank you again for taking the time to read about our class!
Monday – 5/11
PE with Coach Blower (don't forget to wear your tennis shoes)
Renew Book Borrow Bags (return the bags on Mondays to receive new books) – READ these books 1-3 times

each

night throughout the week! If you forget to return these, come by another day and switch out the books. Don't forget to write

comments

to communicate with me about how this reading is going.
Tuesday – 5/12
Return School Library books
Wednesday – 5/13
Library Visit –  (

TK dismissal at 12:55 in the library)

No computer lab due to testing
Thursday – 5/14
Minimum Day (dismissal at 12:30)
Mission Federal Credit Union at School for deposits!
Friday – 5/15
Homework/Reading Log Due (aim for 20 minutes of reading a session…break in two parts if needed)
Afternoon Run Club for K Students Only (Wear Tennis Shoes)