Tell all your 206 friends about this week's versions of The SCOOP!
Field Trip Monday
A small orange flyer went home on Friday. Here are the main tips to remember for a successful day at the zoo on Monday…
LUNCH – Please make sure you send your child with a disposable lunch and drink as we will be mobile all day.
ATTIRE/DRESS – Wear your EBS Jog-a-thon shirt (pictured below). Check the weather for layering, sunscreen, and hats preparation. Wear walking shoes as there will be a lot of walking.
CARSEAT – Bring your child's booster seat and label with your child's name so it can be identified by drivers.
WATER – Your child may bring a water bottle, but will need to carry it around for the day. There are also drinking fountains all over the grounds that we can use.
SNACK – a snack will be provided for you child. Thank you Megan for picking up our snack (Pretzels and Welch's Gummies).
DRIVERS – An email will be sent to your separately regarding details.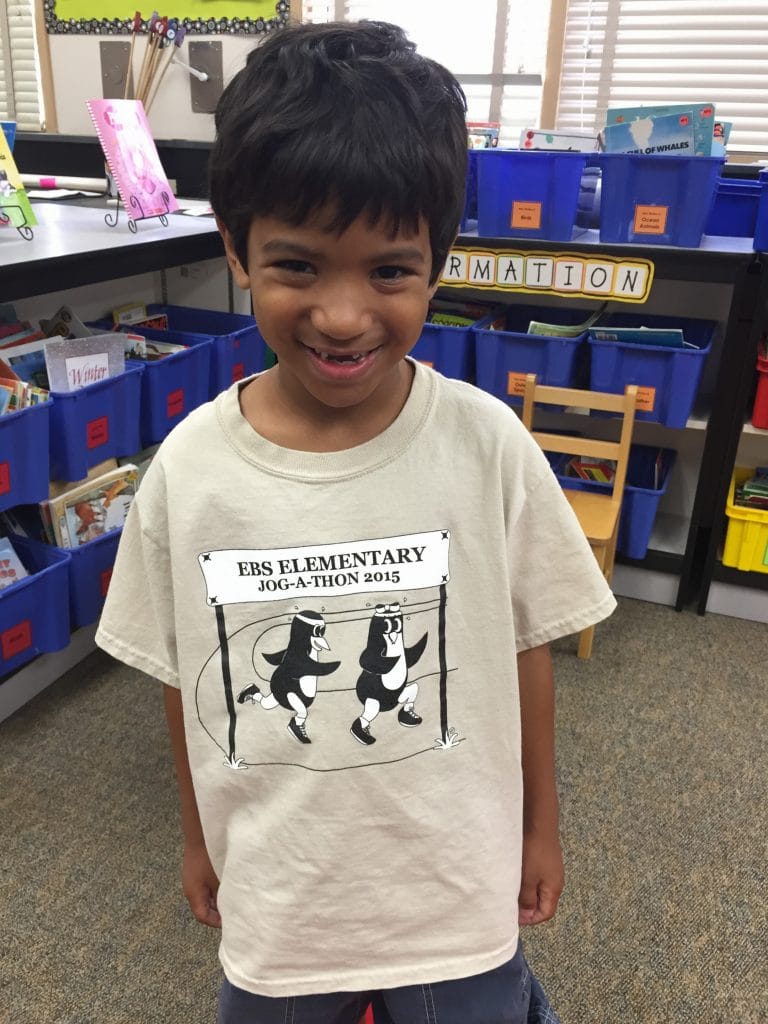 Thank You Again
What a week this was! I felt so loved with all the special treats this week! As this is my first year at EBS, the special activities are all new to me!
Monday – The door was FABULOUS! Thank you for taking the time to custom the door design to describe me! I loved each little shoe, the pathway, the pennant with such a thematic saying and the balloons and design around the door. It was pointed out to me, that there was even a picture of me running on that door! Fantastic! Thank you so much for putting so much thought into this project!
Tuesday – I was delighted with delicious and thoughtful snacks of every type. Thank you for all the delicious food snacks! I even found a few new snacks that I will be adding to my snack menu for the future! Thank you!
Wednesday – (and many of the other days…) students and families brought in notes, pictures, cards, gift cards with some of the most thoughtful words! This will the best! I loved reading each and every note, coloring page, and card! I love my job and your kids, but I can't tell you how encouraging and "bucket-filling" it was to read each note. Thank you for the kind and generous gift cards. In the afternoon, you all provided us with lunch though the AFP. It was a delicious mediterranean spread. It was such a treat to have a ready-made lunch with such delicious flavors…Thank you as you all are my AFP!
Thursday –  The cards continued to come this day along with many of the key or favorite office supplies I use in class! I have some beloved products that help me to organize, hang or write neater. These were wonderful treats and brought a giddiness of joy as I love these products for my classroom.
Friday – Each student brought in beautiful flowers which I am still enjoying this weekend! Ironically the Gerbera Daisy is one of my favorite flowers! They remind me of happiness so they have always been a flower I've looked at with brightness! Thank you for brightening up our room with flowers and joy and wonderful balloon!
I am so touched and grateful for each of you! Thank you for showering me with all the love, cards, gifts, supplies, flowers, notes, treats, etc! I feel honored and privileged to have worked with your sweeties and with each of you this year. I've uploaded a couple of pictures to highlight the week along with a picture of one of the  sweet cards I received below that I received this week. Besides the fact that this card warmed my heart, it cracked me up as this child remembered to include my blue hair…check closely! Haha! Such detail!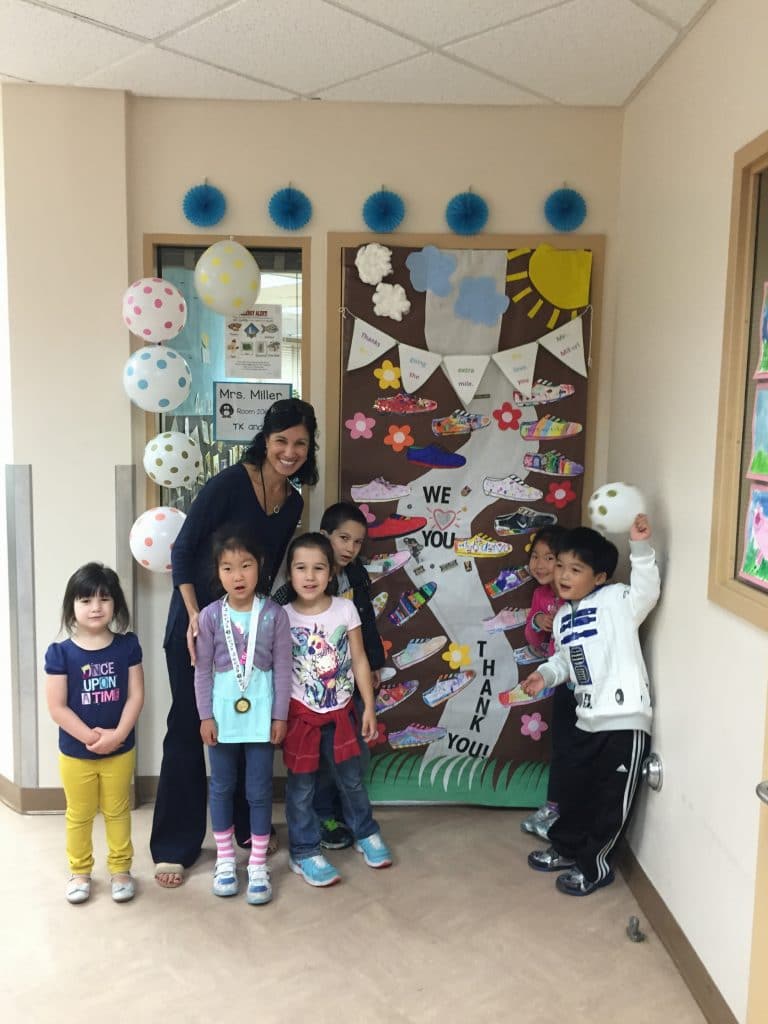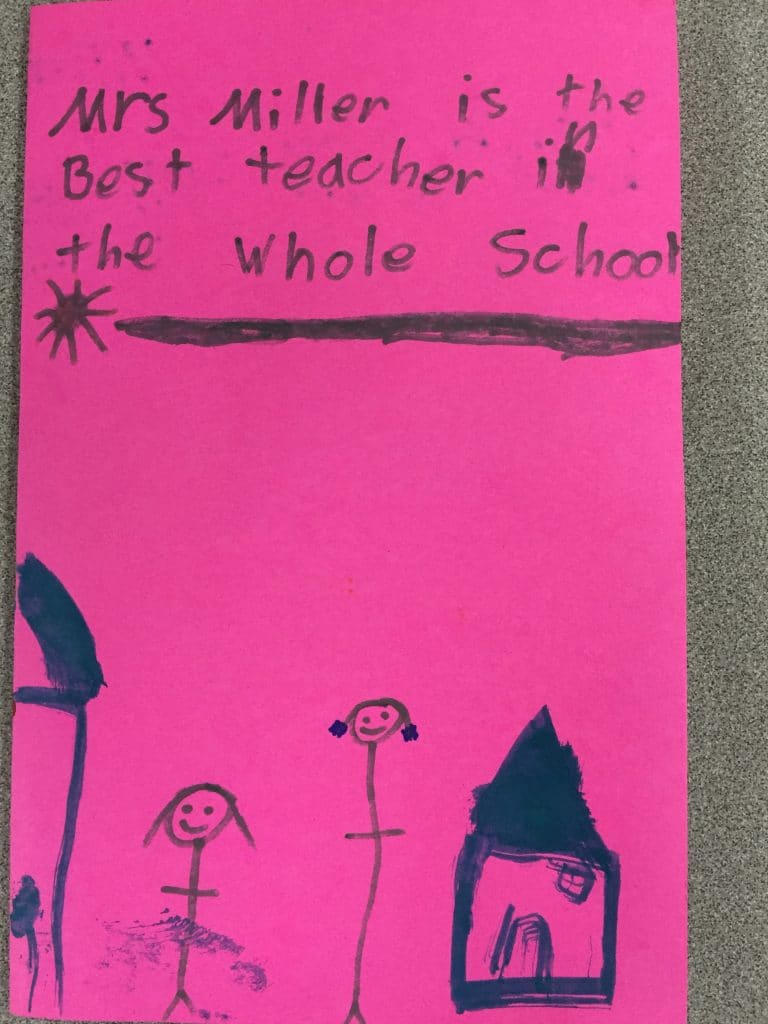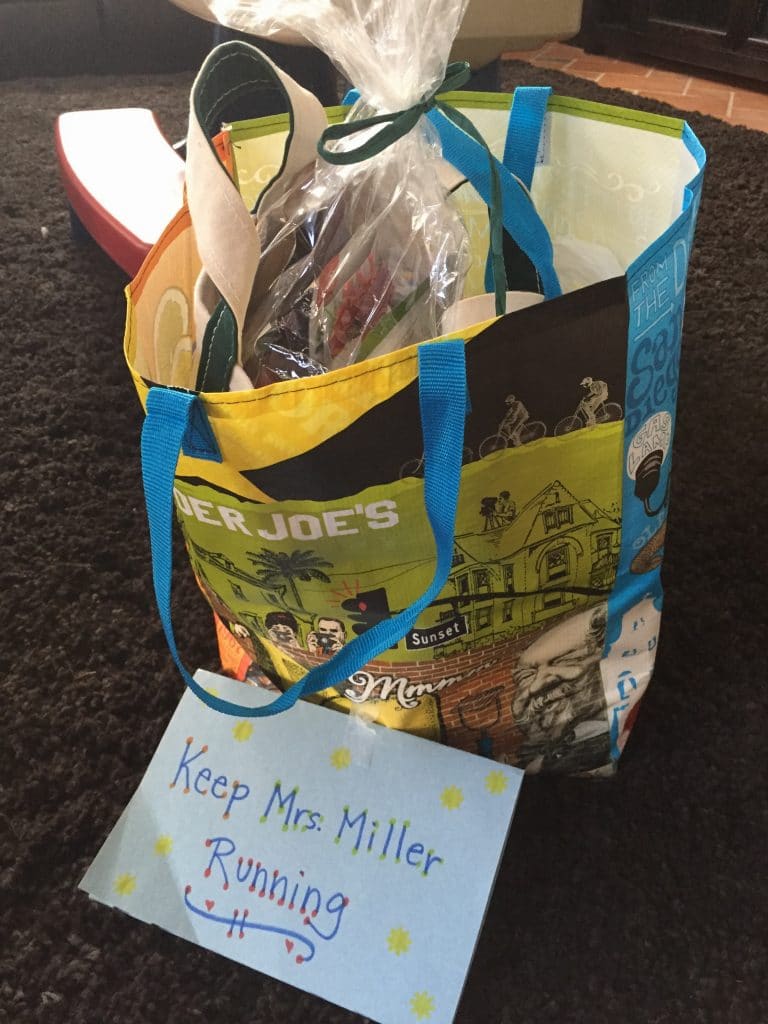 Open House 2015
We had a great success and turn out on Thursday night. Thank you for all of you who made it in for the classroom hour! Your kids had a blast seeing each other at night and touring you around the classroom. They have learned so much this year and had so much to share with you and loved taking to each station to see their work and abilities! Hopefully you all got to check out the Art Show in the auditorium (applause to our three Fine Artist Volunteers who supported our 206 Students). Here are some pictures below of the night. Many of you enjoyed the Photo Wall and sent your pictures in.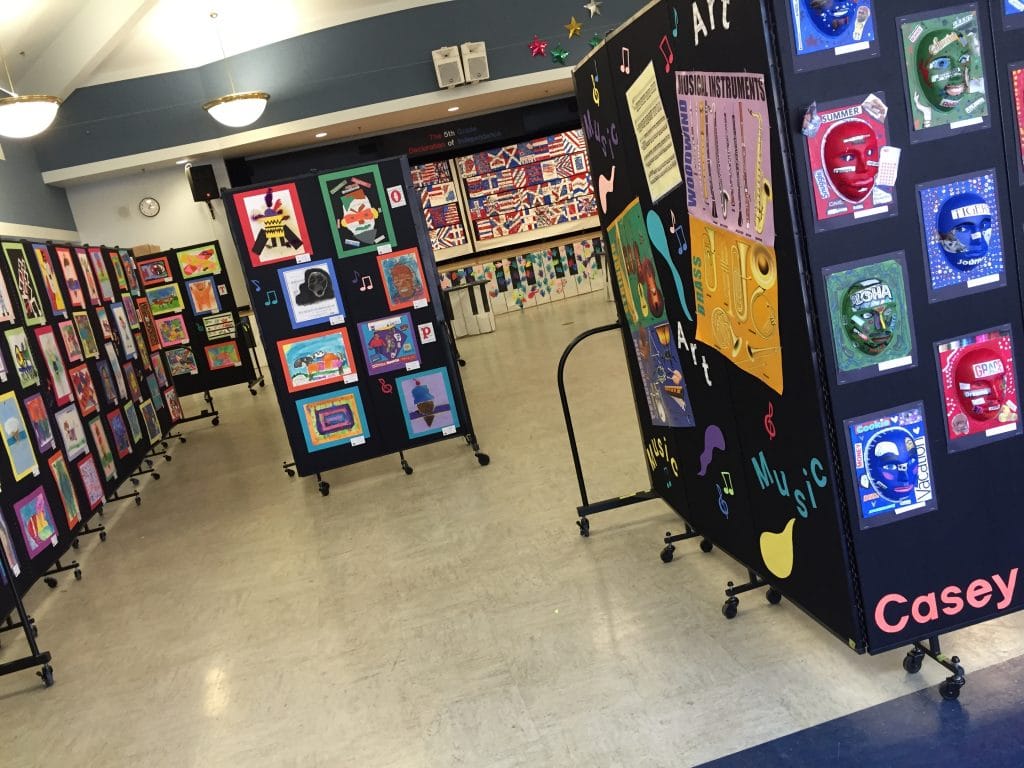 NO Approved Food List Amendment
Due to a couple health issues that occurred at our school recently, it has come to our attention that "Peanut Free" snack labels/items/brands are not always consistent. Meaning that if you purchased two bags of "safe" pretzels from a "Safe Foods Snack List," it doesn't necessarily mean they are both processed in a No Nut Facility/Factory. Each bag could have come from different facility …. one could have been made in a Peanut Free Factory while the other one could have been made in a factory that DOES process peanuts. Therefore, the concern is that teachers/parents will use the list without checking labels or where the food has been processed. We have been asked to take down Safe Food Lists to ensure that we are always checking labels to keep our kids safe.
LAST Book Order for the year!
Our last Book Order of the year is out! Orders are due by Friday 5/22/15 as I want to get the order processed quickly just to make sure we get it back with plenty of time to spare. Remember if you order on line, you are able to order from any of the other catalogs. There are some great books for summer reading.
Our Promethean Board is WORKING!
I'm not sure if you remember my mentioning, but we got our Promethean Board installed (Thank You Mr. Morici) just around Spring Break. Since then, there have been some complications in using it as more than a Document Camera due to a program I was having issues running. This program pairs up with the board in order to make it interactive and a touch screen. Friday morning, the wonderful Mickey Brown (from our district's IT department) came all the way over to EBS in the pouring rain to get me my device (with the program) to use the board immediately! Boy did we use it Friday …. for math and writing, and some exploring! The kids (and I) are psyched! This board is amazing!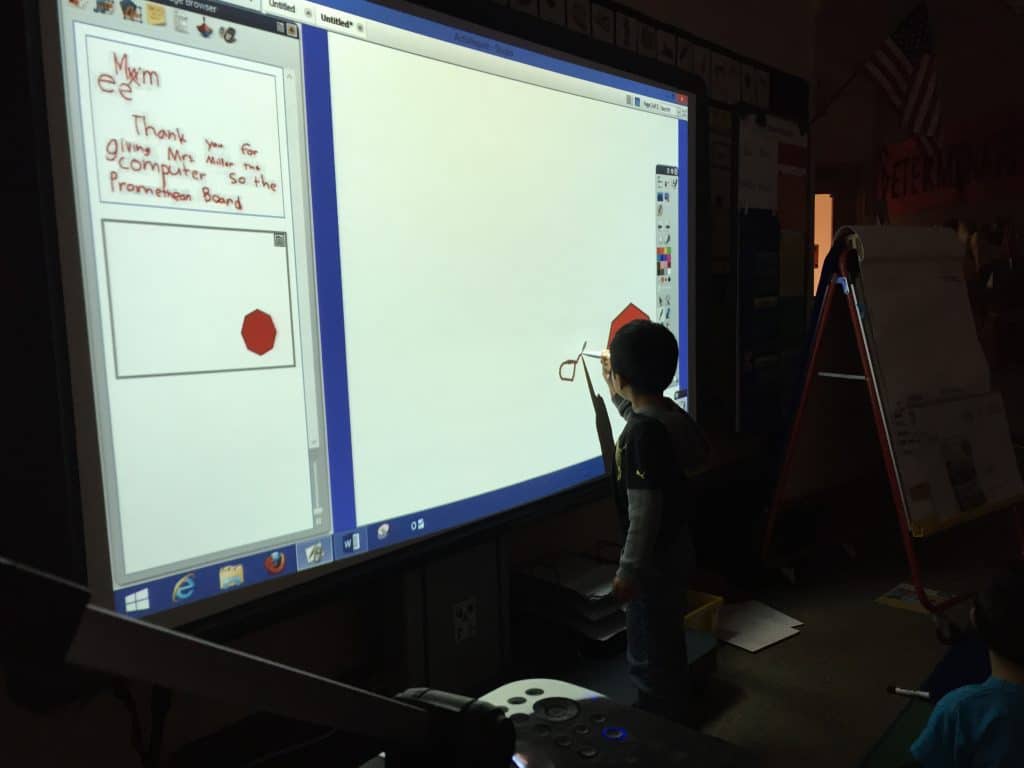 Device Training
This Tuesday, I will be out of the classroom for another technology gift that we have received for our classroom. Tuesday I will be attending Device Training as we have now received a small tablet device for each student in the class to use. I'd really like to get some use in before the end of the year, so I'm taking a training course to see how we can use them best in our class as there are some restrictions in using them. We are so excited to be technologically advancing in 206!
Monday – 5/18
ZOO Field Trip – All Day
Star of the Week Kit goes home (1-TK and 1-K student each week)
Tuesday – 5/19
Return School Library books
Character Ed. with Rian Cajucom
Wednesday – 5/20
Computer Lab with Mrs. Martin
Library Visit with Ms. Tremblay –  (

TK dismissal at 12:55 in the library)

Renew Book Borrow Bags (return the bags to receive new books)
Thursday – 5/21
Mission Federal Credit Union at School for deposits!
Friday – 5/22
PM Run Club for K students only (wear tennis shoes)
Homework/Reading Log Due (aim for 20 minutes of reading a session…break in two parts if needed)