In This Week's Post: Math, We Are Writers, Interactive Writing, Character Education – Responsibility, Art, Our Family Tree, Reading Logs, Morning Run Club, Our Afternoons, This Week's Color: RED, This Week's Letter: "Bb," September Sight Words, Upcoming Events, The Week Ahead
Math
This week in math we finished our topic of sorting and classifying. We practiced sorting 3 ways and if a child finished they were able to try to think of an additional way they could sort the tool we were using. Please continue to practice this at home as some students would mix up sorting methods. These are the 3 ways we sorted in class.
Sort by color
Sort by shape
Sort by size
We Are Writers!
Wow! I have to say these kids amaze me! This week we practiced some more lessons on expanding and improving our writing.
Labels: One lesson we shared this week was about adding labels to help your reader know "who" and "what" are a part of your story.
Details: We also shared a lesson about adding details. We defined details as

words and pictures that give more information

about our writing.
The class is growing there stamina to work independently and starting to say the words they are writing to help them determine which letters correspond with the sounds to write down for labels/words/details. They are such great try'ers!
Interactive Writing
We start our interactive writing each time by writing our name with proper casing. Some students are already practicing their last name as well. Once everyone is ready, we continue writing friends names to practice letter formation and direction. This week, we also practiced writing the color of the week. We wrote the word "red" and practiced writing the letter Bb.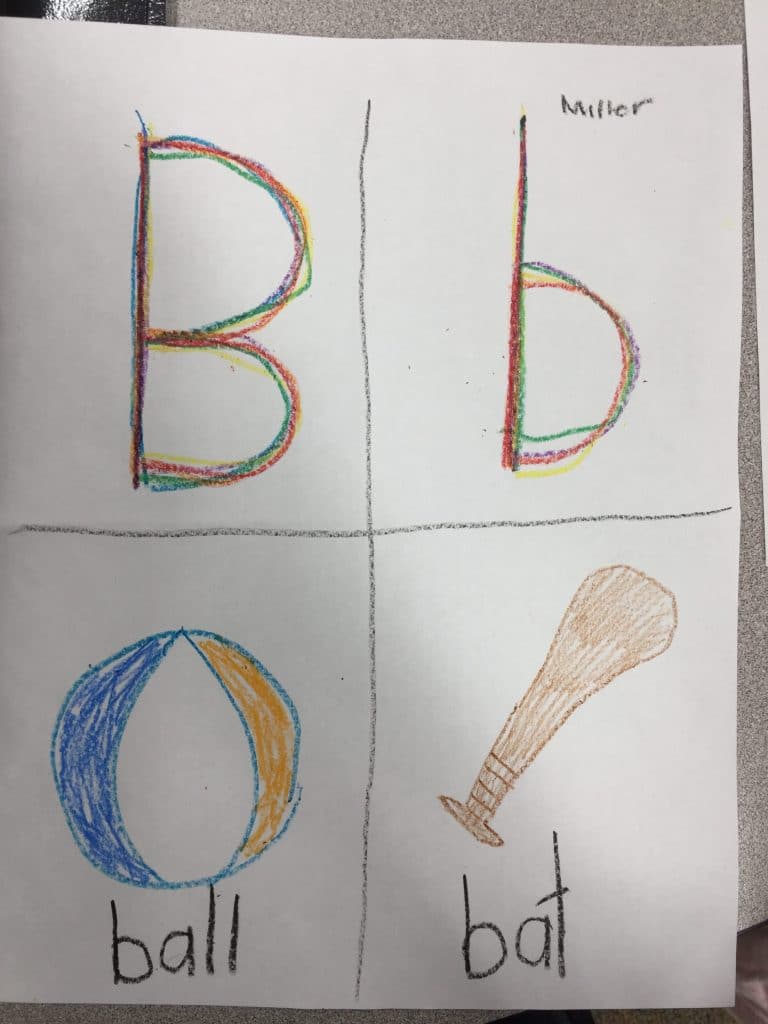 Character Education – Responsibility
A great thanks to Fran Ayalasomayajula for coming in this week to introduce the students to our very first Character Education trait and lesson. During September our school focuses on RESPONSIBILITY.
In her lesson, Mrs. Fran came in and gave a brief introduction to what RESPONSIBILITY is. Then she read them the book, "Franklin is Messy" to help show a story about responsibility. She had them share an example they noticed from the book. After the story, the students went through a booklet that she gave to each of them about responsibility. At their desks, she explained the EBS descriptions of responsibility at our school. We weren't able to go through the whole book due to time. These went home on Friday and you may complete them and go through them orally together. You may help them by writing down their ideas for the writing portion.
Try to recall this word at different points through your month to highlight the trait of responsibility so they become more familiar in recognizing responsibility and how it is important.
Art
This week Mrs. Leatherwood, focused the art around the letter of the week! This week, we focused on our first letter/sound…./Bb/. For their art time they each mad a picture of bus using a large "B" and cut out the wheels and stop sign for the bus. They also added people in the bus.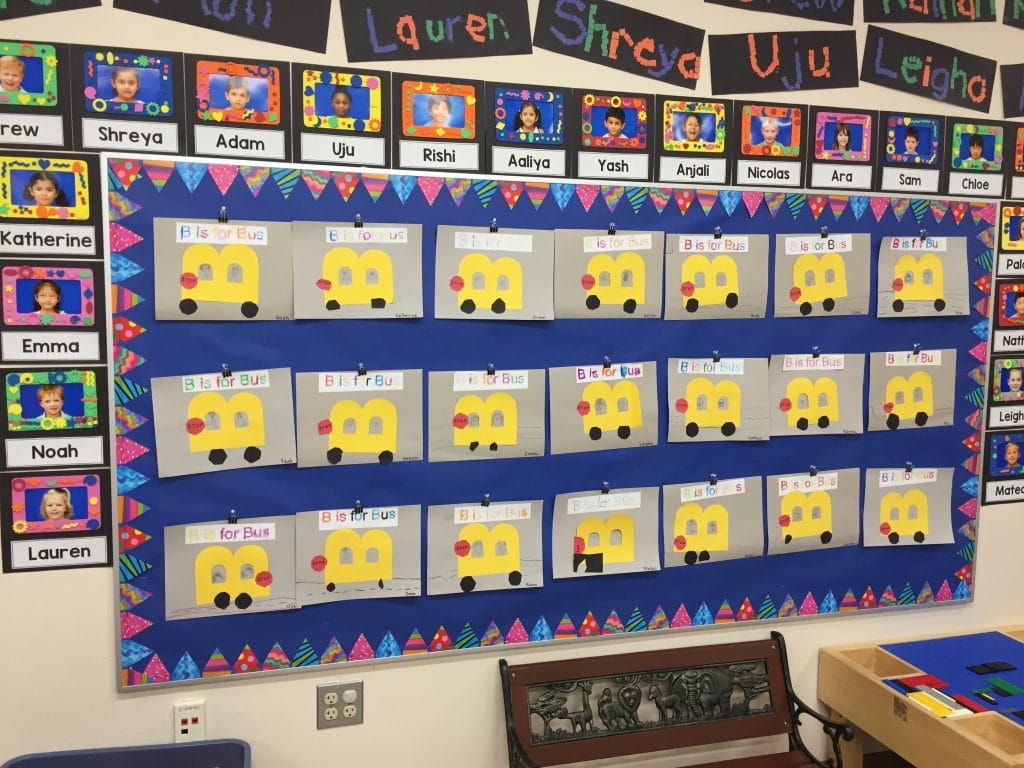 Our Family Tree
We have so many family pictures on our Family Tree. The students love these and gaze at them when we go in and out of our class. If you haven't sent in your family picture, take a moment to print a picture and we'll hang your family memory up on our wall!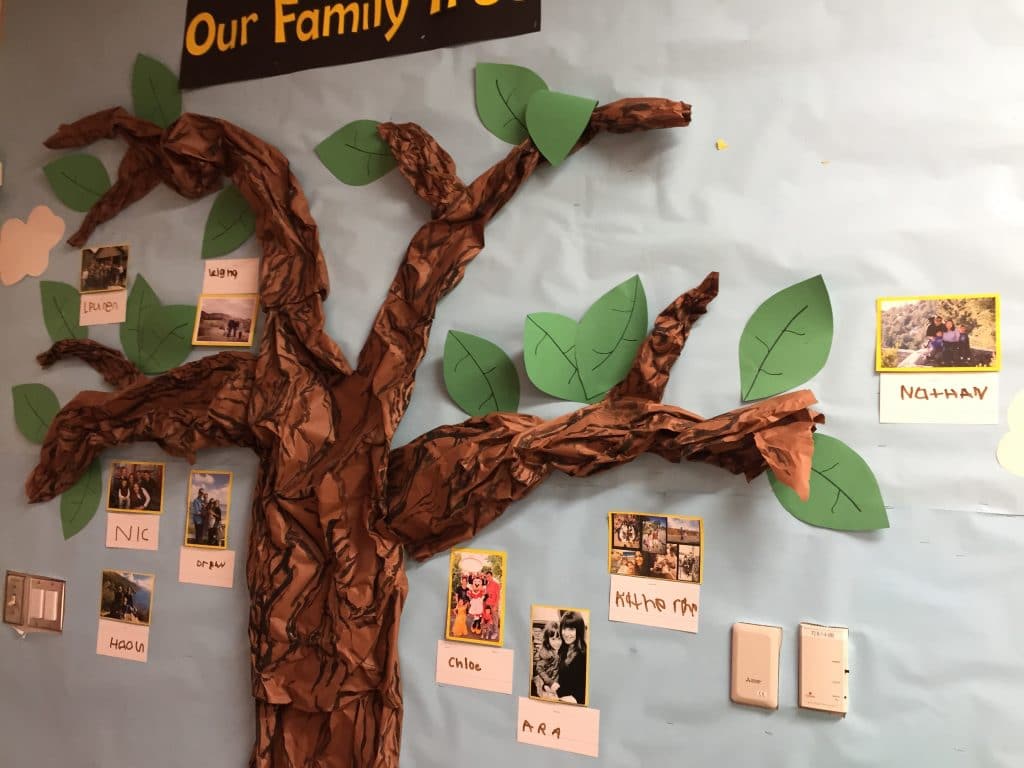 Reading Logs
I am loving the all the reading I'm seeing coming back on all the reading logs. In actuality, I haven't sent any home, nor are any due at this point, but I'm loving your responsibility and eagerness to read!
We are preparing materials to go home this next week. Your child will receive a Rainbow Reading Log, a Reading Ziploc bag, approximately 5 books, along with a some explanatory information. This will notify when you can begin returning reading logs in your child's folder. Every time you return your child's log in their folder a new one will be replaced in the folder.
Technology Academy
Mrs. Martin welcomed them in the lab and shared some of the basic rules to take care of the computers and how to have a fun successful class. It takes a while, but the kids eventually learn how to be independent in the class. One of the biggest challenges is learning to use a mouse.
This year, we will be getting new computers (the current ones are 7 years old) thanks to you all, our AFP, we will be updating our Technology Academy and learning.
Morning Run Club
Did you know our school has a morning Run Club? As a lover of running, I highly promote stopping in one morning to give it a try for many reasons!
Reason #6

– Running releases endorphins in our bodies which creates a positive feeling to start the day! Get some free endorphins and give some to your child by running in the mornings!

Reason #5

– Mrs. Miller is often at Run Club each Monday to run with her family so your child can get a high five when they pass me by!

Reason #4

– You may see some 206 friends out there, or meet some new EBS friends!

Reason #3

– Your child is working towards running goals (annual goals, lap goals with rewards….every 25 laps your child gets a prize, every 100 laps your child gets a ribbon, at the end of the year your child will receive a certificate for their total laps, daily goals….how many laps can you get in one day?).

Reason #2

– Your child gets to start their day with exercise to increase their healthy habits (and you can too…it equates to around 2500 – 3000 steps for each time you participate).

Reason #1

– You get great parking since you at school early!
Run Club is 5 days a week from 8:15 – 8:30 at the field closest to our school. You must sign a waiver your first time with our Run Club Coordinator (Janice Hartung). When it ends at 8:30 you can walk down towards the school and the gates will be open. We hope to see you there!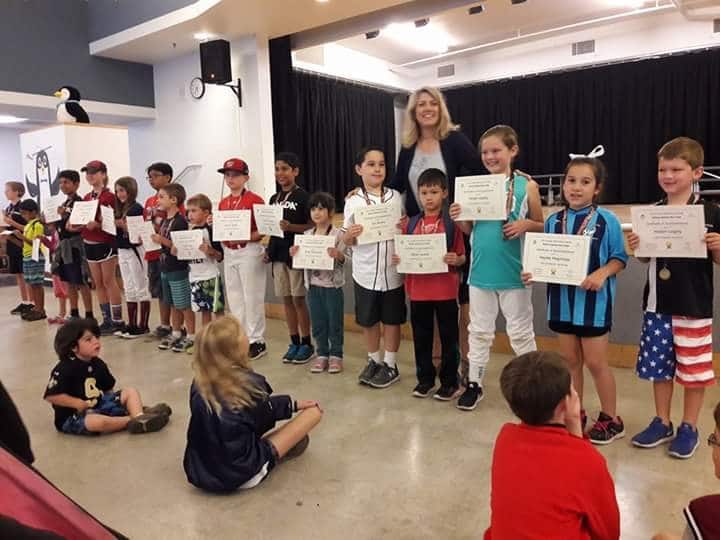 EBS SuperPledge Update
Thank you to all who have returned their envelopes. There is still plenty of time as I know the students may have been asking you to return yours. I am reminding them regularly that we have a bracelet for everyone that I am keeping for when each envelope is returned so that they don't feel they need their bracelet now. Thank you again for all your support to make EBS the truly amazing school that it is.
Sneak Peak! The new magnets were given to teachers this week so you can get a look. The all new 2017-18 magnet is a new shape this year….a RECTANGLE! This is also a fun way to identify other EBS families when you are at the park, the soccer field or maybe even somewhere on the freeway! If you are receiving a magnet they will be passed out soon by our AFP Board as they go through envelopes and distribute magnets.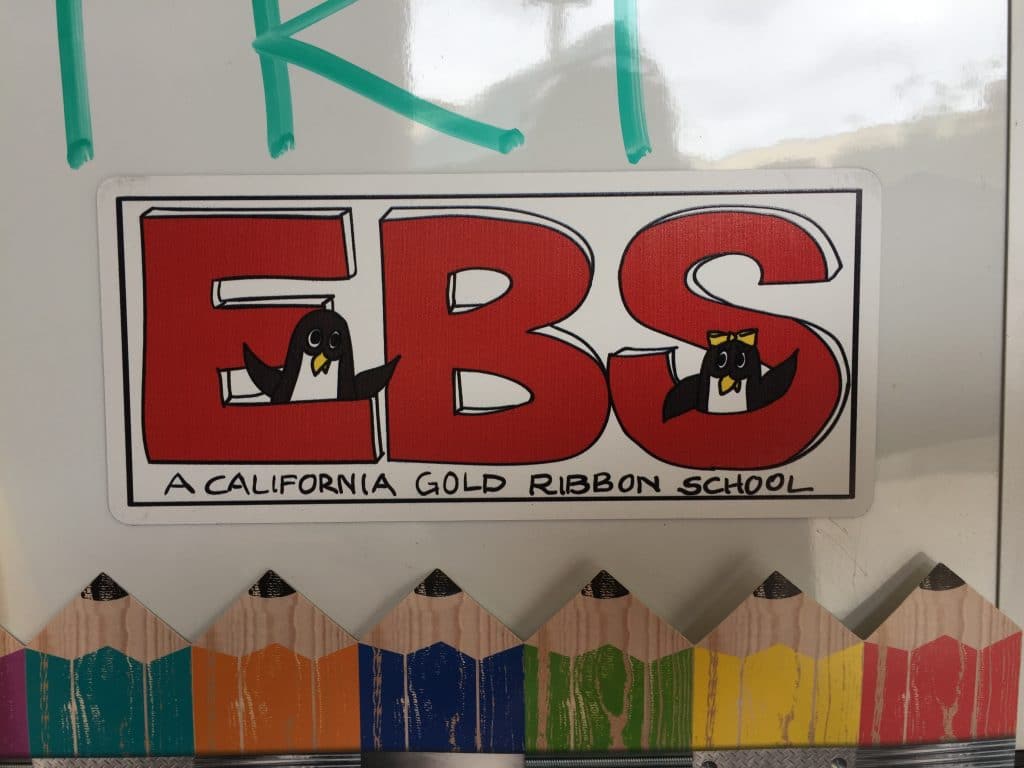 Our Afternoons?
Many parents have asked what we do in the afternoons after the 206 students are dismissed. Each day, we have different responsibilities the entire day. We teach in the morning until 12:30 and in the afternoons, we take our lunch and then have other jobs on the campus until 3:15. Most of our other jobs involve language testing, language support groups, intervention groups, etc. Then we prepare for our next day/week by planning and prepping after the official school day is over.
This Week's Color:
RED
Each week we will be celebrating a new color! We will be doing this along with all the other kindergarten classes. We will talk about how to spell the color, we'll find the color, often do a book or poem about the color and on Thursdays we will wear the color!
This week we celebrated RED. Our RED picture was on the FB page, and our silly RED picture is below! Our color next week is BLUE!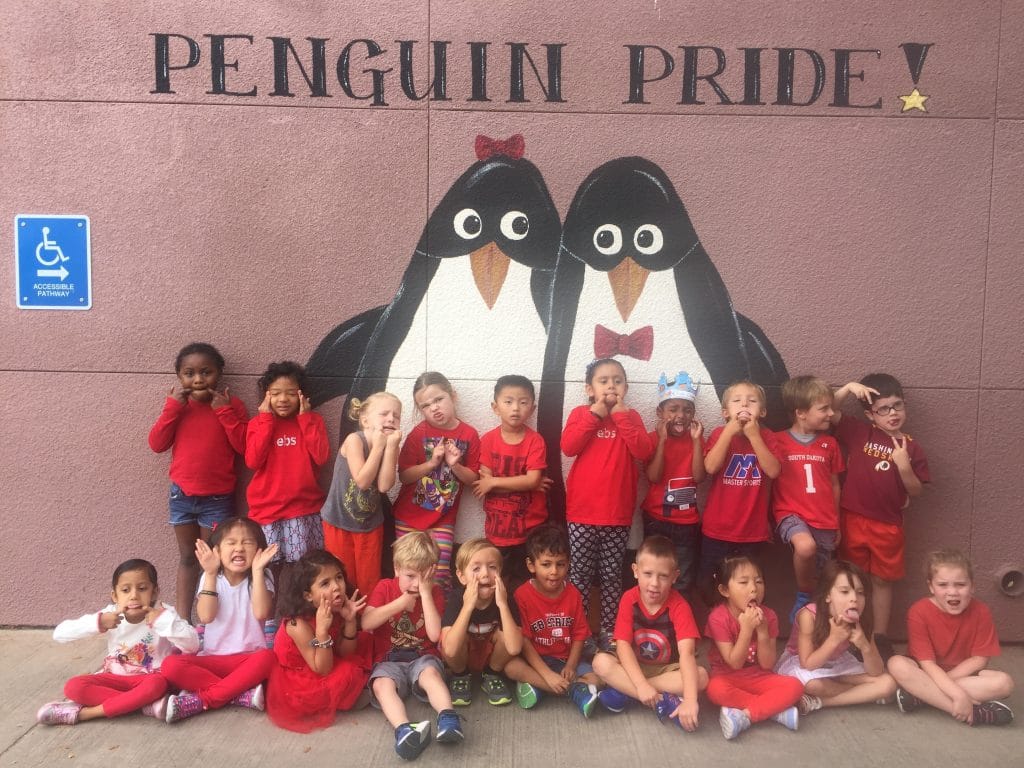 This Week's Letter: "Bb"
Each week we will be studying a different letter and its sound(s). We do not go in alphabetical order, but in a designed order that is more in line with the sounds that are more familiar and easier to make. We practice saying the sound, hunting for things that make that sound, draw pictures of items that start with that sound in addition to writing the letter and reading a small book that is all about that  letter. These books practice sight words, the sound/letter of the week, and writing the letter in both upper/lower case. These books will eventually go home, but are also used in class for reading.
September Sight Words:
You got a September Sight Words paper, Game Directions and a red copy of the 10 sight words for September. We will be focusing on these words in class. We sent these home as a option to practice/play with these words at home. Sight words are a foundational skill of reading.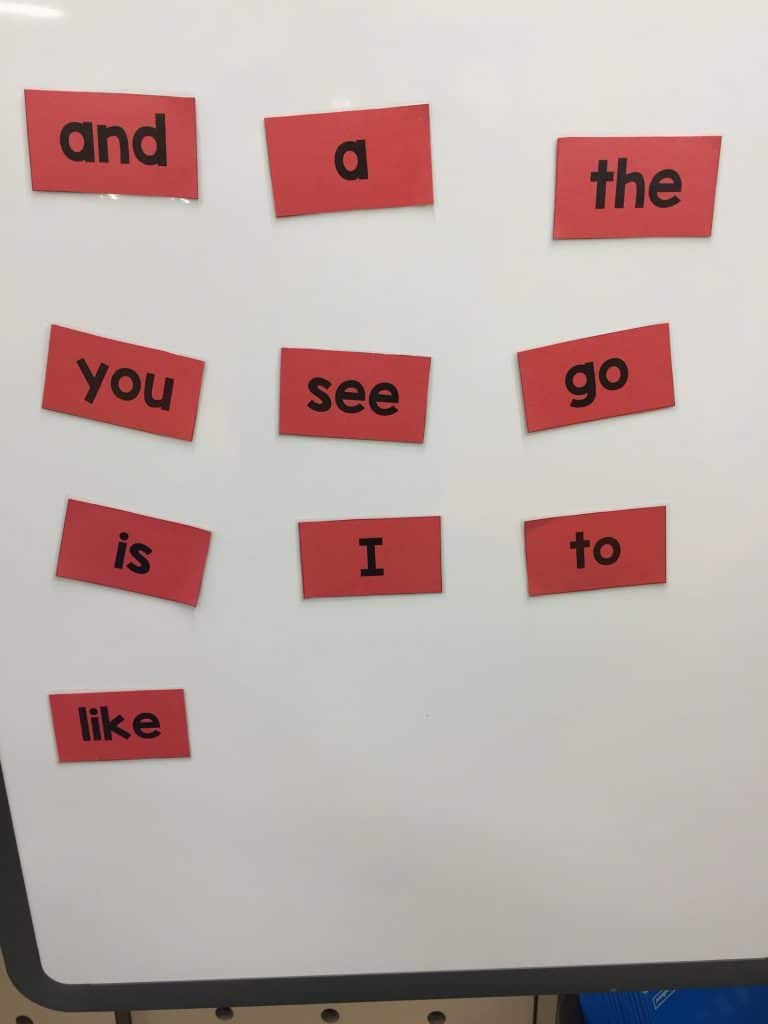 Upcoming Events
September 18th -Fine Artist Orientation –  @ 9:00 am (in the Art Room)
October 3rd – Picture Day TK – 2nd Grade
October 4th – Picture Day, Grades 3 – 5
The Week Ahead…
Monday – 9/18/17
Mrs. Leatherwood Teaches
Before School Running Club
Tuesday – 9/19/17
Before School Running Club
Wednesday – 9/20/17
Before School Running Club
Thursday – 9/21/17
Before School Running Club

Whole School Dismisses at 12:30

Computer Lab @ 11:00 am

Music @ 9:00 am

BLUE DAY – Don't forget to wear blue!
Friday – 9/22/17
Before School Running Club

EBS Spirit Days: Wear Red & Black or any EBS shirt!

Mrs. Leatherwood will be teaching