Our weekly blog post is to inform you, update you and share the school world of your Transitional Kindergartner! Feel free to give feedback or ask questions.
TK Assessments
Most of your your children had their beginning-of-the-year assessment this week. Typically, teachers do these in September to see where each child is at as they enter the new school year. Since our program is a half-day program, we were fortunate to do these assessments after school as opposed to during our instructional day.
These assessments are given to see where the students are at for small groups and for reading level purposes. Once all the students have been assessed, Mrs. Hickson and I will be sending books home for homework (independent reading). They will keep these books for the whole week and by the end of each week. More information will be given on Book Borrowing as we send books home.
Thank you so much for being so flexible and accommodating with assessment times.
"Our Family Tree"
Our family tree is filling up with such beautiful smiling faces! The kids and I love to look at them. If you haven't sent your photo in, start looking through your phone and family photos! We'd love add all our families up on our wall!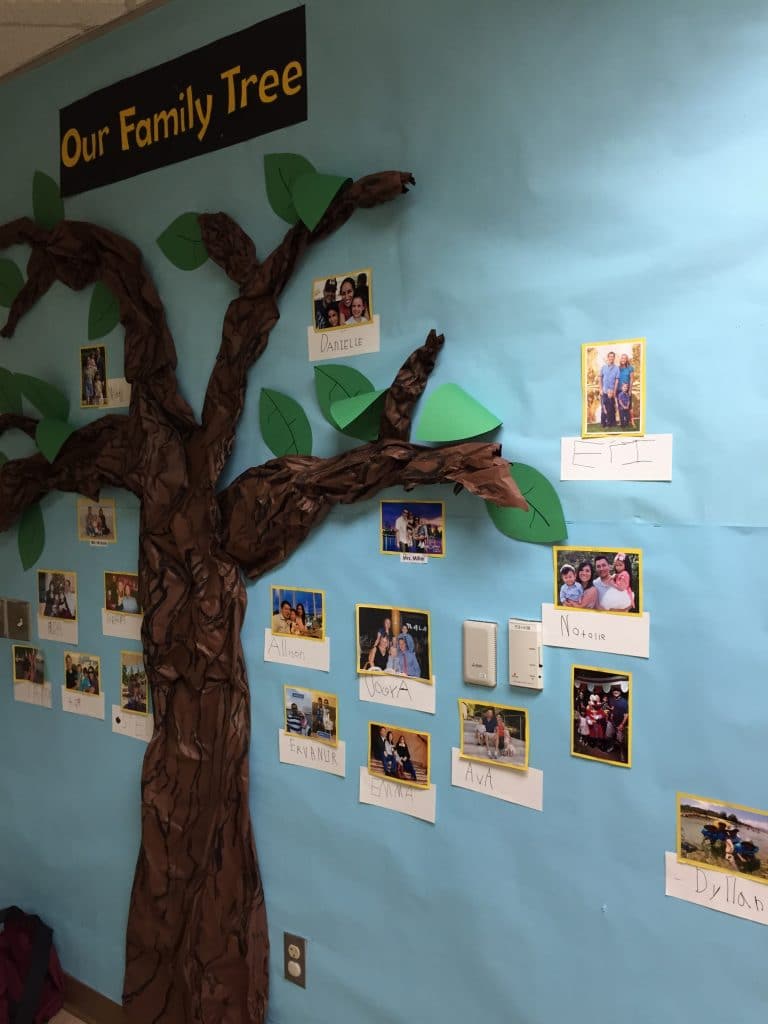 Birthdays
We are overjoyed with birthdays this month! Thank you for being so flexible as we find the time that works best for our schedule. We have a birthday celebration everyday this week, with the exception of Tuesday. If you are bringing birthday treats, please arrange it with the teacher ahead of time. Also keep in mind, as I was reminded by our school office this week:
Send a picture of the "Ingredients" label in (by email or in person) for approval at least 2 days before the celebration
Remember there are 25 students in our class
Popsicles are the only food item allowed
Non-food items are also a great choice (pencils, goodie bags, little toys, etc).
Our First Music Class
Friday the students had their first music class with Mr. Waczek. He is an amazing music teacher that works very well with our students. This takes place during the teacher prep hour for the week. At the end of the hour, I return to pick up the students to bring the class back to our room. This week when I came in I was able to catch a few photos of a song they learned that day!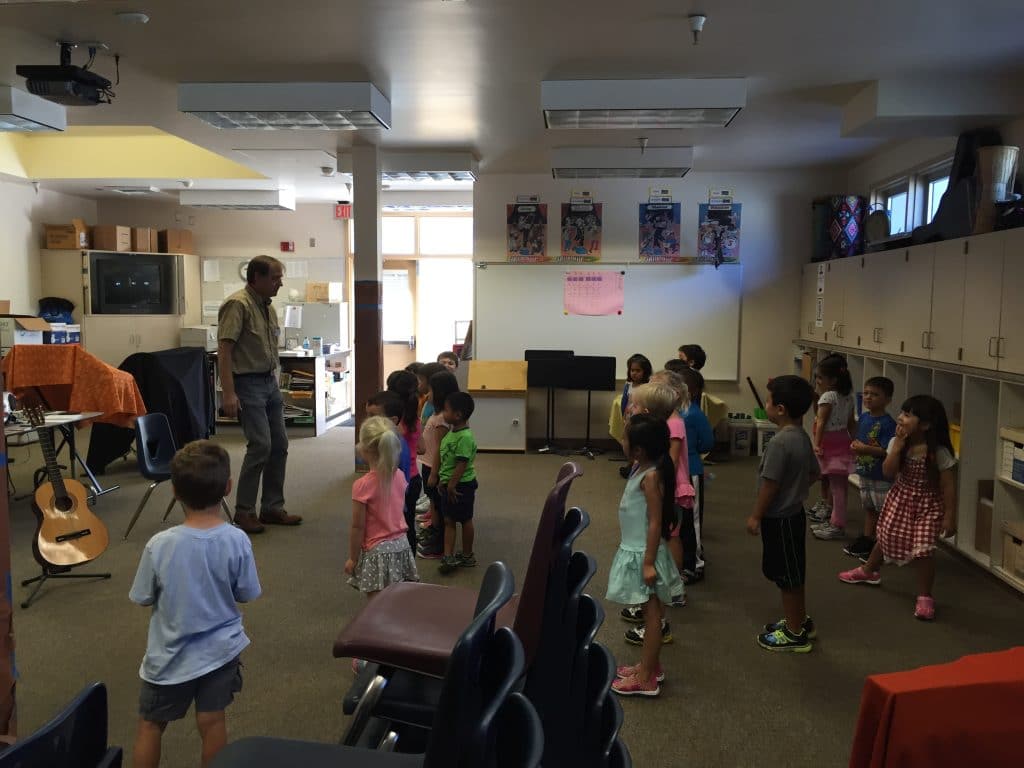 Backpack hooks – Morning Routine
Thank you for those of you that have been reminding your TK student to check the board for the morning routine. This helps the kids to be consistent and prepared for the day. Our folders get filled by a parent volunteer, so if your child's folder is not in the tub, the folder will not get filled with school information, homework, etc. See the routine below to help remind your TK student to do independently:
Have your student hang backpacks up on numbered hooks (your child has a specific number they use each day for line order…this is the hook they should be using).
Have your student put snack bag in the snack tub
Have your student put folders in the Red folder tub underneath the snack wagon.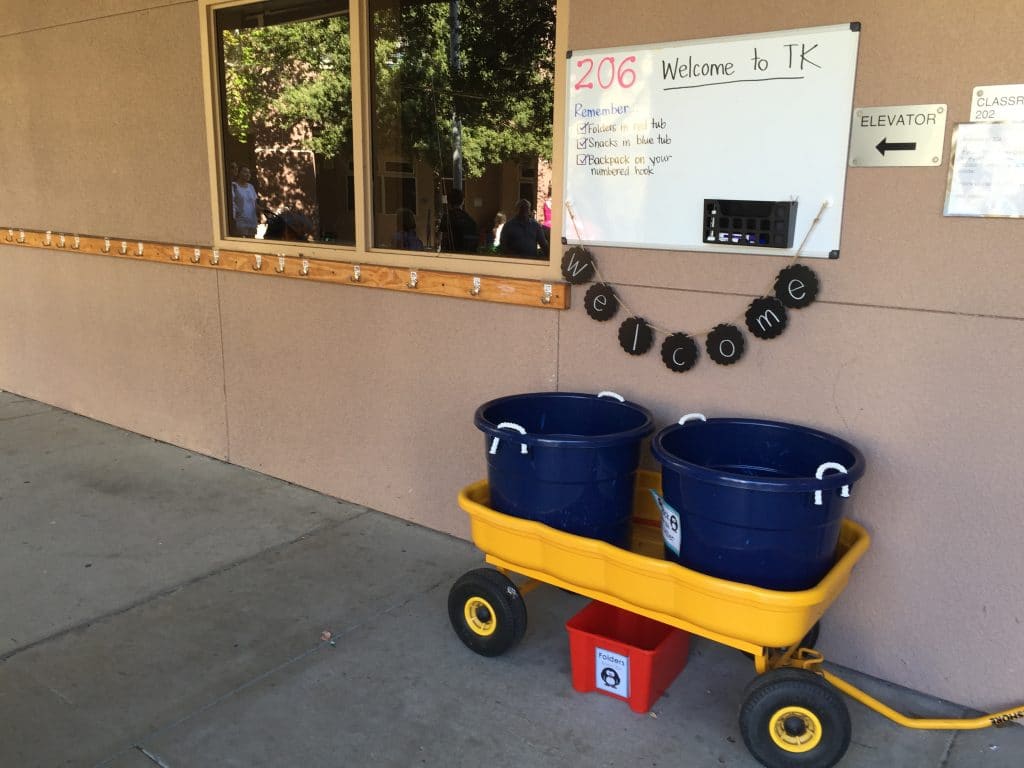 Tuesday – PLC Meetings
This Tuesday is the first teacher PLC Meeting. PLC stands for Professional Learning Community. These meetings will typically be 2 mornings a month. This is time that we are gratefully given to collaborate as a team (TK and K Team) to share ideas, calibrate and make sure we are all on the same page regarding curriculum and instruction. Our first meeting is this Tuesday, therefore a substitute will be picking the students up from the line and starting the day. I will come back to the room later in the morning and will be there at dismissal.
Health Enrollment Form
This week, a packet of forms were sent home by the office. Thank you all for returning them so promptly. Many of you noted that you didn't receive the Health Enrollment Form that was noted to "complete, sign and return." As I inquired at the office, I found out that TK and K students didn't receive these as they were filled out and returned when you recently turned in your registration information. Thank you for inquiring and for your thoroughness in returning paperwork!
Cafeteria Information & Accounts
If your child drops their snack/lunch or for whatever reason is missing their snack/lunch they are able to go through the cafeteria in order to buy snack lunch. If you would like your child to start buying snack/lunch, please make sure your child has memorized pressing their ID number/code into the practice sheet sent home with students during the first week. Each child is generated a student ID number/code to use as a cafeteria PIN number. You may pay a cafeteria bill or pre-fill your cafeteria account in 2 ways:
Use an envelope (sample photo below) from the office to pay/fill the account
Go on line to www.paypams.com to pay with Credit Card
Lunch – $2, Snack – $1, Milk – .50 and Bottled Water – $1.00
**For rainy days, you may want to send a snack as it take longer and students (and their lunches) can get wet in transition from the line-to-cafeteria-to-Multipurpose room to eat.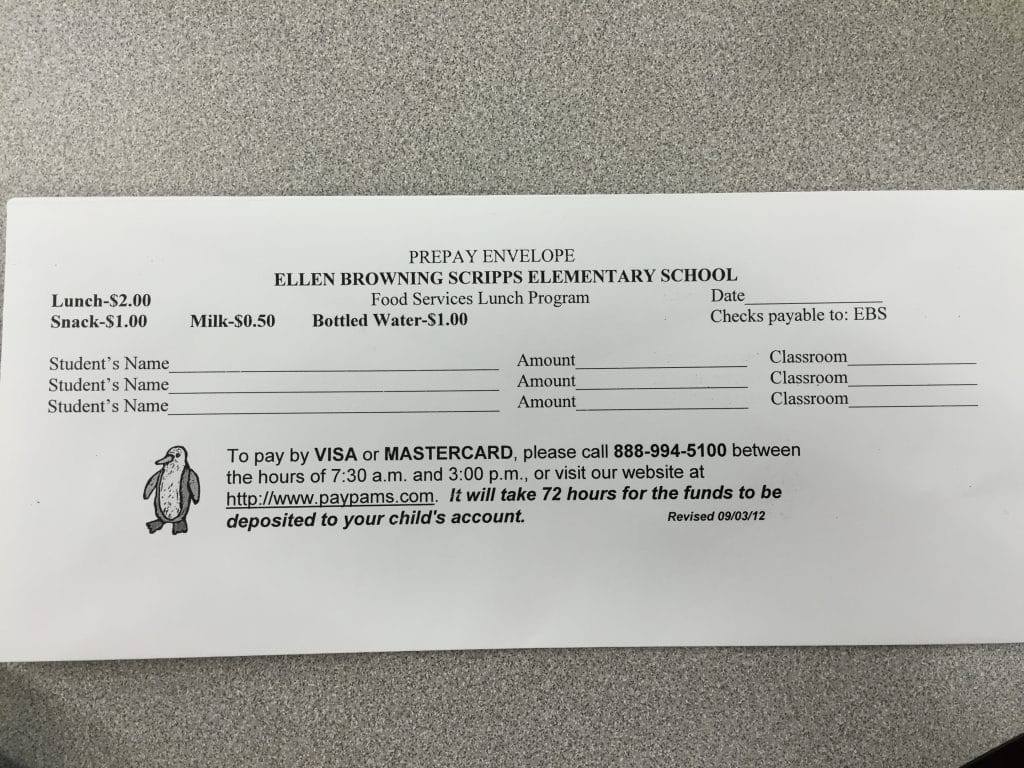 Scholastic Book Orders
Thank you for all of you that placed a Book Order this month! The order was placed this weekend and should take about 2 weeks to fill/ship to our class. The books will be sent home in your child's folder when they arrive. I remind children not to take the books out until they get home (especially if they go to an after school program) to keep them safe and to allow you to label their new books. If you missed this month's order a new book order form goes home each month! I always hunt for the $1 book deals and buy them as gifts….they are such a great deal!
**Remember if you order on line you will have access to ALL book club flyers for all ages.
Parent Volunteer Positions Still Needed
We are still in great need of a few volunteer positions. We are turning in our parent volunteer sign-up sheet soon and have a couple spots left if you are able or interested. Please check below as 1-2 more have become available. If you are able or interested email me or stop by to sign-up or get more info!
Jog-A-Thon Coordinator – Communicate event information to parents in our class, coordinate class volunteers for the day of the event, distribute jog-a-thon t-shirts, bibs, and count class laps.
Folder Helper (Tuesdays and Thursdays Only) – Empty folder contents in the morning just after school starts, and fill with any new papers. (Thank you Megan Black for covering Mondays, Wednesdays, and Fridays!)
AFP Representative – Attend monthly AFP meetings to represent classroom needs to be the liaison between our class parents, teacher and the AFP (1-2 hours/month – evening meetings)
Classroom Volunteer Time – A flyer will go home in the next week or so regarding classroom volunteering (prepping materials, reading with students, etc…during class instruction time). We will start classroom volunteers at the end of September/beginning of October to let our students adjust to the new classroom and procedures and to get the volunteer schedule up and running. Thank you in advance for all who have already said they will be able to volunteer!
CLEARANCE – – In order to volunteer in the class, you must be on Nurse Dee's "CLEARED LIST." Even if you were cleared last year, you will NOT be on this year's cleared list until you fill out a volunteer application for 2015-16. You will not need a new TB test unless its been 4 years as it takes that long to expire. I will post a copy of the current cleared list outside the class this week if you need to check.
Dismissal
On Thursdays – This is a unique day that we dismiss from our classroom door. So far it has gone smoothly. I want to thank you for your patience as I am learning all the parents names and faces.
Other days (Gate Dismissal) – All other days we dismiss from the front gates with ALL TK students. I always remind the children, but please have your own conversation at home to always reiterate that students:
Children should ONLY go with mom, dad, or other pick up person
If their pick up person is not there, remind them to stay close to me/gate until you arrive.
When you do arrive, children can to wave to me that they see you and go with the pick up person.
Thank you for your help and patience to keep a safe and smooth dismissal!
Color Weeks
Next week is RED! For the next 8 weeks we will be celebrating a color of the week. The Kindergarten classes also take part in this and we all get in the color spirit! We will read some books that pertain to the color of the week, do an activity or two that connect to the color and on Thursday we all WEAR RED! We will also have a color snack once a week that matches the color of the week! Find your RED spirit and wear it this Thursday!
This week in…
Math – This week in math we have been focusing on sorting and classifying shapes and objects by their attributes. We have sorted by large and small, by color, and by shape. We have also spoken about the vocabulary of sorting as well as other adjectives that are synonymous with "big" and "small." The students came up with many words, such as giant, humongous, tiny, little, etc. During our Problem of the Day, we have worked together to show how we can draw pictures to help us solve the problem. A current sample is hanging on our Math wall.
Literacy – In literacy we have been had our

Writer's Workshop

time each day. We have been focusing on "When you're done, you've just begun." With this, students are working to think what they could add to their writing (more pictures, letters, etc) and when they are done, they have can start a new piece.  Also in literacy, we have been having Shared Reading time. This is often with a big book or an enlarged text so that we can read together. There are many aspects to Shared Reading. We read the first time to talk about the meaning of the text and then we back and read the text many more times/days to practice reading fluently. One skill we also practiced on a familiar book, was to pay attention to commas. We learned that commas tell us when to "pause" and then keep going.
Triathlon Completed!
This weekend I completed my first triathlon! I completed the International Distance TriRock Race and suffered through some rough heat! As a runner, the bike was way out of my comfort zone, but it was a great experience that I will likely attempt again.  My sweet daughter got a little emotional with all the hype of the finish line!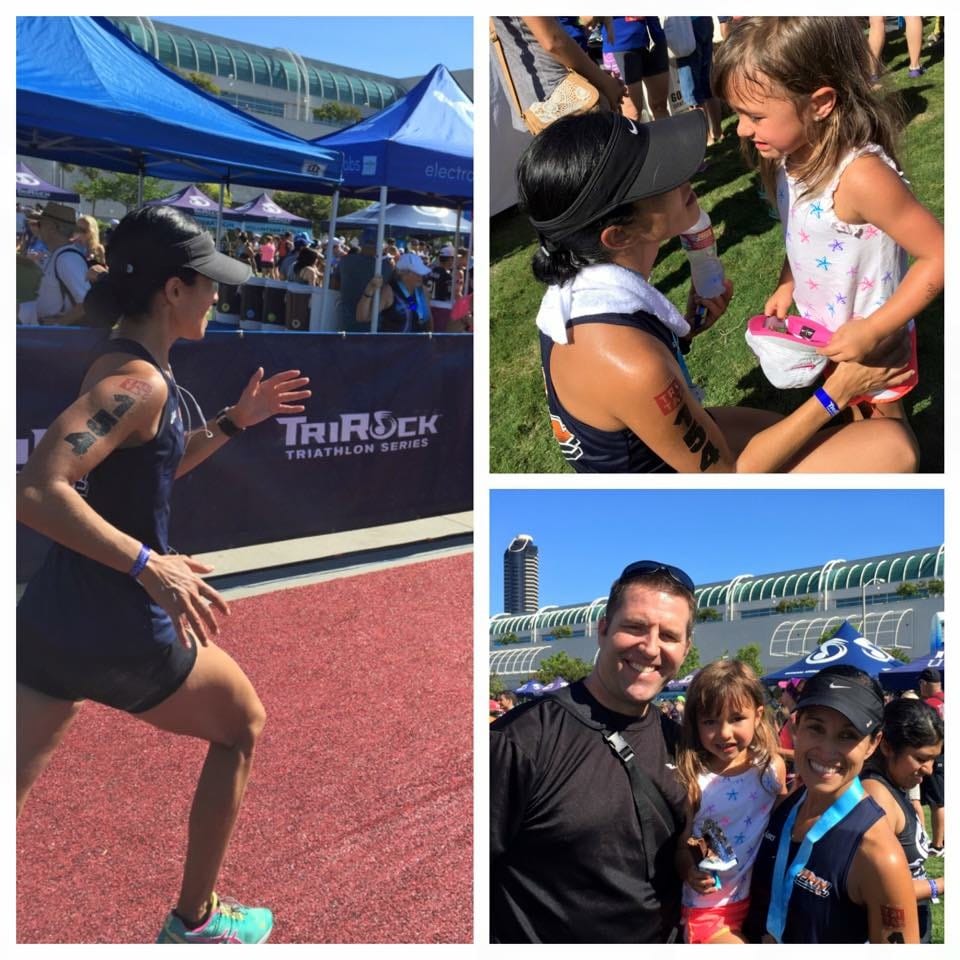 A Look at our Week Ahead
(**School pictures will be on Wednesday, September 30th.)
Monday – 9/21
Tuesday – 9/22
Teacher PLC Day – Substitute will be in the classroom for the morning
Wednesday – 9/23
Our first Computer Lab time with Ms. Martin!
Thursday – 9/24
Wear RED Day!
Mission Federal is in front of EBS before school if you are interested in opening a special savings account for your child.
Lunch Only day at 11:35 pm (eat a BIG breakfast)
Minimum Day, whole school dismisses at 12:30pm (**IMPORTANT** Thursdays only – all TK children will be picked up at their respective classrooms – not at the front gate.)
Friday – 9/25
Music with Mrs. Waczek – 8:50 am