(Weekly Flashback has been renamed to The Scoop for 206 as the content included a variety of newsletter-like information)
Music
Mr. Waczek welcomed Room 206 with song and smiles this week. As I walked in to take them back to our class, they were playing a little game accompanied with their beautiful voices!
Computer Lab
Students warmed up at the Starfall site from last week and then moved on to new site called Turtle Diary. Try this out with your computer kiddo and see if they remember it from class.
Go to EBS web site
Click on "Students"
Drop down and click on Computer Lab
Click on Ms. Martin's Favorites (on the left side menu)
Scroll down until you get to Turtle Diary and click.
Choose "K" for Kindergarten.
Go to "Fun to Learn Numbers"
Have Fun!
Our Weekly Library Visit
This was our second week at the library. This week we were able to hear a story read by our wonderful librarian, Ms. Tremblay. She is so kind, helpful and very knowledgeable about how libraries work! We each were able to check out a book of our choice. We are able to go to the library every Friday to get a new book. Don't forget to return your book every Thursday!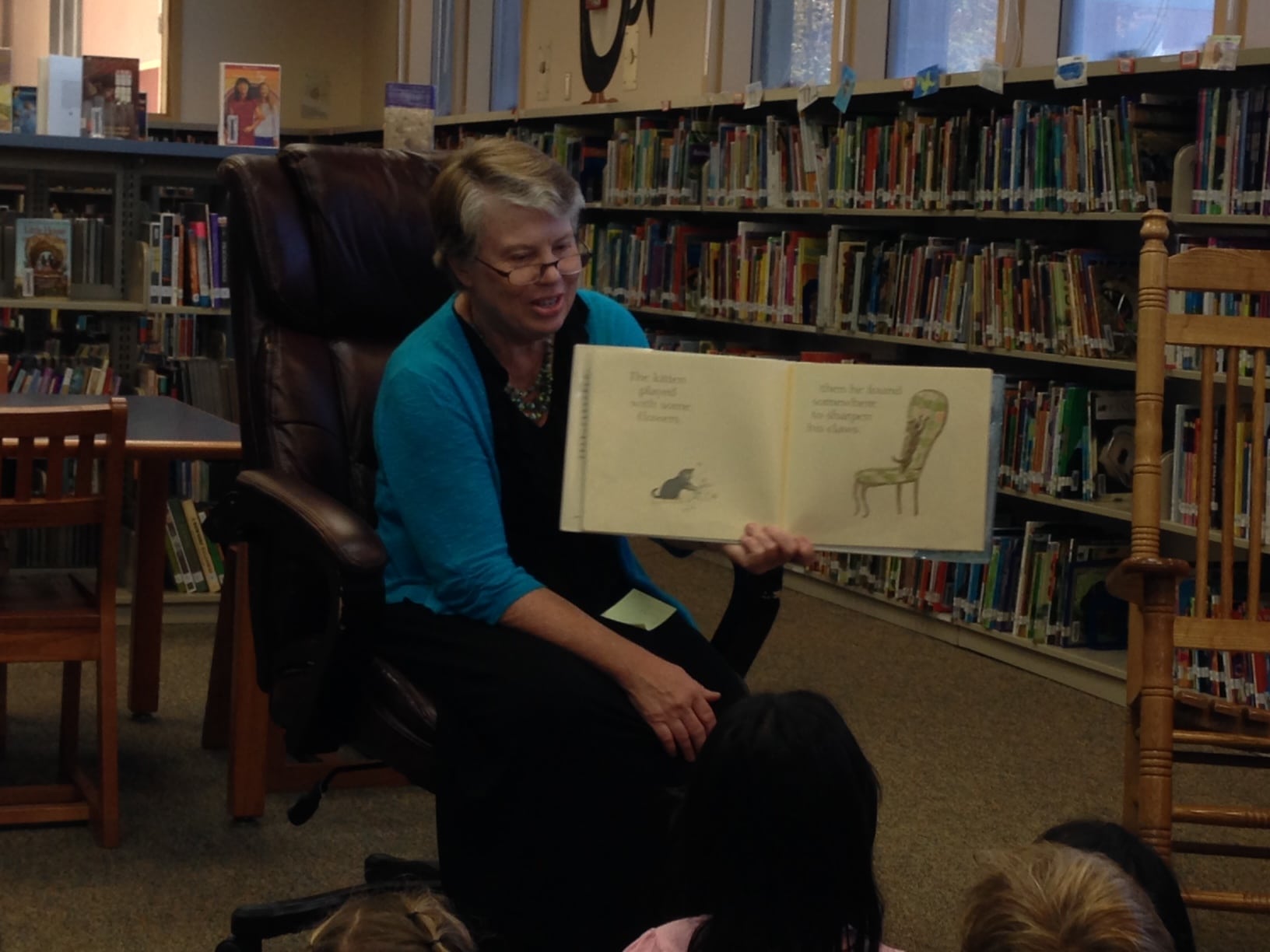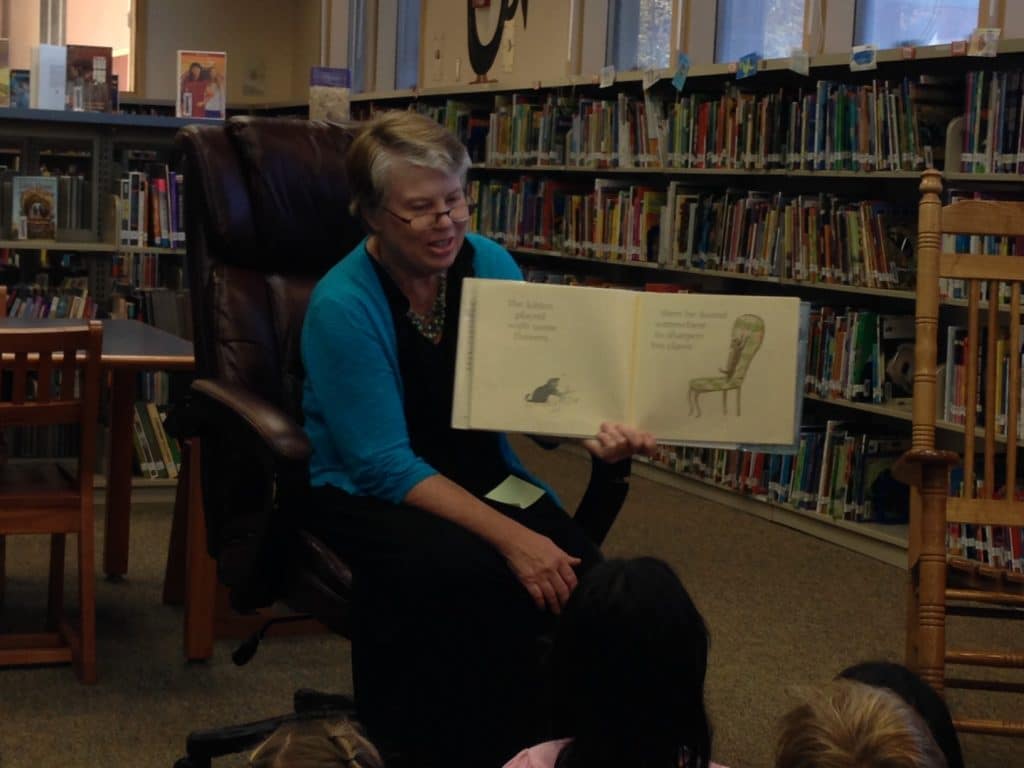 B-L-U-E spells Blue
This week we celebrated BLUE. We sang a song to the tune of "The Farmer in the Dell," that was all about Blue. We all wore Blue on Thursday and we got to eat blueberries as our BLUE snack.
(In case you are planning the never-ending loads of laundry and are prepping your drawer for future colors, I'm listing the order of colors we celebrate….but don't forget to keep it a surprise from your 206 student! shhhhhh 😉
Yellow – 10/2
Green – 10/9
Purple – 10/16
Black – 10/23
Orange – 10/30
White – 11/6
Brown – 11/13
Pink – 11/20
Rainbow! – 12/4
Literacy Centers
This week were were able to start literacy centers. In short, there are 5 literacy centers. There are 5 students per center. The centers all involve reading or writing in some way. Some of the centers are independent and some of the centers involve working with others. Since this is so new, each group of five students, move to one new center every day. In the future they will likely go to two different centers each day. Over time the centers vary in task or may entirely change all together as we introduce more tasks/centers. This will be the time when I will gather and work with a small group of students for specific and similar needs. Right now we are becoming familiar with the new centers and practicing how to work within a center and how to problem solve in a center.
One of the centers is called Read to Self. During this center students read leveled books independently. To change up the scene a bit, and remember we work individually in our own spot, students read their books in a laundry basket. Its been a great novelty item for a very traditional center and reinforces all the parts of Read to Self that we have worked on and review daily. The last bullet item (Stamina) refers to building stamina. We had a discussion about how you have to build your body and mind up to reading for longer periods of time. We originally started the reading independently the first week for 2 minutes. We added minutes over the past couple of weeks and now we are up to 8-9 minutes.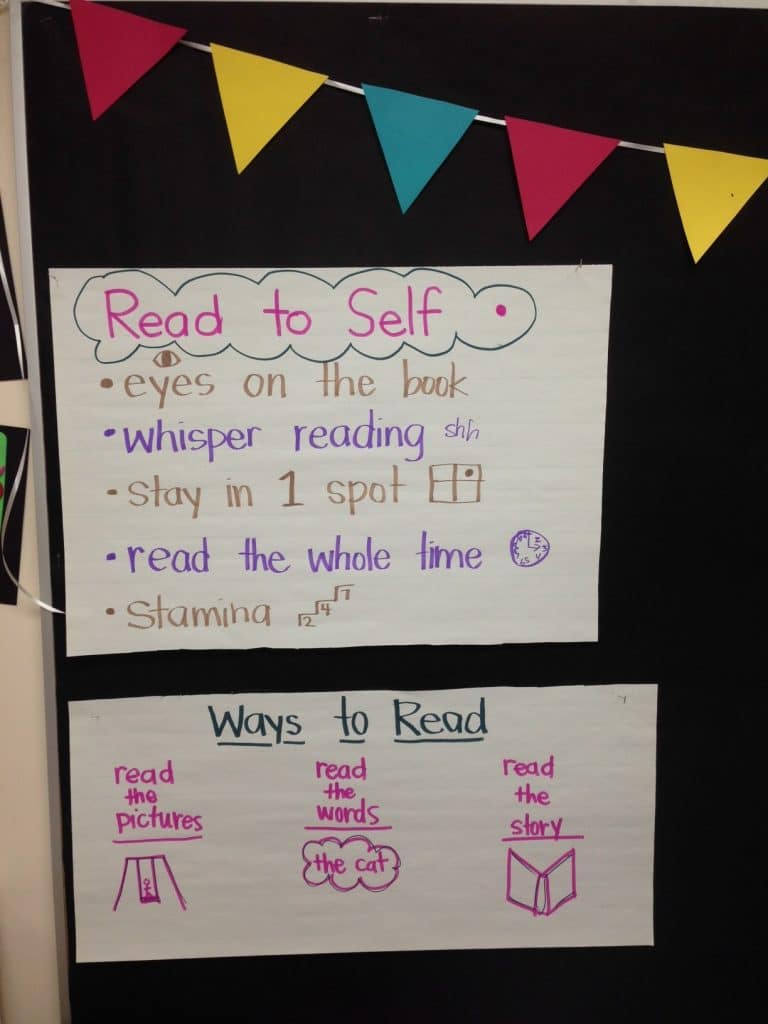 REMINDERS for next week!….
MONDAY•••Wear breathable play clothes and tennis shoes for P.E. with Ms. Blower!  (Volunteers still greatly needed otherwise they may not be able to use the park/field facility for safety reasons).
TUESDAY ••• School Picture Day! Don't forget to send your envelope if you are planning to purchase pictures. These envelopes went home on Friday. NOTE: Our Grade Level will be at a professional development this day, therefore a visiting teacher will be with the class.
THURSDAY•••(Minimum Day) Turn in your LIBRARY books so that you are able to check out a new book on Friday. Wear the color YELLOW (your kids don't know this yet, but you have the inside scoop).
FRIDAY•••Turn in your homework (aka Reading Log). Log in a minimum of 5 nights of reading. This will help to build a reading routine into your schedule which helps to create a strong reader for the future.
HELP WANTED….volunteers
There are still a few more areas we could use some support in. If you think you'd be able to help out in any of these positions….please let me know. It makes a great difference to our students and our classroom experiences.
CLEARED LIST – If you aren't sure if you've been cleared check the most recent updated list at the front of the school.
DAILY FOLDER FILLER (New position): Each day the students bring their folders to school and typically there is something to stuff in from the school office or from myself. I have been struggling to empty and stuff these during recess, computer lab, or lunch. I'm hoping that there might be 1-2 parents that could stay after drop-off for 10-15 minutes to empty/fill the folders for that day. This job could be done in the hallway or even outside if you aren't cleared or if you have a little one with you. If we have 2-5 volunteers we could balance the load, so no volunteer was over loaded. Please let me know if this is an area you think you might be able to help with. commitment: 10-15 minutes per day
CHARACTER EDUCATION SUPPORT: We are looking for parent/guardian volunteers to help with the Character Education lessons in the classroom October-June.  Volunteers spend about 30 minutes per month in the classroom leading a discussion, reading a book, role playing, or even doing skits and puppet shows that relate to each month's character trait (Responsibility, Generosity, Gratitude, Respect, etc).  Our class Character Ed rep (Megan) can give you all the information you need to lead the lesson.  The lesson plans are all online and the books and materials are provided.  You can even make up your own lesson!  Right now Megan is the only Character Ed volunteer for the class so it would be great to have a few other volunteers share the role so one person isn't doing all 10 lessons.  This is a great volunteer role for a working parent because it can be scheduled in advance at a time that works for you.  Please let Megan Brenk know if you are interested in helping. mbrenk@gmail.com  commitment: 30 minutes per month
P.E. PARENT SUPPORT: As mentioned a couple weeks ago, Ms. Blower typically takes each class up to the shared field/park area to do physical education. Due to the distance and age of our students, she asks that we have a minimum of 1 parent with the class to support students and more importantly in case of emergency. If this is shared with another parent you would only need to volunteer 1 hour a month.  commitment: 2 hours a month
With all of this new information, I have updated the volunteer page.